1966
Here's a groovy mashup of 1966 TV show openings - including a show remembered by very few people - but fondly remembered - T.H.E. Cat with Robert Loggia. It's a great opening animation, similar to the graphics for Peter Gunn. Hadn't heard that Road Runner theme since I was a kid but I could still sing every word of it!

The That Girl theme, one of my all time faves, got a makeover for season 5, its last. Lyrics were added but I wasn't too fond of them - "She's everything that every girl should be?" Really? Because Ann Marie was a bit of a dip.

Speaking of which, here's a makeup test (no audio) from That Girl with Marlo Thomas trying on different wigs. Check out the second one.

Saturday, April 30, 2011 - 8:37am
WOULD YOU LIKE TO RESPOND?

QUICKIES
Did you know the Best of the Dean Martin Show just arrived on DVD from Time Life?


Some time ago someone contacted me about doing a Romper Room retrospective for PBS to run during pledge time. Great idea. But did it ever happen?

A while back I commented on The Price Is Right's Drew Carey's lack of excitement when a contestant won the Showcase with a perfect bid. You can see it here. Justin Kaplowitz points out an article - in Esquire of all places - on a contestant who rocked that game show to the core. It's a great read with lots of insight into the making of an iconic TV show. Like, did you know Bob Barker had insisted the show be vegetarian with no fur or meat?

Anyone remember After Dark magazine? I still have a few copies somewhere. It freaked me out!


Britain's oldest working television set, from 1936, has sold at auction for a whopping £16,800. And it still works!

Tuesday, April 26, 2011 - 8:25am
WOULD YOU LIKE TO RESPOND?

ONE OF THE GREATS!


TV writer Madelyn Pugh Davis has died, she and her partner Bob Carroll wrote many of my favorite

Lucy

episodes. They had been out of Lucy's employ for some time when they returned to pen this classic episode of

Here's Lucy

with guests Richard Burton & Elizabeth Taylor.

Friday, April 22, 2011 - 9:45am
WOULD YOU LIKE TO RESPOND?

FOOD WONDERFUL FOOD
Gregory Battaglia writes: Really! All those 60s TV commercials and neither of those two black & white gems from Buitoni Foods? One: An almost perfect parody of Federico Fellini's "Guido" from his masterwork "La Dolce Vita" to sell Buitoni's Instant Pizza. Yes, at first Mr. Buitoni retorts to his right hand chef "I don't care much for pizza". But when his party guests exclaim "It's fantastic-will make you a million dollars!", Buitoni gets the message: "Hmmm, I'm beginning to like pizza".

Two: His right hand chef boasts of the ingredients in his latest Buitoni snack: "....not as much starch ......more marinara- ha...ha.... (oh, someone needs a breath freshener, groans Mr. Buitoni).

Seriously, these two commercials are such understated, comedic gems. Sadly, there is some firm named Macxxxx or something who owns them and won't release them without $$$, I think. You'll find them if you google around. But please try your best. The world really needs to enjoy them.


Thanks for the suggestion Gregory. I wasn't able to locate those long gone classics but Buitoni Instant Pizza is defunct here but still going strong... in Italy. Looks tasty!

Which brings me to one of my favorite subjects - fast food. For a skinny guy I eat a lot, or I should say I eat about half of what I order and waste a lot of fast food. The portions are too big! I feel bad about throwing away food but I figure the only thing worse I could do with it is consume it.


Why isn't there a decent pizza either in the frozen section or for delivery? I mean, there are amazing local spots, in every city I suppose, but no good national chains. Pizza is ridiculously inexpensive to make so why can't any of the national chains even come close, in terms of taste, to my neighborhood place? And is it possible to get a pizza delivered for less that $18? When you add the delivery charge - how dare they! - the tax and tip no matter how low the price point is it will be right around $20 minimum. It gets on my nerves - a $5.99 pizza from Papa Johns or wherever - but you have to order two, right?


The best frozen pizza I've had in a while were 4 individual small pizzas for really cheap at Wal-Mart. I threw on some good mozzarella, basil, jalapenos, bacon and it made for a great pizza, surprisingly. I need to get some more of those. I was addicted to Taco Bell's Mexican pizza for a while, I still enjoy it every once in a while.

I wrote here recently about my search for a great roast beef sandwich. I also hunger for a delicious Caesar salad and good tasting soups. There was a place in LA on the corner of 3rd Street and Crescent Heights called Sadie that had the best Caesar salad dressing I've ever had and the finest homemade soups. When I worked down the block I was there almost every day, they also had an amazing array of classic candies that you don't see anymore. That charming gift shop disappeared in 1998, it was gone by the time I returned in 2002 replaced by a Men's Wearhouse or something. Here's an article on the store. Here's to the Sadie lady Joan wherever you are, and to the lady who had the Rainbow Sandwich Shop for a brief time in the early 1980s in Century City, the best roast beef sandwiches I ever had.

Since Sadie I've only had one Caesar salad that's come close, with the strong taste of anchovies, and that's at a local pizza joint called Sticks & Stones. I say close but still not anchovie-tasting enough for me. I normally detest Tomato soup but a local chain Mellow Mushroom has a tasty Tomato with lots of garlic, their bean soup is good too. Sometime I'll make do with Panera Bread's soups but they comepre-prepared in a plastic bag, not made fresh. They used to be better, especially their French Onion which is a real mess now. (When I started getting the 'Pick Two' it was around $6.50 now it's about $10.00!)

Friday, April 22, 2011 - 9:45am
WOULD YOU LIKE TO RESPOND?

FREEDOMLAND?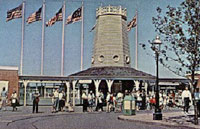 Kevin S. Butler writes about a really obscure local TV special: This coming Thursday June 16, 2011 marks the 50th anniversary of the airing of the kids TV special "The Visit To Freedomland" on Friday night June 16, 1961. WPIX 11 in NYC aired a pre-taped comedy/variety tour of one of NYC's most unique theme parks which recreated events from American history. Channel 11's residents kid's hosts/performers Officer Joe Bolton, Capt. Jack McCarthy, Bozo The Clown (Bill Britten) and Chuck McCann & Paul Ashley's Laurel & Hardy puppets joined kid actors Mary Ellen & Paul O'Keith (Mr. O'Keith would go onto play Ross Martin on "The Patty Duke Show" on ABC TV a few years later). As they all traveled thru Freedomland's different sections "Little Old New York", "The Old Southwest", "San Francisco," etc. Comedy skits and songs were also performed with the musical accompaniment provided by conductor Paul Lavalle. Ironically, Chuck's head puppeteer/puppet-maker/comedy assistant and mentor Paul Ashley had helped to create and build the attractions for the park. The show only aired once it was never broadcast again and no videotape or kinnie film of the show is known to exist.
Wednesday, April 20, 2011 - 12:49pm
WOULD YOU LIKE TO RESPOND?

Read more CLASSIC TV Blog entries here!