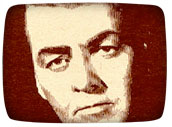 JOE PYNE
Mike Ransom at Tulsa TV Memories has been thinking about one of the most famous quips in TV history. But first watch this clip from The Joe Pyne Show where a couple of guys tussle on the air:
Mike Ransom: Re our discussion about the Pyne/Zappa-table quip that supposedly happened between Frank Zappa and ultra-conservative talk show host Joe Pyne (who had a wooden leg due to a war injury) that went something like this:
Pyne: "So I guess your long hair makes you a woman."
Zappa: "So I guess your wooden leg makes you a table!"
I was prompted to think about it again by the retirement of Dr. Steadman Upham from the University of Tulsa this week. Dr. Upham once wrote this essay based around the 'table' comment.
The story serves as a pivot for the point of his article. In it, he claims to have personally viewed the incident on TV, but wraps up his recollection with this: "Zappa's flash of wit and humor put both men at ease and set the tone for what I remember to be a wonderful conversation."
Knowing of Pyne's sensitivity about his wooden leg and dislike of hippies, I find that very hard to believe. Upham's retelling also included that hallmark of the story, "Without shifting expression, Zappa fired back..." Other variations are "Without missing a beat" or "Without batting an eye".
As an aside, here is a quote from Dan Greenburg's hilarious 1982 novel, "What Do Women Want?":
When he (the author-protagonist) got to "The Joe Shine Show" the producer took him aside for a hurried conversation.

"Have you heard anything about this show?" asked the producer. Lance shook his head. "Joe tends to be a little rough on his guests," said the producer, "but it really sells books. Now, I don't want to make you nervous, but whatever you do, don't try to shake hands with Joe and don't mention cancer or wooden legs."

It wouldn't have occurred to Lance to mention cancer or wooden legs, but by the time time the show began taping, he was concentrating so hard on not mentioning cancer or wooden legs, he could barely speak at all.
Pyne was also known for his phobia of being touched: "Don't touch me unless you love me". (You'll see that in the clip above when one of the stage guys tries to help him up.)
However, there is online evidence that Zappa was on the Pyne show at least once as part of a "freak-out" band. Take a look at this 1966 Long Beach newspaper clipping and associated comments.
Your article is cited there as well.
Despite the likelihood of Zappa appearing on the Pyne show in 1966, he wasn't yet enough of a name to even be credited in the clipping; the crazy sculptor got all the glory. As the commenter (who mentions nothing about the legendary exchange) describes the Dionysian scene, it seems unlikely that Zappa would be welcome enough in Pyne's proximity to be given a chance to utter the infamous comeback. But who knows for sure?
The 'wooden leg' story stills seems a little too perfect to me. A Wikipedia writer relates a very similar story (again, "without missing a beat"):
"There was another story of a notorious confrontation, involving Paul Krassner, the editor of The Realist, who was a guest on Pyne's TV show. Pyne made insulting remarks about Krassner's acne scars. Without missing a beat, Krassner asked Pyne if his wooden leg caused any difficulty in having sex with his wife. Pyne was flummoxed, so he sought comments from his audience, made up at this point in his career by whomever KTTV could bring in from Hollywood Boulevard. The audience happened to include Phil Ochs, whom Krassner had brought along to the studio. Ochs very calmly remarked, 'What Paul Krassner has just done is in the finest tradition of American journalism.' No videos of this incident survive, though Krassner insists that it did occur and was edited out."
If I were a betting man, I would wager that the Zappa story was transmuted and refined from the Krassner story.

From my Pyne page about the Long Beach clipping:
Vito Paulekas was a sculptor who freaked out with a group of dancers at early Mothers of Invention concerts. He is heard on The Mothers' "Freak Out" album. So the above link corroborates the claim that Zappa appeared on The Joe Pyne Show, whether he uttered the legendary comeback or not.
Friday, April 15, 2011 - 7:50am
WOULD YOU LIKE TO RESPOND?
ENTERTAINMENT OPPORTUNITY IN LA TONIGHT
Former Dean Martin Golddigger Joyce Garro will be singing tonight, April 15th, & Friday, 22nd with keyboard accompanist, Bradley Young & on Friday, April 29th, she will be singing with the one and only amazing John Chiodini, guitarist, from 6-9pm, at a great new downtown LA restaurant: "CUCINA RUSTICA" - 888 Wilshire Blvd (corner of Figueroa & Wilshire) - (213) 988-8880 for reservations and info. The evening promises delicious, quality Italian food, great decor, and a relaxed atmosphere. Wish I could be there to hear Joyce sing the classic Italian songbook!
Friday, April 15, 2011 - 7:10am
WOULD YOU LIKE TO RESPOND?

Read more CLASSIC TV Blog entries here!