Car 54, Where Are You? has arrived on DVD and it's terrific. If you haven't seen this sitcom from the early-1960s it truly is one of the funniest shows ever broadcast. That's not hyperbole, just the facts, ma'am.
Created by Nat Hiken (Sgt. Bilko) starring Fred Gwynn (The Munsters) and Joe E. Ross Car 54, Where Are You? became popular with a new generation of viewers after airing on TV Land or Nick, I forget which.
The regular cast includes Nipsey Russell, Beatrice Pons, Al Lewis, Charlotte Rae, and so many other recognizable Broadway and television actors turn up in guest roles - like Al Nesor (Li'l Abner) and the great Yiddish comedienne Molly Picon.
The scripts are as fresh as the day they were written.The genius of Nat Hiken's broad, over-the-top storylines and crisp direction is so evident in these comedy gems, he's one of the great unsung heroes of early TV.
The digital transfers were done right from the 35mm master prints so the picture and sound are first rate. Besides the 30 side splitting episodes of the first season, an interview with Charlotte Rae and Hank Garrett conducted by Robert Klein is included as an extra. I loved the stories about Joe E. Ross being such a pain on the set.
This is one of the best bargains out there when you consider there's almost 15 hours of the finest sitcom ever produced.
Thursday, April 7, 2011 - 8:05am
WOULD YOU LIKE TO RESPOND?
I'M STILL PREOCCUPIED
Kevin Butler points out that: "The Jewish Television Network is rerunning The Soupy Sales Show (the WNEW TV 5 NYC version) and "The New Soupy Sales Show" weekday mornings at 9:30 A.M. and weekday afternoons at 2:30 P.M. EST." How cool is that? Now a new generation of kids can grow up with Soupy's brand of pun-full humor and pies in the face.
Gilbert Gottfried made the news recently, here's a funny clip from Hollywood Squares where the contestants keep calling on the comic to win but...
Wednesday, April 6, 2011 - 3:16pm
WOULD YOU LIKE TO RESPOND?
RETURN OF CLASSIC TV ENTERTAINMENT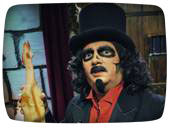 Guess who's being resurrected on TV? Svengoolie, the legendary horror host will join what is quickly becoming the hottest cable channel on the dial. From the press release: Me-TV is opening up the dungeon door and unleashing Svengoolie on the country! For more than 30 years, Svengoolie has been Chicago's premiere horror show host. Now, this classic program is going nationwide with its premiere on the Me-TV Network! Beginning Saturday, April 2, Svengoolie will open up his coffin for business every Saturday night at 10 PM/ 9 C on Me-TV.
Since Svengoolie first debuted, generations of viewers have become dedicated fans of the movie event which mixes up horror and humor. This phenomenon was not limited to Chicago; many television stations across the country, from the 1950's until 1980's had beloved horror movie hosts but Svengoolie's cult-followers never stopped watching. Me-TV's brand is about presenting and preserving memorable entertainment, making Svengoolie a perfect fit for the classic television network.
The award-winning Rich Koz became the hand-picked successor to the original Svengoolie back in the late 1970's. While based in the Chicago-area near the beloved and much-mentioned suburb of Berwyn, Svengoolie has fans all over the country, proven by the fact that they voted him "Best Horror Host of 2009" in the national Rondo horror awards. Koz stated, "I've always heard from former Chicagoans and horror show fans who know of me from around the country, asking how they could see our show and I'm happy that they'll get the chance now, thanks to the Me-TV Network."
Svengoolie will feature classic Universal horror films, many of which have not been seen on broadcast television in years, including 'Bride of Frankenstein,' 'The Wolf Man,' 'Creature from the Black Lagoon' and 'The Invisible Man.' And it's Sven's unique scary sense of humor that makes each program a frightfully funny experience. Beginning April 2, the king of horror hilarity will be coming out of his coffin every Saturday on Me-TV.
Tuesday, March 29, 2011 - 11:22am
WOULD YOU LIKE TO RESPOND?
FROM AROUND THE WEB
Been too busy taking care of my mom and working on my book to blog lately - not much to say, really. But I'm going to try to be more attentive over the next few weeks despite the mom thing getting worse and worse.
Yikes! When NEWSWEEK recently asked 1,000 U.S. citizens to take America's official citizenship test, 29 percent couldn't name the vice president. Seventy-three percent couldn't correctly say why we fought the Cold War. Forty-four percent were unable to define the Bill of Rights. And 6 percent couldn't even circle Independence Day on a calendar.
Retired sucks but maybe the other two will work out, they have great casts: TV Land announced today that the network is moving forward with three sitcoms – two new series and a renewal for "Retired at 35." These series join "Hot in Cleveland" which is now up to a 24 episode order for season three. These pick-ups take TV Land from zero to four scripted sitcoms within less than a year's time, along with several additional sitcoms in development.
The two new series joining the network's roster are "Happily Divorced" marking Fran Drescher's ("The Nanny") return to television joined by John Michael Higgins ("Best in Show"), Tichina Arnold ("Everybody Hates Chris") and Rita Moreno ("West Side Story") as well as "The Exes" (working title) starring Donald Faison ("Scrubs") , Wayne Knight ("Seinfeld," "Hot in Cleveland"), David Alan Basche ("Law and Order," "The Starter Wife") and Kristen Johnston ("3rd Rock from the Sun"). Additionally, TV Land has renewed its hit sitcom "Retired at 35" starring George Segal, Jessica Walter and Johnathan McClain for a second season. "Happily Divorced," "The Exes" and "Retired at 35" are all picked up for 10 episodes each. "Happily Divorced" is slated to premiere June 15th along with new episodes of "Hot in Cleveland." "The Exes" and "Retired at 35" will premiere next winter.

This will be fun: For the first time ever, "The Best of the Dean Martin Variety Show" will be available as a single DVD, double DVD set, and six-DVD Collector's Edition, officially from NBCUniversal Television Consumer Products and TIME-LIFE. Each DVD, more than two hours long, features several episodes including guest segments, comedy sketches and over a dozen full-length musical performances, with additional bonus material starring regular show performers and extensive liner notes. "The Best of the Dean Martin Show" single DVD includes four show episodes with more than 15 musical performances; the double DVD set includes seven show episodes featuring more than 30 musical performances; and the six-DVD Collectors Edition includes more than 50 guests and 80 musical performances.
Each DVD, more than two hours long, features several episodes including guest segments, comedy sketches and over a dozen full-length musical performances, with additional bonus material starring regular show performers and extensive liner notes. "The Best of the Dean Martin Show" single DVD includes four show episodes with more than 15 musical performances; the double DVD set includes seven show episodes featuring more than 30 musical performances; and the six-DVD Collectors Edition includes more than 50 guests and 80 musical performances.
Tuesday, March 22, 2011 - 8:00am
WOULD YOU LIKE TO RESPOND?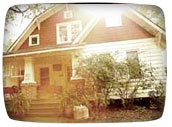 THE HIVE
I've mentioned The Hive web drama here before, I finally got a chance to get caught up with the latest episodes and I'm really enjoying it. It's a modern Southern Gothic love story tainted with murder and intrigue, centered around a house full of troubled young ladies and the thorny predicaments they all too easily find themselves involved in.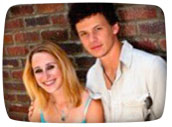 Katie Hendrix as wild eyed child Lena virtually screams "stay away" with her needy glances and twisted personality while Nick White as Jason might well become the web's first teen heartthrob, you could film the sequel to Lost in those bulbous lips of his.
Here's a sampling featuring Logan Anderson, you may remember her from One Tree Hill. In The Hive she plays Marsha, the girl you love to hate to love, a stunned hornet boozily buzzing with the promise of future stings.
There's an air of authenticity that permeates The Hive, a romantic shabbiness that lures you in with offbeat, sometimes downright creepy characters like Brian Mullins as the sleazy ad agency guy in episode 3.
It's gorgeously shot, due in large part to cinematographer Phillip Dann. I'm a sucker for a gorgeous looking cemetery scene like you'll find in episode 7, throw in a vampire and a werewolf and you've got Dark Shadows. But you don't have to rush home after school to watch this drama, the first seven episodes are available anytime you like at: catchthebuzz.tv.
Check it out!
Wednesday, March 16, 2011 - 11:59am
WOULD YOU LIKE TO RESPOND?
HERE & THERE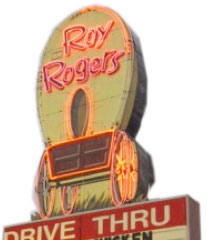 Would you be interested in an article on Long Gone 1970's Fast Food Places? Why, you can almost taste the cheese! Lost chains like Burger Chef, Biff Burger, Gino's Minnie Pearl's Fried Chicken, Roy Rogers and more - where can you get a taste of those retro foods again? I'll tell you and show you some retro commercials.

Justin Kaplowitz reminded me of this great ABC fall jingle from 1973 'This Is The Place To Be.' This is a very long version mixing the jingle with the sounds of the primetime lineup followed by video clips from that amazing year of dying and decaying series. A lot of extras got work that season! It gets pretty trippy at the end; promotions like these made ABC number one among younger viewers in the seventies.

Speaking of 1973 and ABC here's a mashup of that season's Movie of the Week promos.
Tuesday, March 15, 2011 - 11:17am
WOULD YOU LIKE TO RESPOND?
YOUR TV & DVD NEWS

Wow. Wow. Wow! I just received something I didn't know anything about and wasn't expecting - when I opened the package I just about plotzed - it's The Ernie Kovacs Collection, a massive 6 disc set that spans the TV career of this comedy master, containing an amazing array of extras. I'll go into more detail later but you know you're in for a treat when you see the cover with that luscious Drew Friedman illustration. And it's from Shout! Factory. I'm watching one of his NBC morning shows from 1956 now - unbelievably hilarious!!!!
TV Land's Hot In Cleveland just got picked up for a third season - 22 more episodes, that's a long season for a cable show. No word on the dog that follows, Retired at 30.
The Oprah Winfrey Network got hot ratings on launch but is now cooling down considerably.
This is unusual - CBS's Survivor, the number 1 network show last week, has been renewed for two more terms - both to be broadcast during the 2011-12 season. No doubt to soften the blow for the immenent demise of Two & A Half Men without Charlie Sheen.
Here's a scenario for you - Two & a Half Men returns with Tom Arnold taking Sheen's role, as Charlie's cousin or something. The ratings tank just as Sheen is getting out of rehab so he returns to the series with massive anticipation and dropped lawsuits. Ratings are great on the return episode, then sinks to the mid-thirties. The Sonny & Cher formula.
NBC's Law & Order: Los Angeles will relaunch with new original telecasts starting with a two-hour episode on Monday, April 8.
Cartoon Network has ordered additional episodes of Hole in the Wall (previously on Fox), Dude, What Would Happen, and Destroy Build Destroy.
Friday, March 11, 2011 - 7:49am
WOULD YOU LIKE TO RESPOND?
FREE RINGTONES & STUFF
I hate Two and a Half Men creator Chuck Lorre. I never met the guy or worked with him - I just want to join the pile on.
TV Guide has a rundown of the pilots under development including possible series from Josh Schwartz (Chuck, Gossip Girl), J.J. Abrams (Lost, Fringe), Darren Star (Melrose Place), and Ron Moore (Battlestar Galactica). Stars that may be returning include on of my faves Sarah Michelle Gellar (Buffy the Vampire Slayer). Kiefer Sutherland (24) and Tim Allen (Home Improvement) want another run around the track; Wonder Woman and Charlie's Angels remakes are also threatened. There are some truly bizarre ideas there like Playboy set in the Chicago Playboy Club in 1963 where the "bunnies" (including Amber Heard and Naturi Naughton) are secret agents or something.
Here's something for you classic TV lovers who are looking for the coolest ringtones for your smartphone that no one else has. So you'll know it's your phone ringing not the guy next to you! These were taken from the soundtracks of a couple of 1960's sci-fi shows you might remember.
I'll bring you more if you request them.
Wednesday, March 9, 2011 - 10:57am
WOULD YOU LIKE TO RESPOND?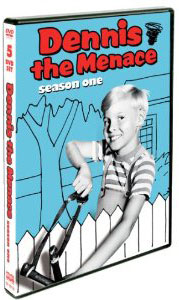 Dennis the Menace The Complete First Season (1959-1960)
Another of those seminal classic TV sitcoms that I watched growing up is now on DVD - Dennis the Menace.
I'm not sure how I feel about Dennis. Sure, I tuned in the syndicated afternoon reruns during my obviously misspent youth but then a TV lovin' kid like myself gravitated to whatever was coming in over the airways at the time - not much! So I found myself watching shows I didn't particularly enjoy, for example, F Troop.
So that's why I'm conflicted. Watching Dennis the Menace now is pleasant enough, although I'm not crazy about Jay North, who I felt was pushing too hard.
The neighborhood children - like Jeannie Russell as Margaret, spitting venom with her whirling curls like a mini Joan Collins, and Billy Booth as Tommy, bumbling along in that wide-eyed, innocent way - are archetypical fifties cookie cutter kids. That's why this monochromatic sitcom worked so well. The casting was spot on and the scripts rarely stretched the one dimensional characters a bit, although there are some surprisingly tender moments between Herbert Anderson and Gloria Henry as Dennis' parents.
I'm crazy about Joseph Kearns' growling portrayal of Mr. Wilson and enjoy watching Sylvia Field as his demure wife Martha even more, What an iconic grandparent types they were; Sylvia Field was one of the most under-appreciated classic TV actresses.
There's no lack of charm in the small town values reflected in the lightweight scripts set along the quaint, neatly trimmed city streets (a backlot, natch). Boomers are reminded of what life was supposed to be like in the early-sixties. It was like that on TV, anyway!
For my money the first season of Dennis the Menace was the best, they had the mix right practically from the start. As much as I enjoyed Gale Gordon, who took over when Joseph Kearns died unexpectedly during year 3, Sylvia Field was the series only believable character; when she was let go that year the show became too cartoony. Odd criticism for a production based on a comic strip panel, I know, but Hank Ketcham's daily droppings were never funny to me either.
In this 5 DVD set get all 32 episodes of the first season and lively extras like The Donna Reed Show episode where Dennis and Mr. Wilson appeared and original network promos.
The bonus I really digged was the new interview with series' stars Gloria Henry and Jeannie Russell, that was very revealing. They discuss the events surrounding Joseph Kearns' death, sending the highly-rated production into turmoil; why the adorable Sylvia Field had to be fired; and other assorted backstage business.
Of course, if you're one of the many fans of Dennis the Menace this new collection is a no-brainer. As far as the quality of the DVD release - it's from Shout! Factory so that's all that needs to be said. For the lesser informed, that means the highest quality with the best possible picture and sound.

Dennis the Menace The Complete First Season (1959-1960) is a stuck clock set to simpler time, a modern television antidote. Great Scott!

Sunday, March 6, 2011 - 10:00am
WOULD YOU LIKE TO RESPOND?
FUNNY / NOT SO FUNNY
Oh you're going to bust a gut on this video:
Did you hear Charlie Sheen's on air meltdown on the Alex Jones radio show? Wow. Astonishing. So much coke.
Friday, February 25, 2011 - 8:47am
WOULD YOU LIKE TO RESPOND?

Read more TV Blog entries here!