DEAN & FRANK & JERRY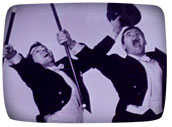 I'm working on a book and in the course of researching I came across the Sinatra / Martin exchanges I presented earlier. I also came across this: everyone prolly knows about Sinatra bringing together the bitterly divorced comedy team of Dean Martin & Jerry Lewis on the MDA Telethon in 1976. While Jerry sincerely wanted to reestablish a bond with Dean, Ol' Red Eyes had no use for his former partner. Even on the MDA Telethon Dean's banter with Jerry had none of the zing that he normally displayed on stage. Dean being in the tank probably didn't help; still, even blasted Dean nearly always managed to be funny.
It's widely believed that Dean & Jerry never got together again but that's apparently not true as you'll hear in this exchange from a benefit concert headed by Frank Sinatra & Deano. Who should wander on to the stage at The Aladdin on August 23, 1977 but Jerry Lewis. Again, Dean mostly just sits it out without much regard to any back and forth with the over the top comic. But listen to that audience cheer when Jerry takes the stage.
Thursday, February 24, 2011 - 9:08am
WOULD YOU LIKE TO RESPOND?
ROMPER BOMPER STOMPER FAIL
Long time TVparty-ers will recognize this - I was going through some video files and rediscovered this funny clip from New York's Romper Room hosted by Miss Mary Ann. She gets flustered when a kid (a young Wayne LaPierre perhaps?) starts talking about guns.
Wednesday, February 23, 2011 - 11:48am
WOULD YOU LIKE TO RESPOND?
I AM SO FAR BEHIND!
Kevin Butler has a tribute to the recently departed Betty Garrett here.
I bought a really cool app for my Evo 4g with hundreds of hours of entertainment - look for the 'Old Time Radio Player' for Jack Benny, Amos 'n' Andy, Burns & Allen and dramas, sci-fi, westerns, all the greatest shows from yesteryear.

I heard Elizabeth Taylor is in the hospital - so just for fun here are some bloopers from her guest turn on General Hospital.
Here are Bette Davis and Frances Bavier aka 'Aunt Bee' in a scene from the General Electric Theater presentation of 'With Malice Towards None' from March of 1957.
Tuesday, February 22, 2011 - 9:08am
WOULD YOU LIKE TO RESPOND?
DIRECT FROM THE BAR...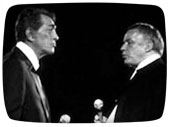 It's a little known fact that Dean Martin, Frank Sinatra and The Golddiggers did a tour of clubs in the New York / New Jersey area in the summer of '77. It was the first and last time these legendary performers got together for a significant length of time since the golden age of The Rat Pack. The concerts were a magnificent opportunity to experience Dean and Frank at their best, especially comedically.
Sure, there were nights when Dean would be so plastered he could barely get through the show, Vicodin and alcohol will do that, but listening to the audio of the two of them toss jokes back and forth is a joy to behold. They meshed so well, only Dean could get away with ribbing Sinatra the way he did. Dean had such a natural, quick wit and a treasure trove of corny jokes he could pull out whenever needed.
Here are some snippets from those concert dates (May 17 - July 14th 1977). Listen to how bombed Dean is here:
Dean handles a heckler at The Latin Casino in Cherry Hill, New Jersey.
At the end of the concerts Dean would join Frank on the stage for some mostly improvised banter - this night they brought up Willie Mays from the audience. Dean had impeccable timing even blasted. Keep in mind Frank hated his one time friend gossip columnist Rona Barrett at this time and his sense of humor was never PC.
Thursday, February 17, 2011 - 9:43am
WOULD YOU LIKE TO RESPOND?
A CLASSY BROAD
The great Betty Garrett has died at 91, I actually started watching All In The Family again after she was cast as the neighbor, she was one of those grand character actresses that hit the right tone for my sense of humor, caustic and bombastic. In this clip she talks about being cast in that sitcom in the fall of 1973.

And here she talks about her other seminal TV role as Edna the landlady on Laverne & Shirley, in particular leaving that series after 7 seasons, thinking the show was ending.

And here's the final theme song for Laverne & Shirley, notice what's missing - Shirley. If Cindy Williams decided to do an eighth season because of a dream as Ms. Garrett stated, it's ironic that she got tossed off the series for, in part, circumstances surrounding her pregnancy. There was also no Lenny as Michael McKean left before the end of the last season as well. That meant Penny Marshall got to make the show she wanted - basically, a revival of The Lucy Show. The production was still in the top 25 when it was canned but fans of the early years were long gone by then.
Sunday, February 13, 2011 - 12:21pm
WOULD YOU LIKE TO RESPOND?

Read more TV Blog entries here!