AGAIN?
A week or so ago I posted a video showng my frustration in trying to deal with AT&T's web site. It just kept me in a loop, unable to access my account or accomplish anything, really.
So a day later I called and got a representative to take care of my order. I wanted to cancel my home phone but keep internet access. I was told by the rep that I could keep my land line for only $6.00 a month if I liked. There would be no frills - no caller ID, long distance plans, answering service, etc. Sure, why not, if it's just $6.00 a month. When I got my order summery - $6.00 had miraculously become $27.50 with an international calling plan tacked on and the "AT&T Long Distance Service" that connects me domestically for 39 cents a minute. When was the last decade you paid 39 cents a minute for a long distance call? I can call cell to cell in Europe for 18 cents a minute with my Sprint Evo 4g. 2 cents to a land line in London. But 39 cents to the next town over? And you ask why I despise AT&T - it's always lies all the time.
Oh, and in case you think I'm being unreasonable I just read an article about how your telephone bill likely has charges and services tacked on you didn't request - but you're paying for. They should be ashamed to do business this way but apparently not.

On a lighter note, here are some Sunday morning bumpers for NBC's kiddie lineup in 1977 (or so it says) - including Thunder (also known as Super Horse, Starring Thunder) which aired on Saturday mornings in 1977-78 but didn't catch on the way Fury did 20 years earlier from the same creators. I doubt the show aired on both Saturday and Sunday mornings though.
Sunday, February 13, 2011 - 7:45am
WOULD YOU LIKE TO RESPOND?
REMEMBERING JERRY REED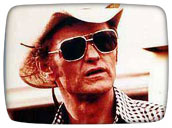 Jerry Reed, who passed away a couple of years ago, was a great talent who had a short burst of hit songs in the early-1970s that were outasite, songs like 'Amos Moses,' 'She Got the Goldmine (I Got the Shaft),' and 'When 'You're Hot You're Hot.' He was even animated on an episode of The New Scooby Doo Movies and hosted his own summer replacement variety show. Then he shot to movie stardom as the Snowman in Smokey & the Bandit and his biggest hit tune (I'm guessing) 'East Bound and Down.' He later went on to co-star in two short-lived primetime dramas, Nashville 99 in 1977 and Concrete Cowboys in 1981.
Here's Jerry with Chet Atkins with 'I'll Say She Does' on The Jerry Reed When You're Hot You're Hot Hour from 1972.
From a 1983 concert, 'When You're Hot You're Hot' - Jerry talks about being on Glen Campbell's variety program.
Finally, Jerry with Glen Campbell on Tom Jones' show doing 'In the Pines' and 'Muddy Water.'
Friday, February 11, 2011 - 11:35am
WOULD YOU LIKE TO RESPOND?
CHECK THESE OUT!
Actor / writer James Rosen has written some books on classic TV series like Route 66, The Invaders, Quincy, Adventures in Paradise and more. They all look like great reading to me!

Barry Greenwood writes: In the early 1960s baby boomers remember a five-minute serial that ran on kid shows called "The Space Explorers," about the search for a lost astronaut by his son and a professor and pilot. It was made by the odd combination of Fascist German and Soviet Russian science fiction films into a US serial. It hasn't been run for fifty years but recently the copyright holder is contemplating a DVD release. A website about the show is here at thespaceexplorers.com.

The DVD won't appear unless interest is shown by contacting the site. Could mention of this be made? It was really a very distinctive relic of the early space age.

Dr. Craig M. Berg send us this wonderful footage of his visit to Romper Room in 1953, shot with an 8mm camera. This was the first year for the show and the hostess here is the original Romper Room teacher, Miss Nancy (Claster).
Dr. Berg writes, "February 1953 was the beginning of Romper Room's forty year run. 'Miss Nancy' was the much adored teacher. Her stage name was 'Nancy Rogers' but she was actually Nancy Claster, married to the show's producer, Bert Claster.

"In December of '53, at the age of four, I was one of the children on the show, for the standard two week stint. But Miss Nancy asked my mom to have me extend for an additional two weeks, and we did.

"Nancy Rogers (Claster), America's predecessor to Fred Rogers of 'Mr. Rogers' Neighborhood,' was a GODDESS to me and probably millions of other children! She radiated goodness, beauty and light. And when, as you see at the end of the film, she asks me if I would like to give her a hug, well, I took maximum advantage of the opportunity!

"For my Romper Room show-and-tell I brought in a scale model of a house that was built by the construction firm my dad worked for. As a result, the TV station, Baltimore's WBAL, was swamped with inquiries about the house. It sold within a week (but no commission for me, darn it).

"Rest in peace, Miss Nancy."
Thursday, February 10, 2011 - 5:23am
WOULD YOU LIKE TO RESPOND?
COMING ATTRACTIONS
Two Jack Kirby creations are coming to the big screen, they both look fantastic in the previews but after the last couple of Marvel pictures I'm not so sure. Here's the long trailer for Thor, opening in May, adhering pretty closely to the original concept it appears.
Talk about staying true to the source material - Captain America The First Avenger, opening in July, is even set in World War II. Those of us familiar with the story know how it ends, icily. Note how Cap looks an awful lot like the Joe Simon / Jack Kirby creation from the 1940s.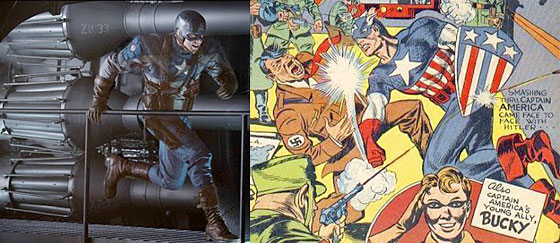 The new Captain America The First Avenger TV spot:
Monday, February 7, 2011 - 5:23am
WOULD YOU LIKE TO RESPOND?

Read more TV Blog entries here!