BETTY GARRETT
by Kevin S. Butler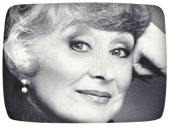 Actress/singer and dancer Betty Garrett who played Mrs. Irene Lorenzo on "All In The Family" and Edna Babbish the landlady who would later become Laverne DeFazio's (Penny Marshall's) stepmother on "Laverne & Shirley" has died from an Aortic Aneurysm at The Ronald Reagan Medical Center In California, she was 91 years old.
Born in St. Louis, Mo. in 1919 she was the daughter of a traveling salesman who had a drinking problem, he died when Ms. Garrett was a infant. Se would later move to Seattle, Wa. with her mother at an early age. Ms. Garrett had natural talent for dancing and acting. Seeing potential in her daughter's abilities as a performer, Mrs. Garrett took her daughter to NYC after she won a scholarship with The Neighborhood Playhouse.
Ms. Garrett trained with the playhouse and made her acting debut on the prestigious radio drama series The Mercury Theater's production of "Danto's Death" in 1938.
From there, she would appear in such stage productions as "Bells Are Ringing", "All in Fun", "Something For The Boys" and "Laffin Room Only". She also performed with The Martha Graham Dance troop in the Catskills of Upstage and she was a Chorus Girl at The Latin Quarter In Brooklyn, NYC.
It was not until 1946 that she made her successful Broadway debut in the original stage production of "Call Me Mister" where she performed a wonderful rendition of "South America Take It Away". A talent scout from MGM saw her performance and sign her to a contract to appear in movie musicals at Metro.
She appeared in such movie musicals as "Take Me Out To The Ball Game" and the movie version of the Broadway stage hit "On The Town" where she played the girlfriend of Frank Sinatra. S he also appeared in "Words & Music" and "Neptune's Daughter" where she was reunited with her "Take Me Out To The Ball Game" co star Esther Williams and she performed the tune "Baby It's Cold Outside" with Clown Red Skelton.
Unfortunately her husband actor Gary Parks was being blacklisted for his political views during the McCarthy madness. This led to Mr. Parks' unjust dismissal from films and MGM dropped Ms. Garrett from their roster.
She would appear in the musical remake of "My Sister Eileen" with Jack Lemmon and "Love is Better Than Ever" with Elizabeth Taylor but the movie studios stopped calling her.
Undaunted. the Parks' created a musical act that they performed to Las Vegas, London and other venues but the bookings would soon end and Larry Parks left show business to become a building contractor. He died in 1975.
Ms. Garrett would find a new career when she was invited to play the role of Irene Lorenzo the put upon next door neighbor of local bigot Archie Bunker (played by Carroll O'Connor) on "All In The Family" - a lady who didn't take any guff from "Mr. Bunker's" business.
She would appear on the show for a few years then she went onto become Edna Babbish the landlady of Laverne DeFazio and Shirley Feeney on the ABC TV Sitcom "Laverne & Shirley".
Ms. Garrett's character would serve as the straight person for the group of zanies who appeared on the show. She would also become a love interest for "Ms. Defazio's gruff but loveable father bowling alley and pizza pallor owner Frank De Fazio (played by comic actor and comedic storyteller Phil Foster). Eventually, after Ms. Garrett's character marries Mr. Foster's character the group would move from their setting in Milwaukee, Wi. to Hollywood, Cal where the couple created their own fast food restaurant.
Ms. Garrett never forgot her early stage career and although she worked intermittently on Broadway during the 1960's, 1980's and in 2001.
She also found the time write and publish her memoirs "Betty Garrett And Her Other Songs", the title came from her one person show.
She made a guest appearance on Ted Danson's CBS series "Becker" which earned for Ms. Garrett an Emmy nomination.
I was lucky enough to meet Ms. Garrett in NYC in the 1980s and she was a very sweet and caring person.