SUNDAY STUFF
The wonderful and talented Chuck McCann has another installment of his web series Bits and Pieces, this time his guest is Jack Reilly who you will remember played Mr. Carlin on The Bob Newhart Show among many other things. Both guys are still hilarious with great showbiz stories that you're going to love. Every once in a while I say to myself, "where's all the fun, non-commercialized-to-death content on the Net?" Thankfully people like Chuck McCann ar stepping up to the plate with compelling programs - I like how he incorporates footage from his former kid's shows.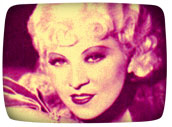 A show I remember watching as a kid on Sunday afternoons was Mr. Ed. I didn't really like the show that much - it was pleasant enough but not particularly funny - but there wasn't anything else on! Here's one of the weirdest sitcom episodes ever, where film legend Mae West falls in love with the talking horse. There are some pretty racy double entendres that slipped by the censor.
Sunday, May 22, 2011 - 8:16am
WOULD YOU LIKE TO RESPOND?
MORE AUDIO GOODIES
While I was searching for the Jerry Lewis clips below I stumbled across these audio gems from TVparty! circa 1997 - at that time if you wanted clips from TV shows this site was about the only place to go.

This jingle for Blue Seal Bread is one of the catchiest of the 1960s, in that overblown vocal style that was so popular in the early part of that decade.
"The guy on the go, the guy in the know goes HIS" - HIS jeans that is, fancier than those working class Levis.
The Beach Boys for Coke.
Friday, May 20, 2011 - 8:16am
WOULD YOU LIKE TO RESPOND?
TELETHON MADNESS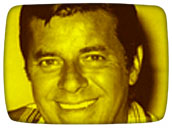 With the recent news that Jerry Lewis is retiring (he was pushed!) I pulled these weirdo audio clips out of the vault, they are in Quicktime format. These are some of the moments Jerry would rather forget, I'm guessing.

Jerry Lewis tells us the reason he does the telethons - he's on a mission from God!


Jerry reveals why he's not ashamed to be ashamed.



Who can forget when Jerry sang a plea for his kids - set to the sexy Barry Manilow / Donna Summer song, "Could This Be the Magic." The lyrics were totally inappropriate, "Help me to help them come... come... come along with me." WHAT?!? It's a song about climaxing!
Friday, May 20, 2011 - 6:52am
WOULD YOU LIKE TO RESPOND?
THIS IS INTERESTING
Mitchell Hadley writes: Just read your piece on Sammy Davis Jr. - I agree completely! On the original show, I've got a small bit about it on the new blog - just put it up last week. Might be of interest.
Here's a limerick by Nipsey Russell you can use for a toast:
When we get to Heaven if you're not there
We'll write your name on the Golden Stair.
If you're still not there on Judgement Day
And though we think you went the other way
Just to prove that our love is true
We'll come to hell to say good wishes to you.
Wednesday, May 18, 2011 - 9:59am
WOULD YOU LIKE TO RESPOND?
AHHHNOLD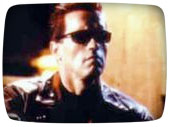 All the news about Arnold Schwarzenegger's cock-up got me to thinking about the poor guy. I worked on the campaigns for every Arnold Schwarzenegger movie from Commando to True Lies except two. I was so impressed with the guy when he came in to the office. I'd see him in the halls from time to time but he was usually more involved with the trailer guys downstairs. Any time I smelled cigar smoke wafting down the hall I knew Arnold was in the building. Of course, no one else was allowed to smoke in the office but Arnold was Arnold.
He seemed to make his own rules, he was after all the biggest box office sensation in the world. He wasn't a jerk about throwing his weight around like so many others, he did it in a way that made you feel like part of the fun. This was a happy guy, no doubt about it. He generated excitement that was fueled by everyone in his vicinity falling all over themselves to please him.
I got to meet him for the first time when we finished the two posters for Total Recall, Arnold wandered over to our artist's bullpen (actually it was more of a hornet's nest) to see the printed work. He was short, most film actors are, but bigger than life in terms of his personality, very jovial. When one of us asked if he would sign a poster - you never do that! - he quickly and graciously agreed but questioned where he could sign on such a dark poster with the black Sharpie he kept on hand. I suggested a metallic gel pen, they were brand new then, and he was amazed at how cool the metallic opaque silver gel looked over that dark blue background. He asked where he could get some more like it and I handed him a half dozen pens from the supply closet. He was genuinely grateful ("Can I pay you for these?" Ha ha ha ha ha - you did!) and took a handful of posters back to his office to sign them later for the rest of us that piled on and asked for autographs. Sure enough, a day later, the posters were returned all personalized, and Arnold starting signing his autographs in metalic ink from that point on.
Arnold rode the Hollywood's Hottest wave until 1993 when The Last Action Hero unexpectedly bombed - and boy did it stink up the place. The studio toadies were stunned, flabbergasted, that this formulaic (but lousy) movie could tank with Hollywood's biggest star at the helm. Last Action Hero was one of the marketing campaigns we didn't come up with so the studio came rushing back to us to create the posters and trailers for Schwarzenegger's next shoot-em-up epic, True Lies.
That film did pretty well at the box office, it helped that it was a much better film than Action Hero, but from that point forward Arnold's motion picture career went into a nose dive. I left the business in 1994 but, if you'll recall, it was only after Schwarzenegger confirmed that Terminator 3 was a box office stiff in 2003 that he decided to run for Governor of California. He was obviously still hoping to revive his moribund career and retake his position as Hollywood's number one action star.
So what happened to cause a family man like Arnold to stray in his marriage ten years ago? I'm no shrink, but if I were to guess it could have to do with his fall from grace in Hollywood after being so big for so long. That had to have been addictive. Now that he was a smaller man in town did he need to be a bigger man at home? Wouldn't be the first time; his affair is / was the stuff of Hollywood romance movies, steeped in the town's own salacious history.
Our virtual paths crossed when I was promoting the TVparty book in 2003 and found myself unexpectedly booked on a number of far right wing radio shows. They saw the work with Ahhhnold on my press release and wanted to talk about what I thought concerning his run for Governor. I found the idea almost too ludicrous to respond to. Republicans traditionally hated Hollywood actors (Reagan excepted) and it just looked to me that Arnold was desperate to be back at the top and saw a roundabout route to get there. Not that I'm judging, that's the game baby.
Wednesday, May 18, 2011 - 9:50am
WOULD YOU LIKE TO RESPOND?
IN LIVING COLOR
Speaking of Sundays and television, here's a segment from CBS Sunday Morning from 2001 on the first color TV broadcasts with some gorgeous early footage.
This is a 1958 live broadcast of President Eisenhower arriving to the White House where Washington D.C.'s NBC affiliate WRC-TV linked with the network in Burbank CA and demonstrated the latest state of the art color videotape technology - look how fabulous the it looks.
If you don't remember or never experienced color TV broadcasts of the mid-1960s here's the first color episode of Password. 1960's TV tended to be on the bluish side, I'm guessing to make it easier to adapt to black and white for those who didn't have color sets yet. I remember my father endlessly adjusting the knobs on our first color television sets for that perfect flesh tone. It was a losing battle for the most part with all of that blue tint to correct for.
Sunday, May 15, 2011 - 9:59am
WOULD YOU LIKE TO RESPOND?

Read more CLASSIC TV Blog entries here!