Rocky 5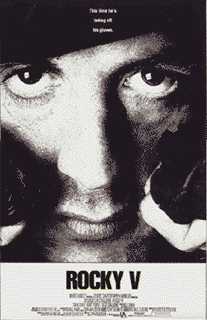 This dramatic piece on the left came close to being the final poster for the planned final Rocky picture.
This striking design is by powerhouse art director Clive Bailey, responsible for an incredible number of high impact campaigns over the last twenty years or so. I would list some of them here, but he probably has press agents who do that for him.
This is the kind of 'in-your-face' campaign that this sequel needed; the printed poster focused on the chain around Rocky's neck. The movie bombed.
Around this time, I was working with a comp artist and illustrator named Willa. Poor Willa had a heroin problem and I was the only one in the office who knew about it. She swore me to secrecy and I kept that secret, covering for her at work and generally being a good enabler(?!?).
This poor girl was working until 10 or 11 every night, shooting up at home, staying up until 5, and then rush into the office by 9 or 9:30 (on a good day). Her own boyfriend didn't know she was strung out, you had to admire her spunk!
Willa was a very gifted artist and because her back was to the room, she developed the singular talent of being fast asleep at the drawing board looking like she was hard at work. She tried hard to beat her addiction and better herself but her work suffered and she moved on to other lesser agencies.
Willa was found dead by one of her coworkers who went to check on her when she didn't show up for work. I remember one art director running out of his office with glee at the news she was dead - Hollywood's a cold town, I'm tellin' ya!