Inside Seiniger
Advertising - 1988
by Billy Ingram
---
WILLA KOCH
I found your excellent web site in a google search for a girl I had a crush on in high school. Her name was Willa Koch and I always wondered what happened to her. If it's the same Willa - and that certainly looks like her in the movies you posted - now I know she died. Thank you for posting that. I wish it wasn't true, but at least now I know.
Even though we went to Fairfax High and had art classes together, I didn't know much about her because I was super-shy in high school. I saw her at shows. I remember she wore a 'Damned' t-shirt and just pretty much was as cool as cool gets.
I appreciate the L.A. punk documentary info. I took the scene for granted as a teen, but now I know how rare that kind of thing is. Fun.
- Regards, Richard
---
That is the same Willa, she was friends with Hillel and Flea from the Chili Peppers at Fairfax High School.
Willa was really something, we became fast friends and occasionally hung out outside of work - not easy to do since we always seemed to be working, 6 or 7 days a week, 14 hours a day.
You have to sort of admire someone who can keep that schedule and be a heroin addict by night.
She tried several times to kick - before work for months she went to a methadone clinic. As far as I know she was clean for a while, she went to work for an agency in Burbank but was found dead of an overdose by a co-worker who went to check on her after she failed to appear at work. A memorial was held in her boss' home that was well attended.
Willa was a very talented artist, she went to Pratt or Art Institute, but she never stood a chance thanks to a less that stellar upbringing. One of her close family members that she adored was a neo-nazi and, as such, Willa had some odd beliefs about Jews - stuff like the holocaust never happened, she even gave me a copy of some report (was it the Protocols of Zion?) that claimed there was no poisonous gas found in the showers, blah blah. I told her if Tony knew she'd copied that shit on his machines he'd kill her. We used to set the type for the credits on the posters and she liked to count all the Jewish names and wonder out loud how many had changed their names to pass. She had a twisted world view.
But that's how Seiniger was - it was like a big family, we all worked in such close proximity and so many hours that even if you didn't particularly like a person you were stuck with them so you get along to go along. I genuinely liked Willa despite her quirks.
Willa had another unique talent - she could sleep at her desk and look like she was working. She had her back to the room and could sit there, head bent down, with an exacto knife in one hand and a pen in the other and be fast asleep. To anyone walking by she looked deep in thought, poised to act. George Costanza had nothing on her!
---
Billy ... Where am I??? How did you shoot around me and then not even mention me in the text???
Just kidding...
I think I had just left after you started there --- I left a week after Jeff Kerns started - I know we met a few times coming and going as I did some freelance off and on for a few months after -- Also I designed the Seiniger Mona Lisa filmstrip logo.
I used to be pretty good friends with both Clive and Dawn before they were Mr. and Mrs -- and Clive and Dawn and Dave Christiansen and I all shared the office next to the cannon copier room.
I worked with Olga and Tom Martin for the most part.
I originally started freelancing with Tony back in '77 after Art Center as a production artist - his original digs back then were a couple of office suites in an office building on Wilshire a few blocks west of La Cienega - Tony was regularly using Drew Struzan way back then and a host of other incredible talent. It was all quite exciting for me as I was originally an illustration major at Art Center.
I left to work freelance elsewhere and ended up at NBC for a number of years and then returned to freelancing in '87 at that time Tom Martin called me in to work on some poster concepts at Seiniger. - I freelanced off and on for Tony for the next couple years. After Tom Martin left for Universal Tony and Mike offered me his permanent position but I chose to remain on a contract freelance basis as I was trying to get my own studio started - finally Tony needed to know someone was under his ultimate control and hired Jeff when he finally agreed to accept the permanent position.
So do you hear from Andy or Kevin or Troy or Jen? They all left Seiniger to work with me on Movieline and other projects in the summer of '89.
First Kevin joined me then we recruited Andy then Jen. We worked together for almost 5 yrs before we closed shop. They were a very talented crew. I left L.A. In '94 after Andy moved to SF to work with Troy at Winterland and Jen to Chicago and Kevin went in house at Movieline. I got to say I really enjoyed working with those guys they were really fun and we created some very nice work together.
I'm now in Northern Calif. (berkeley area)
I did some freelance StarWars merchandising work with Troy over at Lucas about 13 or 14 years ago.
Jen ended up in the Chicago area with her own design firm.
Last I heard Andy had moved to Colorado (?)
Last I heard Kevin was still in L.A. - right?
Last I heard Troy is still in Marin somewhere.(?)
Last I heard Tony retired to Santa Barbara?
And Clive and Dawn have become moguls!
What happened to Olga? -- and Tom Martin?
Anyway just wanted to say I got a kick out of visiting the "Shrine" nicely recounted and the video was a blast. So tragic to hear about Willa - who woulda' known, she was such a sweetheart.
If you have any contact info for those guys please pass it along to me if it is appropriate to do so.-- I would love to find out how and what they're doing these days... Nostalgia!!! Just cant get enough!! Lol
I hope life has treated you well and that things are going great for you... Thanks for the pleasure of your site. Good job!
Cya... Regards...
Scott Miller
---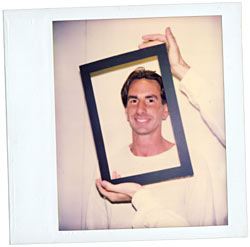 Even though this is one of those you-had-to-be-there kind of things, I thought I'd share this with you.
On three occasions, I brought a video camera with me while I was working as an artist for Seiniger Advertising, creating full color, fully realized mockups for movie poster designs, also referred to as "comps" (short for comprehensives). The videos on this page were shot around Christmastime of 1988.
This motion picture advertising boutique was headed by Tony Seiniger, a giant in the industry, responsible for literally hundreds of hugely successful campaigns. Jaws, James Bond films, Born on the Fourth of July, Risky Business, Bull Durham, Field of Dreams, The Firm, Major League, Three Amigos, Ghost, The Hulk, I could go on forever.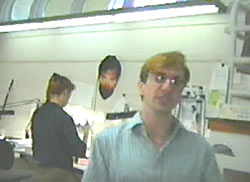 It was by far the most stressful, creatively challenging job I ever had, you never knew what you would be called upon to do that day as an artist, up against the most ridiculous deadlines. We were expected to create everything that an artist working in Photoshop can do today, every effect, every graphic style and trick we accomplished with our bare hands, airbrushes, color Xeroxes, Chromatechs, and anything else we could get our hands on.
Not that anyone could tell but I went in terrified the first year or so, fearful that I wouldn't be up to the challenge. Fortunately I thrived on this type of unbridled turmoil and ended up staying, on and off, for eight years, considerably longer than most were able (or willing) to hang in there.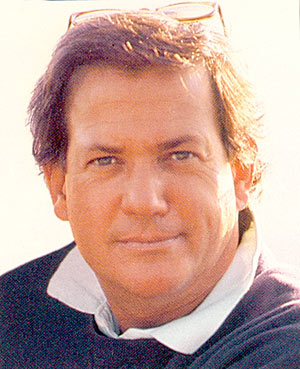 Tony Seiniger in 1988
"Seiniger and crew are the New York Yankees of the profession." remarked Richard Kahn, past president of the Academy of Motion Picture Arts & Sciences.
In 1988, Seiniger Advertising was located on the corner of West Third Street and La Jolla in West Hollywood, in a vine covered building with high walls, electronic gates and no signage save the number 8201. (The company moved to Wilshire Boulevard in Beverly Hills in early 1994.)
The place was often referred to as "Seiniger University" because, when you left this place, you could find work anywhere in the industry. Competitors and the motion picture studios knew - if you survived Seiniger you could hang anywhere.
One of my favorite illustrators (and a fellow I met at Seinger) William Stout had this to say in The Comics Journal about working there: "It's all Photoshop now. It's a shame -- now everything looks the same. It's really boring. When I was working in what I consider the heyday of movie posters, that agency, Tony Seiniger and Associates, was one of the most exciting places an artist could visit. You never knew what you were going to see. I'd walk in there and there would be Pete Palombi's poster for Travels With My Aunt done in the style of Toulouse Lautrec. There would be Drew Struzan's Leyendecker-meets-Mucha stuff, really gorgeous work. Barry Jackson did his first poster there for Escape From New York. Dan Goozee did this great wood block-style poster for Streets of Fire that looked like Russian agitprop. It was a total "Wow!" You never knew what to expect. What am I going to see next? How are we going to promote this film? What kind of visual adventure are we going to have this time? And now it's so dull. It's the same, same, same."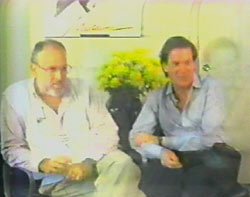 SEINIGER - FOX
(Quicktime Download)
First up, here's a segment from the Channel 11 Fox Morning News with Tony and his VP at the time, Mike Kaiser. Sorry about the bad reception, LA's cable TV sucked in '88. The artist you see hunched over the drawing board is yours truly - if I'd known I was going to be on camera that day, I would have worn a nicer shirt!
I hop into the car to drive to work, down Beverly Boulevard from Silver Lake, in my 1969 Mustang (I had three of them that I finally combined into one gorgeous vehicle). Artist Andy Snider is exiting his classic VW bug outside the office where we see Dawn Teitelbaum arriving with her new puppy, Butch. Joe Quinn, the accountant, bounces down the steps. Willa Koch shows us what she's working on, she died from a heroin overdose sometime around 1993. Some people have all the luck!
Client liaison Maren Moebius is at the head of the line as the crew is lined up for some sort of breakfast spread, Valerie Hennigan is playing with the puppy. Next I wandered into Dawn's office, she went on to co-found the very successful entertainment ad agency BLT along with husband Clive Baillie who was also working for Seiniger at this time. Then on to the main bullpen room. Hold the camera still, Billy!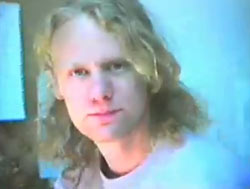 FILM 1 - CHANGES
In the smaller bullpen, the guy with the other video camera is Kevin Robie, he went on to art direct Movieline magazine. The impossibly gorgeous Andy Snider is working with Dawn on a Hollywood Reporter ad. Is that Jennifer Paley, granddaughter of CBS's William Paley, seen before Troy Alders passes by? Troy had more energy than anyone I ever met, he moved to San Francisco to become a highly respected artist and teacher, a fantastic talent. He designed posters for the Grateful Dead and is now an Art Director for Lucasfilm. Then Andy and Evan Wright sing their appropriate homage to Seiniger Advertising.
That's production manager John Barry with a (wax) ice cream cone on his head. He's working, honest! Willa is ordering rush, overnight typesetting. Finally, I'm shocked - shocked, I tell you - to discover everyone's left for the night and Andy and I are the only ones left still working. Poor Andy, he was on salary but I got paid by the hour. Those crazy kids didn't know any better!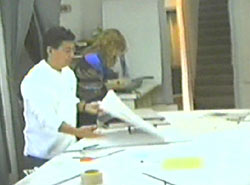 FILM 2
In this footage shot on the day before Christmas break, we are once again eating. I can't tell you how rare it is to see art director Olga Kaljakin sitting in repose, she was constantly battling deadlines, as we all were. Olga died in November, 2008. She was a tremendous talent, a warm friend and will be greatly missed by everyone. Copywriter Steve Miller is seen next, he went on to Paramount shortly after this.
Camera guy Mark Estrada demonstrates one of his deadly Exacto Knife tricks - he also enjoyed seeing how fast he could spike the blade between the fingers of his outstretched hand without cutting himself. When Mark left for rival agency Dazu he took a lot of the heart of the place with him. And all ten fingers, miraculously.
John Barry is seen briefly, in a red shirt and black vest, he's a VP at Paramount now. John Nakama (pictured above) is working studiously in the background while the rest of us goofed off. Typical. He was the best there was, I strived to be as good and as fast as John but like everyone else I came up short. Then, with help from Evan, I take you on a tour of the front office. Too bad we never made it to the impressive lobby but we do see the lovely receptionist Leora Tobias (Tony always had the best receptionists) and Tony's administrative assistant who's name escapes me.
Seiniger must have been out of town when these home movies were shot, a rare time when the staff could relax a bit; usually we were going a mile a minute all day and well into the night. In the course of any year, you could literally count slow days like these on one hand. Typically, in the art department, we had no earthly idea at 6:00pm when we would be going home at night.
Within a year almost everyone you saw here had left the agency and a new regime swept in, along with a new crop of young talent, leading to my favorite period.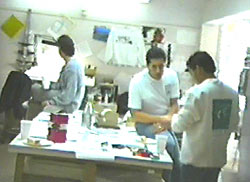 I left Seiniger Advertising in 1994, the perfect time to move on as everyone was transitioning to Photoshop and I just didn't want to sit in front of a computer all day. Ironically, I created TVparty and began designing web sites for radio stations, universities and record companies soon after, I must have spent 16 hours a day in front of the screen to get started on the internet but that was no big deal after years of working the most ungodly hours.
The main thing I remember about those times was that battle cry heard twice a day at the Third Street studio - "Ticketing on La Jolla, ticketing on La Jolla!"
Like I said, you had to be there...
Monday, March 31, 2008 - 11:20 am
WOULD YOU LIKE TO RESPOND?

Want More?!? Here's the Seiniger 1989 Christmas Party!
---
Movie Poster Artists
page 1: Unseen Movie Posters
page 2: More Lost Movie Poster Designs
page 3: Son of Unseen Movie Posters
page 4: Yet Again, Unseen Movie Poster Designs
page 5: Movie Trailers of the 80s-90s
Page 6: Inside Seiniger Advertising - 1988
Page 7: Seiniger Advertising Christmas Party 1989