Anything with a Ring and Chairs
I started watching wrestling at age 10, in the mid-sixties. I remember watching a tag team match with the flying Scott Brothers verses a couple of losers, it was all comedy stuff, and I turned around to my older brother Sparky and said, "This is better than the circus!" From that point on I was a fan.
I think most wrestling fans started that way but most moved on to other interests. I was always different and continued to watch whenever I could. My brother Sparky worked at the Greensboro Coliseum as an usher and on wrestling nights was responsible for bringing the grapplers drinks and oranges before the matches.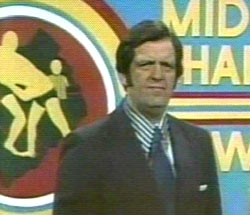 One of those moments you never forget: Sparky said, "Yeah, its all fake. The wrestlers hangout and talk over the matches. Rip Hawk, Swede Hanson, Johnny Weaver (pictured), they are always playing cards. And one weird thing; do not talk to Brute Bernard, he just sits in a corner drooling on himself. He is crazy."
Now that's important stuff to know! Wrestling is a show but it permits psychopaths to earn a living. Only in America...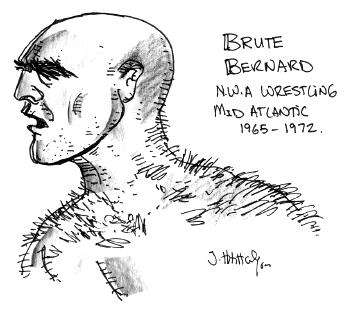 The seeds were planted; I became a wrestling fanatic. Any show, any promotion, I would watch anything with a ring and chairs.
Sparky took me to my first house show in 1966. The main event was for the Eastern Heavyweight Title. The champion the Missouri Mauler versus Danny Miller.
I always liked the bad guys even at this stage. My reasoning was very clear, they do all the work and nobody ever cheers for them. And it seemed to me that the heels always said the funniest things!
Well, I got to see the underworld that night. Such stars as Luther Linsdey, Joe Turco, Rip Hawk, Suede Hanson, Klondike Bill, and George "Two Ton" Harris. The Coliseum only held 9,000 then, with no upper deck. As I walked into the arena, Sparky said, "Remember, the entertaining part is half in the ring, and half in the stands. These people all look like they fell off a turnip truck." And he was right. This one old guy was yelling, "Headbutt him, LUFFER!" as he continually dropped his bottle of wine.
I went home crushed as Miller took the title from the Mauler to his finisher the Chicken Wing Cross Face. I went home dying for more and I guess I turned more people into fans than just about anyone. Every kid who moved into the neighborhood would end up watching wrestling with me, maybe that is why so many families moved out.
And then a miracle happened.
The family down the street got Cablevision!
And in a few weeks I got cable! That opened the door to?more wrestling! Think about watching a Saturday full of wrestling, watching WWWF, Georgia, 3 hours of Mid-Atlantic, Florida, and a strange show shot in a tent called ALLSTAR WRESTLING.
Next:
What I know about wrestling can be
wrapped up in two words:
ALLSTAR WRESTLING