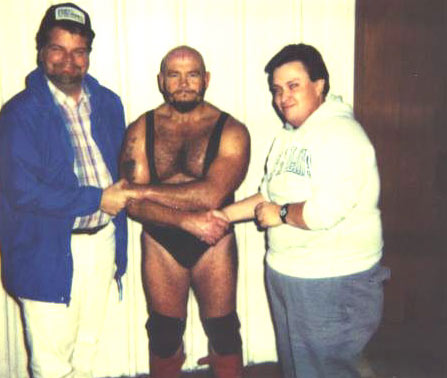 L-R: John Hitchcock with Ivan Koloff and Obin Johnson
Nikki Goes Nuts!
Well, it was time for the Crockett Cup and the second round was in good old Greensboro, the home of Starrcade. This was a big show with the Coliseum sold out months in advance.
I was a little disappointed in the fact that the Sheepherders had already been eliminated in South Carolina. This event was a tag team tournament - a one loss and you are gone deal - and I guess the Crockett's felt the Herders were small time or something. I had never seen these guys live so I felt it was a poor choice on their part. Later I learned without a lot of blood, the Sheepherders were no big deal and they later became comic acts.
As you can already guess I was on the Front Row with the usual group of fans having a ball, stirring up the show by cheering loudly for the heels. Tully Blanchard and Arn Anderson were still in the tournament so it was going to be a great night. In my opinion, The Horsemen and the Midnight Express were the greatest tag teams I ever saw in person - maybe I should add The Anderson Brothers, too.
They had a singles match with the great Ric Flair verses Nikita Koloff for the World Title. Flair is Flair so I figured the match would be watchable but Nikita Koloff was one of my favorite whipping boys. Back when Nikita was a heel with Ivan Koloff the guy had a freaky charisma due to his muscular size and brutal style but when he turned babyface the Russian Nightmare became a huge pussy. The change was so sudden it exposed the fact that Nikki just could not work a lick unless he was in a real slow worked match.
I knew even with Flair's brilliance this would be a real bad match but Nikita was wearing his lazy boots and basically did nothing in the ring. The match started out with a few spots to get over Nikita's strength and then it was rest hold city.
Forever.
And ever.
There was Flair working an arm bar for eternity as we all sat stunned at the fact that the big lug was going to do nothing but lay in the ring.
This drove me nuts. So being that I was right on the front row I started to really light up Big Nikki. I started yelling that Flair could have a match with a broomstick but he couldn't do shit with Nikita. And how did it feel to know that he was the worst wrestler in the world!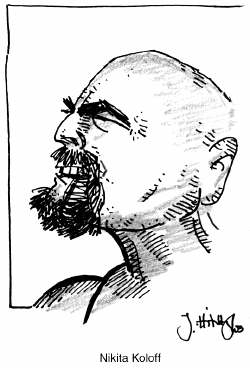 Man, I really got in Nikita's head that night and I then noticed that Flair was working the hold and was laughing. He was trying to hide it but it broke the Nature Boy up and that was not a good thing for me. Nikita slowly got to his feet and threw Flair at me! Right through the ropes comes The Nature Boy right at my feet and here comes Nikita and he is really pissed.
But you folks know by now the first rule of Front Row survival: Never back down.
Never.
Nikita pounds on Flairs back and then breaks character and says and I quote, "I SUCK? YOU SUCK! MOTHER F*CKER!"
I stuck to my guns and said, "You are the worst wrestler in the world!"
Nikita being quite coy responds with, "YOU CAN SUCK MY D*CK!"
Funny, have never heard that phrase in Russian before.
Startled, I just lost it and said that if you cannot have a great match with Flair you are really totally worthless or something like that. Hey, the guy was in a roid rage! And he was right in front on me!
Nikita then puppy pumped the air in front of me.
Now that is a Russian Nightmare!
He then shot me the middle finger and then walked back to the ring.
I was still yelling at him and I stood up and gave him the finger too.
I think that was when I realized that this was a pay for view not some house show so I was lucky in a way. He couldn't jerk me over the rail and kill me because we were on TV.
I also remember two other things of note.
Ric Flair was crawling back to the ring, laughing his head off and the whole front row to my right was shocked and laughing at the whole event. In that group was Dave Meltzer, Mike Gunter, Jeff Bowdren and Dick Bourne.