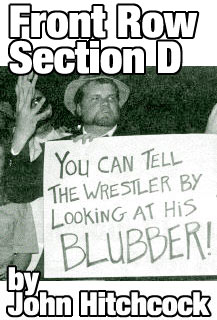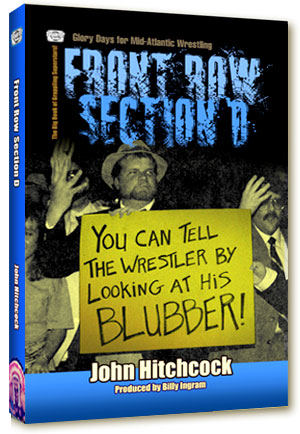 New book on Mid-Atlantic Wrestling history!
The legends of
TV Wrestling!
... and more in John Hitchcock's
decades spanning look at
Mid-Atlantic Wrestling!
Memories from
Greensboro, North Carolina
the Heart of Mid-Atlantic Wrestling
One more Shoot!
It was a dark rainy night. The clouds clapped with thunder and I knew the devil was alive and well. This night was a night for murder and car crashes. Blood on peoples shirts would be the standard this night. I knew this would be a hell of a night of wrestling.
Well, I wish the above were true.
It would make this story seem so much more interesting.
But the truth is that, it was like any other night in the independent scene. I think this show was in Ramseur North Carolina. I went with a few of the guys to raise hell and enjoy the wonderful chaotic world of wrestling.
That night there was the same old same old. Then out of the back came the scuttlebutt that during the tag match there was going to be a real shoot. It turns out that the wrestler named Jerry Price had been running his mouth about working the TV tapings and being a big star to the other guys in the back room. Having a big head is the wrong thing to do in any dressing room. And this and the fact that Price was a black really stirred the anger and jealously. I am not saying that this was totally a race-motivated attack but looking back I think that it did add fuel to the fire.
Folks we were in for a real lesson in brutality.
It was a tag match with Price and some nobody verses the Ring Lords. The Ring Lords were two juiced up young guys that could be very dangerous if they are angry. And they were cool during the match but when Price tagged in, it got very violent very fast. The larger of the Ring Lords started to pound on Price. It was a very stiff couple of moments and then Price bailed out of the ring to the gym floor. This was a good idea for him to catch his breath and to attempt to clear his head and figure out just what was happening. Sadly, both the Ring Lord followed him. Price shockingly had not figured out that he was in big trouble and tried to continue the match. He then took about six big right hands to the face.
It was on then and Price then got into a boxing stance. An old man on the front row yelled out,
"Don't box with a black man!"
He didn't need to worry because Price was already pretty messed up at this point. Price took a couple more hard shots and he then bent down and picked up the concrete and metal pole that was holding up the crowd ring ropes. I think he was going to use this as a weapon but for some reason he hesitated and the Ring Lords crushed the poor guy. Price went as quick as possible to the back room to get his wrestling gear and bolted the place. When he walked passed me, his eye was quickly closing, his lip was very swollen and he was bleeding from his mouth and nose.
The match itself was quickly finished with a schoolboy roll up pin.
I do not remember the rest of the show but I think you can understand why.

Next Time,
John Hitchcock and Smokey Mountain Wrestling