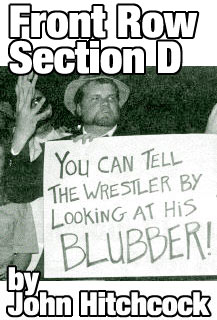 We Have Met the
Enemy and He is Us!
(A quote from the great Walt Kelly)
All this stuff falling out
from the head of John Hitchcock
Being away from the squared circle was not as painful as I expected.
Life went on. A little less exciting but still I do own and manage a comic book store so I had plenty to keep me busy. But the pull to get back in the ring and cause trouble is a strong one.
Both Chris Cruise and I stayed away from New Dimension Wrestling for seven months and I never even went to an armory show once. And believe me, I wanted too. With all the heat we had I thought is would be very rude for us to just show up and sit in the audience. It seemed too markish to even attempt to take away from what was happening in the ring. I really do have that kind of respect for those guys that work so hard to take any of their heat.
Even a little would just be wrong.
So I stayed home.
We did return like I said about seven months later and, man, what a mess we came back to.
I swear the crowds had shrunk to about seventy-seven people total. It was a real shock because the last time we worked there was about three hundred and fifty.
New Dimension was nearly dead and I felt really bad about it. Cruise felt bad too and we both knew it would be really tough to get this group restarted again. Cruise and I were supposed to do a run in and be a surprise at the end of the show. We were really fired up and went to the Thomasville armory about two hours early so no one would see us arrive and spoil the big return.
Now what would you do to set up the return of The Cruise World Order?
I guessed we would do a run in and attack Rick Link and put him in the hospital, setting up another long somewhat profitable run.
Or maybe walk out at the end of a match and beat the shit out a jobber so everyone would know we were the bad guys.
Or even better, hire a few wrestlers to run in and attack Link, beating him senseless. And then have us walk out seeking our revenge!
Or bring in a big name aaahh, Stan Hansen or Abdullah the Butcher and kick the shit out of the guy.
Hell Yeah! That always works!
We would lose money but it would be worth it in the long run. I could see it now, New Dominion Wrestling!
Anything could happen!
Well, that didn't happen.
The ring broke after the second match and we were asked to just walk out and fill the time so they could fix the ring.
That ain't Hollywood is it?
But when we did walk out there was a pop from the crowd of faithful that still went. But the Cruiser and I were pretty hot over all this and went after Chris Plano both barrels. Plano was in the ring, turned and began to question why we were at the show.
We both went off on the guy. Funny, I always thought that anything you said in the ring was forgiven if it got heat. But that sometimes is not the truth.
I looked at Plano and said, "Hey Plano! What happened? The last time we were here we wrestled in front of three hundred and fifty people. We leave for seven months and now you are packing in about seventy-seven! You sure know how to run a promotion in to the ground!"
The truth hunts a little too much for Plano and he said something to me after the show. He wasn't happy about being reminded that his NDW was falling apart. It really is amazing that the guy who owns the promotion didn't even get the fact that we had to establish quickly that we were the bad guys.
If you think about it, if we do get over huge, he makes more money.
Anyway, we stood on the ringside floor filling time as they fixed the damn ring.
Come to think about it, that ring was never the same once the Sergeant was fired. That guy could work wonders with that death trap of a ring. And the ring apron was flat out nasty with old bloodstains all over it. That ring was never cleaned once in the two years I was in it. We were all very lucky to escape with out catching a serious staph infection.
We both felt like a bunch of idiots but we did it anyway.
We retreated back to the dressing room and just sat there.
But a great thing happened that night; a young wrestler came up to me and asked if he could be apart of our action. The wrestler was named Steele and he looked just like a teenage Opie Taylor. The whole thing was really funny. Steele asked me to beat his ass at the next show.
And I knew exactly what to do. It would be perfect.
---
1980's TV Wrestling Greats
TV Wrestling DVDs
Wrestling on TV