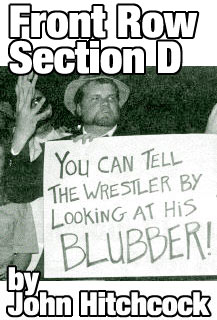 Back in the Groove
Now with "Steele" on board willing to do what we told him, things seemed to make much more sense. It really was a perfect way to get everyone over with a cold crowd.
And this is what we did.
The first or second match Steele would wrestle a bigger wrestler and sell everything for him. Our goal was to establish he had guts and he was a solid worker. After about five to six minutes of getting his ass kicked, the crowd began to feel sorry for him and began to cheer for him. The match really looked like a slaughter but at the very end of the match, Steele would duck a clothesline and hit the Stone Cold Stunner for the shocking win out of nowhere.
This always worked and Steele always got the big pop from the crowd.
Then the ring announcer would get in the ring and interview Steele. Steele, who really did look like Opie Taylor, would tell the crowd that match was his very first win in wrestling. He then would say that he had really worked very hard in the gym and was hoping one day to gain the fans respect.
Just as this under dog baby face was winning the crowd over, Cruise and I would hit the ring. We would start by asking this chump if he realized that this time was reserved for our interview, not his. And why was he still in our ring?
Just as Steele would begin to explain, I would hit him from behind with a steele cooking pan to the back of his head. Give Steele credit, he sold it like it was a gun shot blast and then Chris Cruise would continue to blow him out as he was carried from the ring.
That pan shot was really a lucky thing for us to use. Cruise came up with this foreign object and when you hit some one with it, it made a huge ringing noise. It really did sound like we killed the guy but he was fine.
And he seemed to enjoy it.
This whole deal worked wonders on the crowd and every one knew we were the bad guys.
I always thought this was very important to establish early just who were the guys to boo and it was a very easy thing to set up. Every dumb ass that went to a NDW show knew in five minutes what was going on.
Simple always works.
Well after we did our interview telling every one who we were going to fight in the main event, we would barrel back to the dressing room.
Once Cruise and I got to the back, we sat down with Steele to make sure he was cool with everything.
I will never forget that moment.
Steele looked up at me and thanked me for beating his ass. As it turned out, Steele really was thinking about giving this whole wrestling thing up because the fans had always told him he sucked. And that night was the first time he every got cheered.
He then asked if next time could he juice?
Now Steele was our boy from then on.