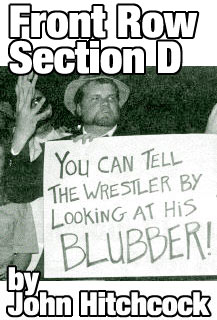 Cruise Rules
by John "The Enforcer" Hitchcock.
Every once and awhile, wrestling can get totally out of hand. And then it becomes kind of scary for people like myself.
I like wrestling when everything goes smooth just the way it suppose too.
Or, least talked about.
Or agreed upon by every one evolved.
One night Cruise and I attacked Steele after his match. This is something we always did. And for some reason, the guy who wrestled Steele snapped and decided he wanted to kick our ass.
Funny thing about wrestling, you can talk with a guy, book his match. And things are understood and still wrestlers can get all excited and sometimes go nuts. I remember just yelling at this masked guy to get out of the ring and he got even more upset that we were beating up his friend.
Look Dude, We are trying to get some heat!
I swear I totally broke character trying to wake this guy up to the fact he was ruining the show. Finally he had to be told by Steele that everything was fine and to please leave the ring.
This kind of thing that happens ever few shows.
Wrestlers get that I am going to be a star shit and steal more ring time for themselves than they were suppose to get.
A great wrestling match has timing and rhythm.
Now I have rarely been in the middle of one that was prefect and accomplished exactly what we wanted. But I did try to make sense out of everything.
One night in Thomasville, Cruise and I got evolved in a match that really was totally out of control. For a short period of time, Chris Cruise and I managed to turn Manny Fernandez on Rick Link. Not a bad idea but again all we were doing was repackaging a match that everyone there had seen a dozen times before.
Trust me, you can only polish a turd so many times.
Anyway, the next match we wanted Manny to destroy Link and he had second thoughts and booked the match where he turns on us.
Hell, I did not care; I just wanted all this to make sense. Silly me.
So Manny refused to kill Link and he did the turn. Just as it looked like Manny was going to squash Cruise, I ran up to the ring to make the save.
(For you folks lost, that was my job to take the bump for Chris Cruise so he could escape. It was the old carrot on a stick idea. Why I always took the beating is still a great mystery to me personally. I graduated from college on the Dean's List.)
Then Manny booted me in the stomach. And to be totally honest, he took care of me and didn't kick me very hard. I sold it like a shotgun blast you can bet on that. Just as this looked like the end of the Cruise World Order about five new wrestlers ran out and attacked Manny. It was one of those really sad ill-timed attacks too.
Manny was up for a pile driver when the new guys stopped in the middle of the move and waited for Link to run in and make the save. Remember, Link weighs about four hundred and fifty pounds. He ain't going anywhere quick.
It was a real botched spot and I was yelling for them to pile drive Manny but they just stood there looking very stupid. You really had to be there to see Manny hanging upside down in the air. Finally Link made the save and the rematch was set for next month.
Well, the next show was a huge tag match with Link and Manny verses those five or six new wrestlers managed by Cruise and Hitchcock. Cruise told everyone that this match was under the "Cruise Rules". The rules were there are no rules.
Anything goes and the match can only stop by pin fall. The really funny part was that the referee totally believed it. So this mess just went on forever and ever.
One other thing to mention, those five or six wrestlers in the ring that we were managing, well, most of them didn't know how to wrestle. They were never trained, couldn't take a bump, and couldn't work a match if their sorry lives depended on it.
And we had to manage this turkey shoot.
I swear, it was such a damn mess, I tried to just walk away from the ring but Cruise wouldn't let me.
Chris Cruise, what a pro. (Now that was the funniest thing I have ever written!)
The only reason I bring this match up is that one of these wrestlers grabbed the ring bell and started to run around the ring with it. And in mid-step, this guy tripped and fell face first right on the bell. And believe it or not the bell rang when he fell on it.
I started laughing like crazy and will never forget that moment.
After the "match", Manny and Link were really pissed at this fiasco. They were really hot and began to threaten those clowns with a beating when they got to the dressing room.
One of the guys named Harold started yelling back the he was hardcore! It was amazing to watch this guy rip his own shirt yelling that he was a real tough guy.
So if you go to a small independent wrestling match you never know just what you will see. Believe me, I was booking the damn show and I never knew half the time.
I hope this article will make you go to any independent match near you. It is as much fun as you can have as a wrestling fan.
Next Time: How to properly use a metal pan
---