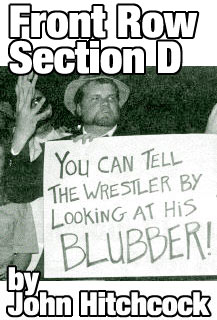 How to properly use a pan
Wrestling is a very odd business.
Once you get on a show every one wants to have a small part of the action.
Or maybe it is a way to grab a little glory.
But I am telling you folks, everybody wants in on the act. And you have to say no more than yes that much is for sure.
The two times I said yes worked out better than I could have ever dreamed about.
I swear, both times it was the perfect way to get us heat and get us over as the toughest guys on the planet. Or make that the biggest jerks in the room.
I must before I forget add the first guy that sold the pan shot was Big Eddie Beason.
I think now that hitting Eddie and having him sell for us for us got us over more than anything we could have thought of.
The one time there was this friend of mine named Tree. That is not his name but I figure this is a good time to protect the innocent and his friends will know exactly whom I am talking about. So Tree started going to all the New Dimension shows and sat on the front row raising hell every night.
My kind of guy.
And every show he would yell for me to give him a pan shot.
So one day, I figured why not?
I talked it out with Cruise and Tree was set to get a pan shot in our next show at the Burlington Armory.
Tree had a friend with him who was not hip to the pan shot idea and lets face it, he was a mark. I guess we should have smartened the guy up but I felt that was Trees job not mine.
So Cruise and I walk to the ring and Tree starts yelling at us like a crazy man. I swear, you couldn't possibly miss this guy on the front row. I pointed Tree out so Cruise knew who to go after. After about three minutes, Cruise snapped and leaped out of the ring and started to hammer the guy. One thing I should mention, Chris Cruise is a very agile guy. I think he was a squirrel in his past life because he was fast as hell when he needed to.
Tree was prefect in his role and didn't back down an inch and screamed right back at Cruise. I then stepped up and got between them.
I shouted to Cruise that this was an old friend of mine and I knew how to handle him.
Cruise looked at me and told me to take care of this guy.
As Cruise turned to the ring, I did a pivot move and turned blindly and nailed Tree square on the head. That pan shot sounded like a bomb going off and Tree sold it like a dead man and fell right to the ground. I swear, Tree acted like he was unconscious and laid down selling the dreaded pan shot as well as anyone could.
The crowd went crazy.
But the guy that really made a scene was Tree's buddy. I never knew this guys name but he just about jumped the rail and went after both of us for killing his friend. He wasn't a very tall guy but he sure was hot.
I just looked him right in the eyes and said, "I just knocked out the toughest guy in Burlington with one shot! And if you want some you little pussy, come get some!"
Truly, one of my proudest moments.
I think the security stepped up to grab his crazy guy and stopping him from hitting the ring. And the funny part was we never smartened up the security! Tree sold that knock out shot so well; the security got a little frightened and propped Tree up in a chair.
Man, the look on the security's face was priceless.
After writing this story I began to think the pan shot to a friend wasn't the best idea we ever had. Thank God that every guy we hit with the dreaded pan always sold it. Imagine what would happen if someone didn't! It would have killed the gimmick.
I think we would have gone to a metal canteen if the pan were exposed.
Next time, The Boogie Woogie Man!