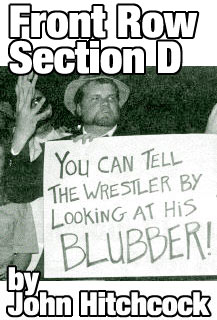 The Pussy Wussy Man
by your pal, John Hitchcock
Believe it or not, the next New Dimension Wrestling show was going to be in my hometown, Greensboro, North Carolina.
We had the same group of wrestlers and a main event wrestler from days past, Jimmy "The Boogie Woogie Man" Valiant. Valiant was a big deal in New York, Memphis and he probably had his biggest run in the Mid-Atlantic territory in the middle 1980s.
Back then I use to boo the poor sap and never thought of Boogie as a great wrestler. But he was a good draw and a solid very funny interview. The fans in the Mid-Atlantic loved the guy for years but now he was cashing in on his past, working the small time independents and running his wrestling school.
So what can you do with this guy and be original?
And understand Boogie is not going to do a moonsault on Chris Cruise for a finish.
Boogie always told everyone in earshot, and I quote, "Boogie don't take no bumps, brother."
So I decided to really have some fun with this and booked a match that with a little luck everyone would enjoy. I went up to Valiant and told him what we wanted to do. And he loved it except the finish. We asked him to do an elbow smash on Cruise for the finish and he said no. He would do a sleeper finish instead.
That was very cool as far as I was concerned. And Boogie seemed very happy with everything I suggested.
But as I laid out the match to Valiant, Chris Cruise walked away laughing. A little later I asked Cruise what was the deal. Cruise looked at me and said, "John you just don't get it. I grew up in Maine and watched the Valiant Brothers on TV when I was a kid. This guy is like a childhood idol to me and here you are standing there telling him what to do in a match! It is just too strange for me to watch. But you have balls, that much is for sure."
I never even thought about that.
All I wanted was to have a new interesting match. Hell, I knew we were not going over. No big deal. But it would be a lot of fun.
Well, the show started and about 250 folks showed up including my sister and her two children, John Thomas and Amy Ann. They were not wrestling fans and were bored to death most of the night.
The show started as usual with Steele selling his ass off for the whole match and then out of nowhere winning with the stone cold stunner. That night we had a guest ring announcer that was a DJ from 102 JAMM. This guy really didn't even know what he was getting himself in for as Cruise and I stormed into the ring. I just went off on the guy, telling him I listened to ROCK92 and he needed to get out of our ring. I still think the guy wanted to take a swing at me, but he did get out of the ring.
Steel and I cannot understate this enough was tremendous in his roll of putting us both over. Cruise started yelling at him and I panned him from behind, as a good heel should. The crowd really ate this up and about half just fell over laughing. Yeah, they were friends of mine just in shock at the transformation from comic book store owner to a heelish asshole. My family was in shock too.
So we began to talk a ton of trash about Valiant. Suddenly an old front row friend began to yell at us to shut up and sit down. Fritz Grondy was really screaming that we sucked which was not a topic that we wanted to discuss. Cruise snapped and jumped out of the ring and just hammered the guy thankfully with little profanity. Anyway, I got between them and told Cruise that he was an old friend and I would set things right. Well, as Cruise turned to get back into the ring I panned Fritz with a beautiful out of nowhere shot. It was perfect.
Fritz sold it like a dead man and the crowd just went crazy. You had to give it to Fritz, he sold that pan shot for about 45 minutes. Security had to drag him to the front on the communality center where he continued selling. I think he scared a few young kids in attendance but it did put us over as the bad guys and that is what we wanted.
Then Cruise and I told everyone that the old guy out front selling Boogie Woogie tapes and merchandise was some old homeless guy screwing them out of their hard earned coin.
This was a shoot comment, for years the real Valiant relentlessly sold tapes at every Wal-Mart in North Carolina he could get a break from. It became an expected part of every independent show he was at to chase every buck he ever saw.
Well, we then beat it back to the dressing room and waited for the main event. Those times in the back waiting could really suck because you just sat in the back as the rest of the show marched on. If you were real lucky you could get some old wrestler to tell you a few road stories but most of the show and I mean sometimes it was three hours, you just sat and waited.
So Cruise came out to the ring alone and told all the fans that he wanted to wrestle Valiant right now. So some kind of music started to play, not Valiant's real music as it turned out as I asked the dumbass sound guy to do. I do not even know what he played but I stepped out with a mop on my head dancing around like The Boogie Woogie Man. The place loved the comedy of what we were attempting to do and we roasted Valiant but good.
Cruise acted as a ring announcer and we really went for broke.
The Pussy Wussy Man is here!
I said, Tony Schvantoe! It is great to be back in North Kac-a- lack-eee!"
Cruise fired back, I am not Tony, and I am not that fat. You dumb ass!"
I said it was great to be back in the Greensboro Coliseum.
Cruise as dry as possible said I was an idiot and that this wasn't the Coliseum, it was some crappy armory.
I then said, "The Boogie Man feels mighty low."
Every minute or so, I would jump around the ring kicking the ropes and saying "Mercy" over and over for the full Valiant impression. Everybody but my family seemed to enjoy this farce.
So I then told Cruise I would teach him "The Rufus R Jones three-step bump". The three-step bump is a staple for older wrestlers to fall down during a match and not get hurt.
Cruise would hit me and I would grab the top rope. Cruise would then hit me again, and I would go to one knee. Then the third step, I would roll over to the mat.
What a warrior.
All this time the real Valiant was creeping to the ring to beat us up.
The crowd seemed to really get behind all this nonsense, which we were very grateful for. Valiant grabbed me on the floor and gave me his signature kiss. As I backed up turning around, he hit me and I fell to the title floor. It is times like this I wished I had some sort of training in wrestling as I was seeing stars from the fall. Valiant then hit the ring and beat up Cruise and finished him with the sleeper. As Cruise lay passed out, Valiant then pulled Cruises pants off to reveal that he was wearing a funny pair of colored shorts. We then ran back to the dressing room. My leader was supposed to be wearing women's underwear but he chickened out. What a pussy!
Another day, another twenty bucks.