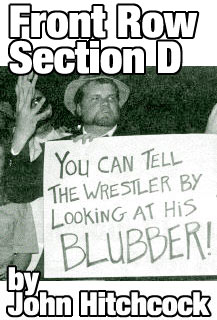 Benoit - by John Hitchcock
I went to a wrestling show back about ten years. It was a tribute show for the ailing referee Brian Hilderbrant. WCW put on this show and it was truly a heartfelt effort.
Chris Cruise, Bruce Mitchell and I drove to Johnson City Tennessee for this show that was about four hours by car one-way. All of us knew Brian and wanted to show our support for him personally.
There were a ton of wrestlers, announcers and friends there. And there were many stories to tell.
We all went to the back of the building trying to get a pass in. Bruce told about five people that he was B-R-U-C-E, M-I-T-C-H-E-L-L and nobody seemed to care. We, of course, loved that and ribbed him all night about it. We finally all bought a ticket, my idea and got in to a very packed near sellout show.
Thanks to Mark Madden, he got me to the back and I had a great opportunity to talk to a lot of the finest wrestlers in the world that night.
There were a bunch of people in the wrestling business hanging out.
There was The Brave.
Brian Hilderbrant was very kind with his time and went out of his way to greet everyone .He was dying of cancer and everyone knew it but he was so brave that everyone felt good about being there. Arn Anderson kidded Brian about needing attention so badly.
There was The Falling Star.
Lex Luger, who wrestled that night and nobody even talked to him when he was leaving.
There was The Comic Relief.
Cruise went up to Harlem Heat and joked with them that they were the most uncoordinated black men he ever met. Stevie Ray and Booker T laughed out loud at that line.
There was The Discarded.
As I walked around the back stage I noticed a lone familiar figure. It was Pez Whatley an NWA fixture for over twenty years. Pez was now hired to put up and move the wrestling ring from town to town. Whatley should have been hired as a trainer in my opinion but he looked very lonely sitting by his self. I grabbed Cruise and I went up to him.
"Hey, Is that the Pistol Man?"
Cruise then said, "Yeah, I think it is! Pistol Pez, it's great to see you!"
"Man, What a legend!" We both said.
You have never seen a bigger smile in your life.
And there were The Dreamers.
The Main Event was Chris Jericho, Dean Malenko, Eddie Guererro and Chris Benoit in a big tag team match. All these incredible wrestlers were very short. I am six foot two and a half and they all barely cleared my shoulder. I was told not to talk to Malenko because he was the kind of guy that got into character and shouldn't be disturbed before his match. That was kind of sad because I wanted to tell him what a huge fan I was of his father, Boris.
Jericho was very friendly. It was shocking to notice just how young he looked. He had peach fuzz on his chin. And his boots had lifts on them that would have made Bettie Page blush.
Eddie had a quick smile and over flowed with personality. As funny as it sounds, he was surprised that I even knew who he was. And he thanked me for taking the time to talk with him.
Last was Chris Benoit.
I walked over to him and told him I thought he was the best wrestler in the world. Benoit asked me what my name was and I told him.
Benoit said and I quote, "John, that is very flattering but remember, there is another guy in the ring helping me look good. Don't ever forget that."
I replied, "Yeah, I know, I know, but right now I think your matches are incredible. You are the man." Chris Benoit just smiled that toothless grin, shook my hand and said, "Just remember, the other guy making me look good.''
His handshake was like a vise. And he too barely cleared my shoulder.
Last weekend, Chris Benoit killed his wife Nancy, his son Daniel, and then himself. (If you want all the details, go to The Wrestling Observer Website.)
I really do not want to rehash any of the painful facts. There are many great artists that have done very bad things. But I still can enjoy their paintings.
I hope that one day I can watch a great Chris Benoit match without thinking about the sad ending of his life.
Right now, I can't.
NEXT: The Gravedigger and the White Boy
---
1980's TV Wrestling Greats
TV Wrestling DVDs