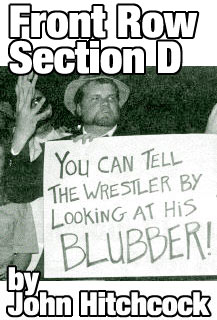 The Gravedigger and the White Boy
By John 'the guy never gives up' Hitchcock
There are a ton of bizarre moments about wrestling in the minor leagues but this one really does stand out. The New Dimension Wrestling group returned to Burlington for a show in the armory. Cruise and I were asked by the promoter to manage this guy called the Gravedigger. You sharp witted readers have probly guessed that this guy was an Undertaker rip-off. Well, you are right but he wasnít the sharpest marble in the drawer if you get my drift.
The Digger was trained by Rick Link and had been on these shows for a few years and never got over. It was very strange because he was a very big guy about 375 lbs. In the world of the independents, that is a very big guy. But it was my impression that he didn't have a killer personality.
He was a nice guy that needed to break bad and kick some serious ass to get over but he never really was able to do that. The Grave Digger was really trying to get over. He had a gimmick table were he sold foam shoves to all his fans. At one show he juiced like crazy and after his match he walked to his table and bled all over his stuff and then sold them to the Little Diggers.
Very poetic don't you think?
So Cruise and I managed him that night and we really got him over. The fans just went crazy when he joined the Cruise World Order but Cruise wasnít thrilled with the prospect of managing somebody, well we didnít really like. When we went back to the locker room the Digger thought he was the reason he got over and basically blew us off totally. That was not cool.
And we decided to go a different path.
The next show the Cruiser went to Chris Plano, the promoter and told him that we wanted to manage a guy named The Dirty White Boy. Hold up, not The White Boy, Tony Anthony but a guy named Kerry that was a great guy and a super brawler when it called for it. We both wanted to prove to Digger that we were the cause of his heat and we really wanted to work with Kerry. Kerry claimed he once worked for Bill Watts at one time on the under card so that was enough for us.
So the way the match was booked was we were all in the ring and Cruise and I told the Digger he was out and White Boy was in. As soon as Cruise said that, White Boy just went off and crushed the poor guy. Crushed is not the right adjective that I should use here. I think destroy with anger fits better. White Boy jerked up Digger and plastered the guy all over the armory. It was unbelievable. The match was no DQ so it just went on and on with White Boy hitting Digger with anything that was not nailed down. There was a garbage can that was made during the depression and I bet it weighed forty-five pounds empty. White Boy picked that can up and folded it over Diggers head. Then he put Digger thru a heavy wooden door. You know one of those gym doors that are about three inches thick. Why the Grave Digger didnít sell any of this is still a great mystery to me personally.
Man, it was beautiful watching these guys basically kill each other for twenty bucks each.
Well, I finally went to the referee and yelled at him to call a count out.
The ref just looked at me and said,
And I quote, "Are you crazy? I ain't stopping this! This match is fukíin great!"
You can't argue with that logic. One of the fans ringside started giving me hell for trying to stop a fight my guy was winning.
I told the guy I didnít want my meal ticket breaking his hands on that big goof which kind of makes sense.
I knew he was right but the thing was totally out of hand. So I went up the bell ringer and told him to ring the bell and stop the match.
I thought the referee was going to beat my ass for that but it was time to take it home before Digger was in the hospital eating soup for six weeks.
From then on the Dirty White Boy represented the Cruise World Order.
And we both were very lucky to have him on our side.
Next Time and I promise, Santa is coming to Town.
---
1980's TV Wrestling Greats
TV Wrestling DVDs