The True Mid-Atlantic Title Story
I went down to the Greensboro Coliseum to pick up and pay for the Front Rows seats when I saw a listing of the matches. The opening match was an eye opener for old time fans.
The match was Black Bart verses Sam Houston who, at one time, had a big feud for the Mid-Atlantic Title. I bet you those guys fought for six to eight months for the strap and now, alas, it had come down to this, a curtain jerker!
My how time changes.
And how people forget.
Forget?
Not the Front Row!
I began to think about those two guys, both have seemed to fall on hard times. I mean they both had work but to fall that far down was kind of shocking to me.
Please do not misunderstand. I never said these two guys were Tully Blanchard! It just seems to me that they should not be forgotten.
So, I went to work on one of the goofiest stunts that I ever attempted at a rasslin card.
I made a card board Mid-Atlantic Belt.
Yep, I got my hands on some cardboard and drew a belt up from memory. I drew in the Crockett logo and on the side panels drew in Sam Houston on one and Black Bart on the other.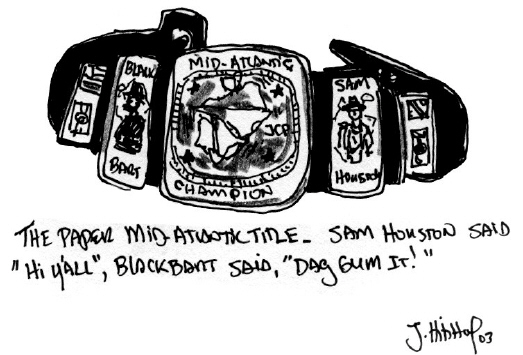 Sam said, "Hi yall!"
And Bart said, "Dag gum it!"
It was the feud that would not die.
Some magic markers and some staples and it was done. It was one ugly stroke of genius but everybody on the Front Row thought I was nuts.
The big day finally got here and there I was with this work of art searching for the announcer Tony Gillum to properly announce that this match was for the title. Tony for some reason (job security) refused.
That never stopped me before but as the wrestlers came to the ring a problem came up.
Black Bart was a no show! I should have guessed that, it said on my ticket,"all the matches were subject to change." Substituting for Bart was the legendary jobber, Joe Cruz.
It was too late to change the belt so it had to do. We all begged Tony Gillum again to announce that the match but as I said, he would not do it. So I did it.
I am a loud mouth so I stood up and proudly announced that this match was for the vacant Mid-Atlantic Title!
The crowd really got a laugh out of that and the match started.
Sam Houston walked over to me and said he was going to win the belt.
The wrestlers took to the idea, I guess out of boredom. Joe Cruz started the match on the offensive and put Houston in a front face lock. As he looked at us, Cruz looked at me and said he was going to win the title. I looked at him and said, "Considering the fact that you have never won a match, I doubt it. But if a miracle does happen and you do win this match, the title will be held up by the commissioner, me."
Both guys lost it and started laughing.
As we figured the match would go, Sam Houston won with a bulldog. As Houston was announced the winner he jumped out of the ring and ran over to us and hugged both Bruce Mitchell and I saying, "Thanks for remembering!"
Bitter sweet moment because Sam really stunk after his match.
Then Sam Houston grabbed the belt and carried it over his head back to the dressing room a happy champion.
I have often wondered what the reaction was to Houston bringing that thing back for all to see.
A year later, I saw Houston in a match and I yelled where was his Mid-Atlantic Belt? He just laughed and said his wife only lets him wear it around the house.
Now Ladies and Gentlemen, that is truly a paper champion at its finest.
Next Time:
The Weight Lifting Challenge.
(Because Bud wanted me to)