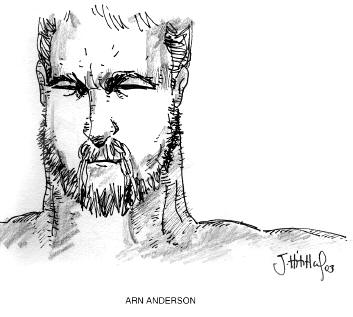 Welcome Home Arn
The word was out that Arn Anderson had finished up his WWF contract and was heading back to WCW. This was a part of a WCW screw up when Tully Blanchard didn't sign up to return due to a short payment screw job. Arn did sign and he was set to return at a TV taping in Greensboro .
At that time WCW began this stupid run of taping all the television shows in Greensboro. It was a blast for a while being on TV all the time but the crowds began to really thin out and the Greensboro attendance began to hit the two thousand range. That was really sad to see.
It was just a matter of time before WCW stopped running in my hometown. For years Greensboro was the hot bed of the Mighty Mid-Atlantic and now was dying a painful death right in front of my eyes. It go so bad that some fans began calling me up to see if the Front Row was going to be there and that began to be the determining factor if some fans ever went to the show. Now that is sad.
Sll was right with the world this night because Arn Anderson was going to wrestle for his fan base in the Greensboro Coliseum. Everybody was really fired up for the big return and Arn's first opponent was the Great Bob Cook. Bob Cook was the guy who saved Bruce's life down in Florida on the shuffleboard court from the evil Mister Tits. The TV show began with a coming next match shot with Arn standing on the ring apron looking around. Then from behind him you see a poster that said,
"WELCOME HOME ARN!"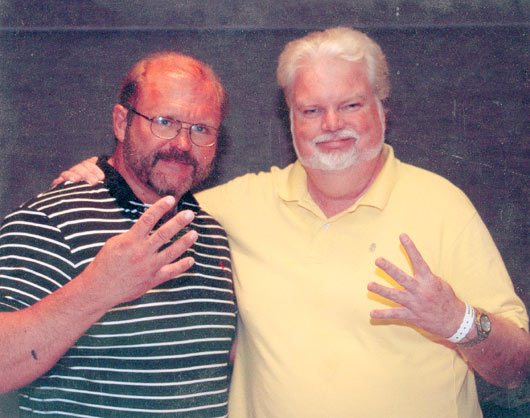 The match was just a squash match but both guys wrestled a solid set. Cook started by slapping Arn in the face. Arn stopped and looked right at us on the Front Row and then looked at Cook. Then all hell broke loose! Arn started kicking the shit out of Cook.
Then suddenly, Arn says loudly, "I have somebody I want to introduce you to!"
Arn threw Cook right on the floor in front of us. Arn picked up Cook, held him up and told Cook to "read that sign." He can plainly see the 'Welcome Home Arn' sign big as life. Then Double A smashed Cook into the barricade right in front of us. The really funny thing was hearing the commentators talking about what was happening. Jim Ross said something about there being a lot of Horsemen supporters around here. And Gordon Solie then edded, "Yeah, right where it says, WELCOME HOME ARN."
A little later as both wrestlers were back in the ring, we could plainly see Arn turn to us and say, "It's great to be back home!"
Next:
Why me Lord?
The Eric Watts Story