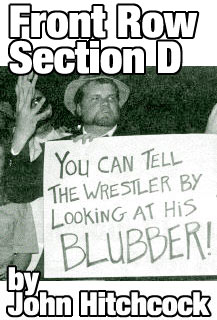 Santa Claus is Coming to Town
by that guy that gets old real quick John Hitchcock
There is really nothing like the world of small time independent wrestling. The strangest things happen all the time. The thing is very few people stop and take notice.
I am one of the few that notes of this type insanity and my job is report it to you now.
O ne night in Burlington Chris Plano had this great idea. It was close to Christmas and he wanted a wrestler to dress up like Santa and give out candy to all the kids in attendance. But really none of the guys on the card wanted to do this Santa deal. We were all involved with working out all our match stuff and couldn't be bothered.
Turns out we all should have taken turns being Santa.
Why you ask?
Well, Plano gave his Santa Claus suit to this homeless guy and had him give out the candy. Sounds like a solid plan.
The guy works cheap and he wanted to do it. There was one major problem that Plano did overlook. The homeless Santa smelled really really bad.
How bad did Santa smell?
Santa smelled like he was rolled in cow shit for eight days and worked in a tobacco field for two months and then put on the suit.
And I ain't kidding.
This guy smelled so bad the kids would walk up to him and run away. They wouldn't even take his candy.
Imagine that, a kid that wouldn't take free candy from a guy that was a walking asshole. Anyway, it was so funny we almost died laughing in the back. Until Santa walked to the back and we all smelled the funk from this guy. I swear you could smell him from twenty feet away.
The funny thing is Santa didn't understand why all the kids ran away from him.
It was amazing.
The kids would run up to Santa, get a whiff and yell to their parents,
"Mom! Dad! Santa smells bad!'
And Plano never took steps to get that guy out of the suit! I swear, what an image NDW was casting now.
We even tried to run an angle with smelly Santa. Ricky Nelson tried to get the guy in the ring to clothesline him but Santa balked and left Nelson hanging in the wind.
That angle would have brought the armory down.
Cruise and I sat in the back laughing so hard we almost fell over.
---
1980's TV Wrestling Greats
TV Wrestling DVDs