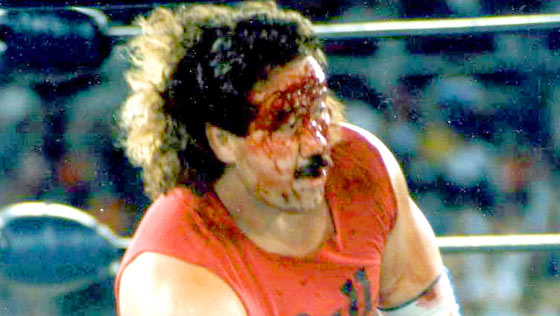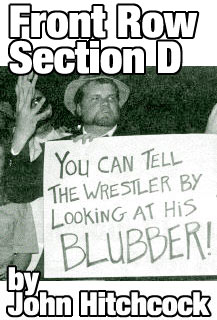 The Black Cloud
by John what's his name.
New Dimension Wrestling was growing as the Cruise World Order began catching on. We started wrestling in front of about one hundred and fifty people and the crowd on most Saturday nights swelled to two hundred and fifty. And the reason honestly was not just Cruise and I stirring the shit every night. The younger wrestlers began to really understand how to wrestle and work the crowd. And the crowd really began to turn out to see what was going on.
I mean, I would like to think it was all me but it wasn't.
And one night a Black Cloud showed up out back of the armory. The Black Cloud was Manny Fernandez. You all know that Manny was a big deal with Jim Crockett Promotions tagging with Dusty Rhodes and Rick Rude but he really meant nothing without any publicity. And showing up demanding to wrestle at a high price to boot was not a good thing.
I will never forget that moment, Manny walked in saying that Willie Clay told him to be here and work the show. Now I have never heard this guy Willie Clay much less him every drawing a dime but Fernandez was really stirring up trouble and make no doubt about it, he was a very intimating guy in person. Chris Plano folded like an old paper cup and put him on the show. But you couldn't blame him.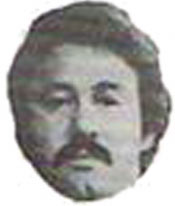 Manny acted like he was going to kick his ass and he probably would have.
That turned out to be the biggest mistake Plano ever made.
The locker room went from a bunch of fun guys to be around to a group that was stepping on eggshells every night. The oxygen was taken out of NDW and the promotion was starting to go down hill from that moment on.
Now that I am thinking about it, what is Manny's real name?
He is definitely not the guy who played football for the Miami Dolphins. I found that guy's football card and they are not the same person. And the real Fernandez was a member of the famous No Name defense that went 17 and 0 for the Dolphins. That publicity made this "Manny" and take his name and profit off of it.
Manny also did not fight in Viet Nam.
This guy works everybody everywhere he goes.
Personally, I fear the guy on many levels.
At many shows he purposely hurt other wrestlers to increase his reputation as a bad ass. One show in High Point, he broke a fans leg just for the fun of it.
Funny thing, Rick Link acted like Manny being there was a great thing and started hanging out with him. It was very odd to watch since Manny was taking some of Links thunder and payoff money.
But Fernandez was going to dominate everything that happened in NDW from that moment on.
Except for one thing.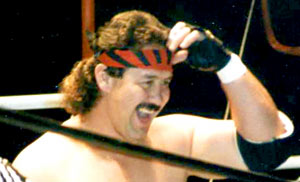 He couldn't stop Cruise and I from doing what ever we wanted. And come to think about it, He wanted Cruise and I to flop. The Cruise World Order was very hot pretty much every time we went out and preformed. The fans began to show up and they were split into two very different groups. The first group was pretty smart fans and really enjoyed our satire of the wrestling business. Those folks got what we were trying to do and had a great time stirring up group two.
The second group was true believers that believed everything was real. And matter of fact they hated our guts. Man, we really got a ton of heat and I ain't lying about that.
One night, The Dirty White Boys wife came up to me with a sharp warning.
"I just want to warn you John. A lot of the fans really hate your guts."
I replied, " That's great because I hate them too. After all, that is my job to get heat."
"No, you don't understand. They don't care for my husband. And they really hate Chris Cruise. But they want to see your head on a pole! You need to be very careful out there."
I never forgot that and was very careful coming and going from the armory every night.
---
1980's TV Wrestling Greats
TV Wrestling DVDs