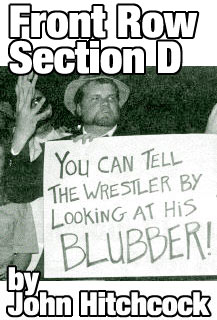 Suspended!
by that boring fellow, John Hitchcock
So where were we?
Oh yes, the New Dimension Wrestling group was really doing well drawing fans. The average show attendance was about two fifty to three hundred. For a small independent that was pretty good.
We ran the shows in Thomasville, Burlington and Greensboro at the old ballpark. The ballpark shows were paid for shows for the Greensboro Bats and a lot of people stayed and watched the wrestling after the baseball game.
So one day Chris Cruise came up with the idea to have wrestling every Thursday night in Thomasville. There were some handouts announcing this revolution in wrestling. Cruise and Chris Plano thought this was going to be a big hit.
Cruise was going to put up the money to finance these three shows. No one asked me if this was a good idea.
I knew this was going to fail but a fool and his money mark are soon parted and I watched as things began to fall apart.
The idea was to copy Memphis Wrestling who wrestles every Monday night. Now that I think about it, when was the last time Memphis ever made a buck?
Well the first night we drew about 75 people. It was a tough crowd too. I really don't think that any of our regulars showed and a cold crowd isn't a good thing. Not good for the Cruise World Order that much is for sure. No one got what we were doing and we were dead from the start. And I did everything I could think of to insult these people and they just sat on their hands all night.
It is amazing how big the ring gets when you have no heat.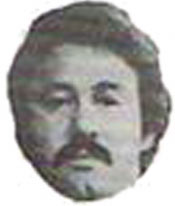 We were quick to beat it back to the dressing room. When we got back there Manny Fernandez was in Plano's ear cutting us to pieces. I swear, he was happy we finally failed and really put us down like crazy. That is something I will never forget. He was drawing no one and he was quick to kill us at his first chance.
I was stunned after all weren't we all on the same team?
Anyway, this experiment lasted three shows and I think Thursday went on twice until we went back to Saturday night. Chris Cruise did break even and I was really happy he didn't loose a lot of cash. Didn't make any but that's show biz.
Well, a month later, one Saturday night, things went crazy.
As the show started I noticed a local nutty fan named Wahoo on the front row. This guy I knew from the independent shows in Salisbury. He was a total nut job that yelled all night at the heels saying witty things like,
"Do me like that!"
And
"Wah-Whooooooooo!"
Needless to say, he was no Rhodes Scholar but I wasn't going to put up with that shit all night so I decided to strike first. As Cruise and I walked to the ring I threw a cold glass of water on him and yelled, "Shut up Wahoo!"
Believe it or not that stunned the guy and we didn't hear a word out of him for the rest of the night.
So we are in the ring and for some reason Chris Cruise decided to get some big heat by yelling at Chris Plano's girl friend. I thought it was very funny at the time but Plano didn't smarten this chick up and she thought we were messing with her on a personal level. Cruise is the kind of guy that when he has somebody really pissed off, well that means he is just warming up and take it from me, he never takes any prisoners. This girl, I am not going to use her name, was taking admissions at the front door. Cruise just went off on her. His first line was,
"Where is Plano's bitch?"
"HEY! Where is Plano's bitch?'
Now is that reason to get angry? Hell yes if you take into consideration that sitting right next to the girl was her mother!
Man, the shit hit the fan like I have rarely ever seen. But I had to back up Cruise right? So I said something about she looked like someone on Jerry Springer.
This girl and her mother went off big time and ran to the ring and yelled at the top of her lungs that we suck.
It was a gold mine.
The crowd went crazy yelling with her "to kick our asses." It was crazy heat I wish you had been there.
Only problem was that little problem about her being a mark. And the fact her mother was hot as hell too. So we all went back to the dressing room and this chick was screaming at Plano.
And I quote, "Chris, I don't care how good these guys are! I don't care how much heat they can get! You have to choose! It is either them or me!" Unquote.
Cruise took that moment to snap. And I quote, "Jesus woman! Can't you understand that it is all a work! You stupid BITCH!"
Have I ever mentioned that at one time Chris Cruise once studied to be a priest?
I guess you can tell how this turned out.
Not good.
We were suspended on the spot.
And that lasted for seven months.
Remember this, wrestling fan - never have a man choose between you and his lay.
Next time, We have met the enemy and he is us!
---
1980's TV Wrestling Greats
TV Wrestling DVDs
Wrestling on TV