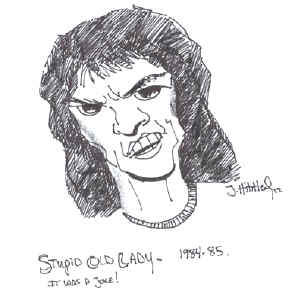 Stupid Old Lady
Once again my wrestling friends, we are back in Greensboro for another night of grappling, circa 1984.
I always cheered the heels, as you may know by now, and The Russians were one hot heel tag team in the '80s. Ivan Koloff, Crusher, and Nikita - the holy grail of communism - were on top of their game in the eighties and it took a brave soul to cheer for them.
The fans back then hated those guys with a passion, so I toyed with this hatred cautiously. On this night, I was sitting in the fourth row orange seats and realized that I was in a hot bed of redneck marks.
This can be dangerous if you show any fear, so I decided to be smart and observe these nuts before I started anything.
Turns out it was a family of idiot marks - a not so rare breed at this time. The loud-mouth mother, the cowardly father, and a few strange children. Classic material to play with.
So I start up with my Russian accent,
"I AM HEAR TO CHEER FOR MY UNCLE IVAN, COUSIN NIKITA, AND CRUSHER, THE ONLY SMART AMERICAN IN THIS STUPID COUNTRY!"
Suddenly the mother turns around and says, (I am not making this shit up!) "YOU ARE THE ONLY BASTARDS IN THIS PLACE CHEERING FOR THE GOD DAMN RUSSIANS!"
I replied, " I AM A VISITOR TO YOUR COUNTRY OLD LADY, WHY DO YOU TREAT ME SO RUDELY? I HAVE MY GREEN CARD AND WANT TO CHEER FOR MY FRIENDS AND FAMILY, WHAT IS YOUR PROBLEM? WHY DO YOU TREAT ME WITH LACK OF RESPECT?"
"I GOT A SON WHO IS FIGHTING A WAR AGAINST YOU COMMIE BASTARDS, AND I DO NOT LIKE YOU CHEERING FOR THEM!"
"WAR? WHAT WAR? A SECRET WAR? YOU ARE TOO STUPID TO HAVE FAMILY MEMBER IN THE C.I.A. SO SHUT UP OLD BITTER OLD LADY!"
The old lady kept pushing the right button. "I GOT A SON FIGHTING A WAR!"
"DO NOT WORRY OLD LADY, WHEN WE TAKE OVER YOUR STUPID COUNTRY WE WILL HAVE A JOB FOR YOU IN THE SALT MINES. YOU ARE A STUPID OLD LADY!"
I expected that the neck family would defend her by now, but it seemed I was doing what the old man had wanted to do to her for years, so he just sat there and quietly laughed. The kids got a chuckle too.
"I GOT A SON, WHO IS FIGHTING A WARŠ"
"AND DO NOT WORRY ABOUT YOUR PUPPET SON, I WILL KILL YOUR SON AND DANCE ON HIS GRAVE! I WILL DRINK A TOAST OF VODKA IN RED SQUARE TO YOUR STUPID SON, OLD LADY! YOU ARE A STUPID, STUPID IGNORANT OLD LADY! HAHAHAHAHA!!!"
Cheap shot, but rule one in heel fan survival, never back up once you go too far or you are in trouble. Any sign of weakness will get your ass kicked real fast. And for the record, I am six foot two and a half and, at that time, about 225. Just go until the marks retreat and the whole family did get up and leave after about 20 minutes, with Old Lady screaming, "I GOT A SON, pant, pant, WHO IS FIGHTING A WAR!"
"SHUT UP, STUPID OLD LADY!"
Those were the days, my friends, we thought they would never end.
Next
Florida Cable Matches