Doctor Tom Miller
Dr. Tom Miller was the ring announcer at the Greensboro Coliseum and was one of the finest ring announcers I can remember; he took over for the legendary Wally Dusiek who still walked to ring side acting as a timekeeper.
I guessthat is what Wally did, anyway. I suppose he was the guy who wouldn't go home. He could barely walk or see but he was always in attendance.
He was a subtle face announcer who always seemed to dislike the heels. He was a booming presence and when he and Wally went to the ring, you knew the show was about to begin.
After the show, the Front Row Crew usually went to Shoney's for dinner. The food was good and cheap and they stayed open late. The place was always packed after Wrestling so we would get there as soon as possible and grab a big table.
One night, Dr. Tom and his son showed up. I asked him to sit with us and he did. This was a surprise because it was the first time that a professional ever sat down with us and talked. But it was sitting with us or a long wait, so we got lucky.
Dr. Tom was a large guy at least 375 pounds so I always felt he could take care of himself. He had a radio show for years as 'Trucker Tom,' he was a good man and easy to talk to.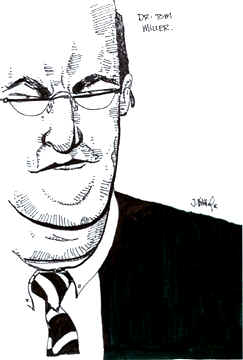 He didn't open up easily but as time went on he could tell we loved Wrestling so everything was cool. He got friendlier and answered all our questions, he knew us anyway from the signs we brought to show after show.
Soon the stories began to flow. This was before the newsletters so this was new ground for us.
The show we had just attended was the big UWF / NWA show and it was a hot one. It was the first time we got a look at the Freebirds, Doctor Death Steve Williams, Chris Adams, Sting, Rick Steiner, etc.
It was a great time to be a wrestling fan and the first question was about all the possible match ups with these two groups combining. Dr Tom said flatly that by the first of the year there would be no UWF - that both groups would become one.
That really sucked and I went off on the loss of the good feuds, teams fighting for their group, etc. No dice, Crockett was ending UWF.
In hindsight this was one of the many blunders that Crockett Promotions would make that eventually caused them to sell the promotion to Ted Turner.
Then the topic of the signs came up and Dr Tom said that the two people that we blew out the most deserved it.
"Ricky Morton is a smart ass punk. And Jimmy Garvin thinks he is a better wrestler than Ric Flair!" said Dr Tom.
"Whatever you do, keep giving it to them, they deserve it!"
"All the guys love you. So keep it up." hetold us.
"What about Dusty?" I asked.
"You don't understand," he said. "Dusty is the trail boss. He tells people who is going to win and who is going to lose. He is the booker and he has the power over everyone. So when you stick it to him, you are doing just what all the guys wish they could do!"
Dr. Tom was into his spaghetti when I asked what Dusty thought about the signs. He stopped eating, raised his fork, pointed it at me and said, "He hates you! He hates your guts!"
I said, "Good! I hate him too."
"No, you do not understand. He really hates you. All I can tell you is, you better not get caught in a dark alley with Rhodes, He would kill you!"
"And he is a dangerous man."
"OK, Dr Tom, I will be very careful."
"I am not telling you to stop. By all means keep doing it because it raises the boy's spirits. But be careful around Dusty."
That was one fun time and I took what Dr. Tom Miller said as the truth.
We had many more nice meals and chats. It became one of my favorite parts of wrestling meeting with Dr. Tom and his son.
Dr. Tom Miller passed away a long time ago; wrestling was never the same for me.
So now you know.
Dr. Tom was Deep Throat.