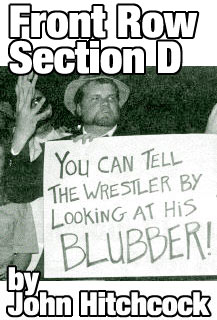 Burlington Death Match
The next day was the big rematch with Kamala verses Link for the Brass Knuckles Title. This show was in Greensboro and it was held at Page High School.
Page is a legendary school in Greensboro that I attended for one year. We were all told that this show was going to be a sell out because it was a fundraiser for Page and all the boosters and students were selling tickets.
When Cruise and I arrived we could tell that nobody sold a lot of tickets for this show. You got the impression that Page was hoping this would just go away. But the show would go on!
The crowd was better than the parking lot led us to believe and there was about three hundred in attendance. But there was one huge problem. The fine folks at Page would not let any chairs on the basketball floor so there was no one around the ring to yell at. You only had people seated in the bleachers and that was like wrestling at an opera. The distance made it very difficult to get heat with the crowd but we tried our best to raise a little hell.
Cruise and I went out to work the crowd and it was quite a change but the fans there did get into our act. Cruise never got enough of yelling at children in attendance. I really believe he must have been a frustrated teacher at one time because he would scream at any toddler for hours to get some heat. There were a bunch of fans there from Thomasville and a few friends of mine from my comic store, Parts Unknown at the show.
These wise asses decided to turn on us that night and I can still remember such thrilling signs as, "Flush The John"and "Cruise really does Suck" flashing from the crowd at us. We could feel the love that night.
The show was pretty uneventful except for a few staining memories. First was we were in the main event that night and the show dragged on for about four hours before we got to our match. Man was it boring sitting back in the locker room waiting and waiting to do something.
One thing that did happen a lot was Pez Whatley kept walking around nude with out a care in the world. Now I know why he was called the pistol man. Another thing that was interesting was watching Kamala Two put on his headhunter face paint. He was very methodical doing this and it took him about fifteen minutes to do it. I told you it was boring back there.
The other thing that was very strange and I began to notice how so many of the wrestlers walked around acting like they were really the toughest guy in the room. Funny, the toughest guys never had to do shit to prove they were tough, most knew it and accepted it for a fact.
For example, I was in the locker room once with the Masked Super Star and he was the calmest most pleasant guy I ever talked to. He was much more concerned with his business at the time and thanked me for letting him use my phone.
I was totally messed up talking to him in his wrestling gear and I had all these Buzz Sawyer flashbacks and I just kept on marking out for him. The guys walking around talking the most shit needed to re-enforce their rank and status for some reason. I never understood all this macho bullshit but then again, I was a mark pussy what did I really know about the backroom pecking order? It was time for the main event and we lost the title back to Link in about seven minutes. This was a huge mistake at the time.
We should have kept the title and had Link chase us for six months but Link was the booker so he got the belt back. After the match I was suppose to help Kamala clear his eyes from the power Cruise accidentally tossed in his eyes. Suddenly Kamala stood up and I was kind of leaning on his back when he did this. I was then thrown half way across the ring on my head.
This is not a good thing to have happen to you trust me. After the show Bruce and I had to physically drag Chris Cruise away from a bunch of kids that he was screaming at. You know I never used bad language in the ring but Cruise cursed like a drunken sailor at these poor kids. Those kids got their money worth that is for sure.
Cruise $110.00
Hitch, zip.
The next show was in Burlington Armory and the place was steaming with heat. We were very lucky that night because Cruise and I got to manage Ricky Nelson. Nelson in my opinion was the finest wrestler in the NDW and deserved to be in the WCW or WWE on talent and ability alone. He really could do anything in the ring. Nelson had one major flaw that prevented us staying together as a team longer. He could talk trash very well so he really didnÌt need us so we only worked with him for a few matches.
That night we had a ball stirring up the crowd and about three minutes into the match Nelson called us over to him. He said something about not to going over to the right side of the crowd. Cruise got the scoop, there was a guy in the crowd brandishing a pistol at Nelson! Needless to say, the match ended quickly and Nelson, Cruise and I hauled ass back to the dressing room.
We all were really scared that something could go terribly wrong. Anyway before the next match Link grabbed Bruce Mitchell on the front row and managed to tear up his t-shirt. Link thought this was really funny and expected Bruce to write him up in The Pro Wrestling Torch out of anger.
Bruce was pissed off but he never gave Link his wish on this thuggish act. So our match was over and I slipped out of the back door to my car. I then heard a drunken voice yelling at me. Standing behind me getting into his car was a black guy and his drunken girl friend. The girl said in a screeching voice, "There is one of those mother fuckers!"
The guy then reached into his coat and pulled out a pistol! He said that I was to tell Nelson and Cruise the next time I saw them that he was going to get them. I totally agreed with this mad man and told him I would gladly do so.
I mean, what was I suppose to do? The two nuts then got in their car and drove off. I was really shook up and got back to my car as fast as I could. Bruce was standing there with his torn shirt giving me shit. I just looked at him and told him to shut up and get in the car. That really pushed BruceÌs buttons and he began to really give me shit. I just looked him right in the eyes and said there is a nut over there that just pulled a gun on me. That did the trick, Bruce got in the car and we got the hell back to Greensboro.
Score Board,
Cruise, $150
Hitch, soiled pants
Next Time,
Referee Time with the Warthogs