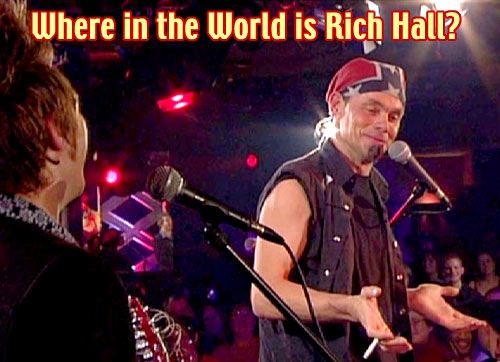 RICH HALL - PART TWO
by L. Wayne Hicks
Hall was working at a club when a producer spotted him and offered him a writing job on "The David Letterman Show," an NBC morning program that would star the frequent "Tonight Show" guest host. The show ran for three months in 1980 before it was canceled. "I think we all kind of knew it was in the wrong time slot," Hall says. Hall's career chugged along after that, until the overwhelming popularity of sniglets triggered a self-imposed exile from the stage.
"After the Pizza Hut commercials - they gave me a lot of money - I went up to Montana for a while and didn't do anything," Hall says. "I didn't do anything for a while, just having a good time."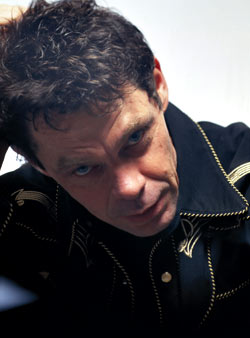 Hall returned to standup in 1994, this time on a different continent. He started over in the U.K., without sniglets hanging over his head. Hall also ventured to the month-long Edinburgh Festival Fringe in Scotland, the largest arts festival in the world.
"It's hard to describe the festival if you haven't been to it," Hall says. "The city of Edinburgh is just taken over by millions of people. They come in from the States. They come in from all over Europe, all over Britain and Ireland and they all just converge on this town. Practically every place you pass has been turned into a venue, so there are thousands and thousands of shows going on, from major productions to little tiny shoestring productions. There's comedy, theater, music, dance, opera, everything."
The best comedy show is singled out for the prestigious Perrier Award. Nominated for the award in 1996, Hall won it in 2000, the first American to do so.

"I know it doesn't mean a lot in America," Hall says, "but it certainly means a lot in the U.K. It's like the most prestigious comedy award you can win." Hall won the Perrier Award for his very American character of Otis Lee Crenshaw, an often-jailed, gravel-voiced singer of wretched country tunes that Hall created in 1998. To become Otis, Hall wraps a Confederate flag bandana around his head, slaps on a fake goatee and smokes. A lot.
"That gets my voice right where I want it," he says. "I don't recommend that as a process for preparing your singing voice to most people, but it works for me. It's not hard for me to be that character because it's really an amalgam of people I grew up with. I can go back home and see my folks who live in North Carolina and there's hundreds of Otises walking up and down the highways."
Hall taught himself to the play the piano and write songs. The rough nature of the Otis character explains away Hall's admittedly amateurish musical ability.
"I'd always wanted to write songs but I didn't really have any musical training so I decided to come up with a character that wasn't a very good musician," Hall says. "In the last 10 years or so, I've gotten to be a fairly adequate keyboard player. Enough to hold my own. Enough to play my own songs. I'm not good enough to play in a hotel lounge or anything, but I'm good enough to play my own songs, especially when you surround yourself with capable musicians."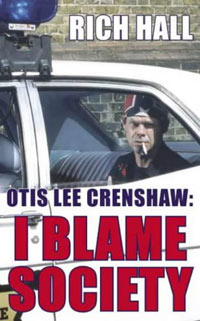 Hall's songs reflect his character's storied past. Consider the lyrics of the uptempo song "Women Call It Stalking":
She said she'll see me in court.
Well, I can't wait.
She calls it a trial,
but I call it a date.

When the judge throws the book, I'm going to pretend it's a bouquet because I'm going to marry that woman someday.
You can tell the woman that you love her face to face,
or you can do it from a phone call that can't be traced.
"You occasionally get people who don't quite get that it's a character," Hall says. "So you get all kinds of reactions. I've had a few people come up to me going, 'I'm really proud of you. You've really done well for yourself,' thinking that I really have been in prison."
Hall grew up listening to his dad play Loretta Lynn, Johnny Cash and Roger Miller records. He says the Otis character is as much a tribute to country music as it is mocking it.
"It's important that people hear all the lyrics," says Hall. "If they don't hear the lyrics, they're not going to laugh. That doesn't mean that some songs can't be more poignant than others, but it all sort of has to embellish the character of Otis."
As Otis, Hall has released two CDs, "London, Not Tennessee" (also available as a DVD) and "How Do We Do It? Volume!" and written a novel, "I Blame Society."
The novel provides a backstory to Otis Lee Crenshaw, telling the sad story of his many marriages to women all named Brenda, his struggles to learn to play the piano and his brushes with the law.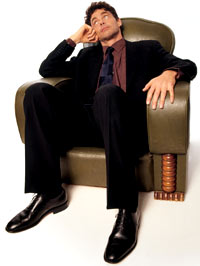 "It was fun to write this book because it sort of gave me insight into his past that I didn't know existed," Hall says.
In addition to "I Blame Society" and the sniglets books, Hall has written "Self-Help for the Bleak," "Vanishing America" and a collection of short stories, "Things Snowball." Except for "Vanishing America" and the sniglets books, Hall's books are available only in the United Kingdom.
"The great thing about Britain is they're very avid readers here," says Hall, who wants to write another collection of short stories. "If you're a standup comedian in America, it's not going to occur to most publishers to approach you about writing a book unless it's something trading off of your fame. Here, I'm able to write books that aren't just something that's a spin-off of my TV show or something like that. They stand on their own."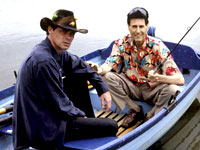 Hall's popularity in England has been rewarded. He starred in "Rich Hall's Fishing Show" on the BBC, a satirical look at issues of the day discussed while fishing. He also was given the task of explaining the American 2004 presidential election in "Rich Hall's Election Special." Hall has begun writing another BBC program to air in June, this one putting Hall in charge of a cattle drive.
"We're going to drive a herd of cattle from Wales to central London," he says. "It's almost impossible to actually do that. It's not like going from Texas to Montana. It's going from Wales to central London, so there's going to be all kinds of impediments along the way - animal rights activists, tree huggers and just the bureaucracy that you have to go through to actually get a herd of cattle across Britain."
"They really took a liking to him over there," says Robert Schimmel, a comedian who knows Hall and finds him hilarious. "I performed there twice and I could see if I kept going back, I could really develop a following there. He really did."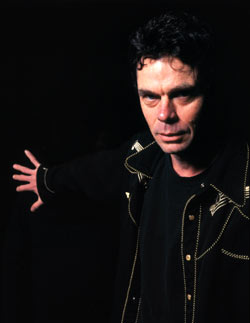 Hall says whether you perform your comedy in Los Angeles or London depends upon your goal. If you want to use standup comedy as a springboard to a situation comedy, then go to Los Angeles.
"But I'm not really a big fan of Los Angeles," Hall says. "Never have been. So I prefer London."