BRIEF HISTORY OF
THE TODAY SHOW
Part Three - by Billy Ingram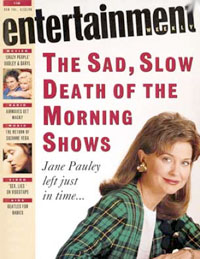 In 1977, original hosts Jack Lescoulie, Frank Blair and Dave Garroway joined Jane Pauley and Tom Brokaw to celebrate Today's 25th anniversary. Notably absent - J. Fred Muggs who was doing his nightclub act in Florida at the time.
When asked about his missing co-host, Garroway replied, "I didn't want that damn monkey on the program."
Largely forgotten by the public and out of work for more than a decade, Dave Garroway committed suicide in 1982. By then, the show he helped create was running a poor second to ABC's Good Morning America.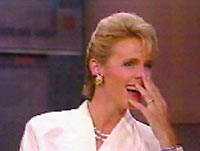 Jane Pauley was replaced by Deborah Norville in 1989, but wasn't until NBC hired Katie Couric in 1991 that Today regained dominance over the competition - ratings rose almost immediately after her debut. With Couric at the helm Today was once again a financial powerhouse for the network. But nothing lasts forever and, in time, Couric realized that she was in the cat bird's seat and demanded a huge raise or she would bolt.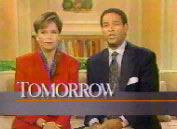 In 2001, faced with losing the most important female talent in network daytime television, NBC capitulated to Couric's salary demands (to the tune of $60 million-plus for five years).
This time when her contract was up, Couric was determined to anchor a network evening newscast - and maybe wake up at a decent hour in the mornings. She jumped ship to CBS in April of 2006, a few months before her contract with the Today show was up. This gave NBC a few precious months to prepare America for waking up to Matt Lauer and Meredith Viera - or Matt Lauer and Curious George.
You probably know by now which they chose.
---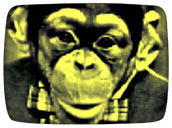 FREE ADVICE FOR NBC:
In 2012 NBC was once again shopping for a new Today host when Meredith Viera left; was replaced by Ann Curry. Then Ann Curry was dropped after one year in a highly publicized move.
If NBC should decide again on a simian sidekick for Today, what would be their modern-day options? They'll be looking for chimps with a strong Q rating and lots of TV experience.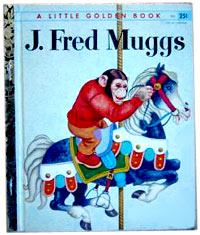 Surprisingly, J. Fred Muggs is still a possibility. TVparty-er Mark tells us, "J. Fred Muggs is alive and well and living in retirement with a chimpanzee lady friend in Florida.
"J. Fred was born in French Cameroon in 1952, so he is old enough for AARP membership, but because of his foreign birth, J. Fred Muggs is not eligible to become President. Which might be a shame, because he must be quite bright and articulate compared with a few pols from both parties here in the United States."
Think about it NBC - J. Fred may miss the perks of being the star of one of NBC's top shows and be willing to make a comeback.
Other chimps with high Q ratings include: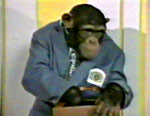 Tonga - this chimp had two hit series - as the 'Bloop' on Lost in Space and as the title character in the 1970 action series, Lancelot Link, Secret Chimp. Tonga would now be in his forties. This makes him the elder stateschimp of the bunch, but much too old for TV.
Clyde - from Clint Eastwood's hit movies in the seventies. Clyde probably won't stoop to doing television, most movie actors won't, if they can help it.

Mr. Smith - the star of NBC's 1983 self-titled series. Smith has an edge, he's a talking Orangutan with Washington insider experience - or at least he played one on TV, what's the difference? Still, NBC is unlikely to rehire the big ape after he almost single-handedly wrecked their Friday night schedule in 1983. Mr. Smith was back in the jungle before Christmas of that year!
Bubbles - Michael Jackson's chimp has the highest Q rating of all. Perhaps as a test for possible weekday duty on Today, Bubbles was given his own Saturday morning cartoon series in 1985. He's an unlikely choice as his deceased former owner has gone on the record as saying, "I'm the star! Not that chimp! Bubbles just isn't that cute anymore!" According to insiders, Bubbles sucker-punched the fragile superstar one day and was promptly shipped off to Sylmar, CA to share a cage with 22 other primates.
THE TODAY SHOW : EARLY YEARS
TODAY SHOW : 1960s & 1970s
THE TODAY SHOW : 1970s & Beyond