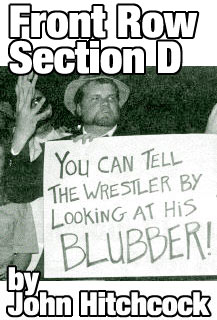 Show Time with the Bats
Yes, New Dimension Wrestling did do a few shows in Greensboro North Carolina and most were at the old War Memorial Stadium. The Stadium was a really old baseball field built just after World War 2. It was made with now old concrete that was crumbling in some places and it was quickly used in the movie Bull Durham. I watched my brother Sparky play football there, as a kid and I loved going there for anything.
It did have a creepy side to it. There was two large metal placks outside honoring the local dead from WW2. One side was a listing of dead soldiers and the other side said Colored Dead.
I guess Jesse Jackson missed that fact when he was going to A & T.
Well, NDW did wrestle a lot of paid shows there, usually after the Bats baseball games. The crowd was a bunch of bored fans with nothing else to do but it usually numbered about four hundred for a good show and thirty-five for a slack one.
It was very odd to watch them move the ring from behind the outfield to the playing field. They used a huge crane like machine that was always out of balance. They balanced the ring with the 600 lbs Ken Spence. It was a real mess and really did mess up that ring. It was a death trap to wrestle in after all that moving.
Cruise and I were hanging around the concession stand when a guy walked up and started talking to me.
He asked if I was the referee at the Warthog game last week. I said yep, I was that guy He then asked how did I learn to take such a great bump? Did I go to a special school to learn how to fall like that?
Chris Cruise stood there in total amazement quiet as a tomb.
I just figured it was better to be honest with him.
And I told him that was the real deal.
Bobby Fulton just crushed me and that was the first time I had ever been a referee.
And it was going to be the last time too.
This guy was very nice. He said that he and his friends said that bump stole the show. And they couldnít stop talking about it.
See, I told you he was very nice guy.
I did catch up with Bobby that night and I asked him why he decided to kill me. This will give you an insight to Fulton. Bobby said that Cruise was lost the whole night and was not in the right place so he was going to make sure this was going to look good.
"But Bobby, you knew I was never a referee and didn't know how to work"

Bobby, "Yeah, but it was the finish. It had to look good."
Thanks a lot pal.
These shows were pretty good and most of them had a young team named the Hardy Boys on them. And Jeff was just as fearless then as he is now. That guy took some unbelievable bumps every match he wrestled. Matt was solid and was getting better all the time. We all knew that they would make the big time if they lived that long.
We had another kind of famous person in this group. John 'Fairplay' Dalton of Survivor. He did a run in from the crowd totally drunk out of his mind the first time we used him. Fairplay was so scared he blew his spot and referee Dave Routh had to grab him so Cruise could give him a chair shot. I got to chair him too but I took pity on him and airballed it. Why I didnít spill his brains remains a great mystery to this day.
And of course, Ric Link dropped the N bomb in front of a bunch of school kids.
Now, that is entertainment.