THE STORY BEHIND
'DEAR JOHN: THE ALEX
TOTH DOODLE BOOK'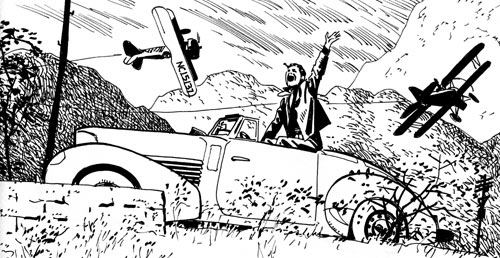 by Billy Ingram
Wow. You could knock me over with a feather. A book that I (along with James Counts) produced - Dear John: The Alex Toth Doodle Book - was just nominated for an Eisner Award for Best Comics-Related Book. That's a very prestigious honor in the comic book / graphic novel field. I have to be honest, I'm a bit taken aback. Let me tell you the story of how this came to be.
In June of 2006, I agreed to take on a project that (I think) three others had supposedly started but never got very far with. My friend (from all the way back to Junior High) John Hitchcock had a huge collection of letters, postcards and sketches he'd received from Alex Toth, one of the comic and animation industry's towering talents. He and Alex had been friends for decades and often talked about compiling the sketches from those mailings into a book.
Jeff Parker, one of the comic industry's top talents, agreed to publish such a book under his Octopus Press imprint once it was print ready.
I told John I'd pull the book together if there was no one else available. To be honest I was really busy at that point and there was little potential money involved. John made it clear from the beginning that Alex would receive the lion's share of proceeds from the book (as it should be) and a small print run was assured.
If I was going to do it, my heart and soul would go into it and I knew how much time that would take. Editing, writing the back pages notes, scanning, cleaning up images, design, layout, selecting examples of Toth's past work and prepping everything for the printer - every facet of the project I would be responsible for. Still, I love to tackle unwieldy projects like this; to hopefully create an environment that will carry the reader along on a journey of some sort.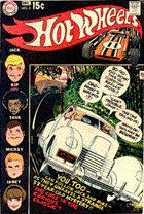 Basically, I was doing it for Alex Toth. He had such a huge influence on my life and work. John Hitchcock and I were reverent fans as youngsters and my admiration for his work never waned. I can still remember my first introduction to his work - Hot Wheels comics number one. After Hot Wheels number five (now considered a classic of the genre) I searched for anything with his signature.
I agreed to do the book but saw the project differently. I wanted it to be not a collection of sketches but a book of correspondence, with the potential to reach out to Toth fans and anyone else who might be interested in eavesdropping on an ongoing, 25 year conversation about art, aging, animation, professionalism, the good old days and whatever else was on the master artist's mind.
John wasn't so keen on that concept. It was supposed to be the 'Alex Toth Doodle Book' after all (the title was Alex's and set in stone), a book of sketches. So I told him to wait and see what I came up with (my rule is always - if there's no money up front, I do it my way.)
I told John if he hated it, I'd pull out the letters and it would be a straight sketchbook, no problem. Fortunately he liked the result and suggested we also include some so-called director's commentaries that Alex had written for him over the last couple of decades, a great addition. I asked John to write a piece on his meetings with the artist and Jeff Parker contributed a terrific essay that helped explain Toth's appeal, tying everything together nicely.
The first set of preliminary proofs was shipped to Alex in December, almost exactly 6 months after I started the project.
Funny thing happened, though. While the proofs were en route to Alex, a post card arrived at John's comic book store. Alex was royally pissed off about the length of time the Doodle Book was taking; he was extolling John to do it already or forget it.
You see, from Alex's perspective, this was something that had been 'in the works' for almost 7 years; he had written the introduction back in 2001. From my point of view, I said I'd be done in 6 months and was. (Obviously I understood Alex's perspective - and we just had to include that angry postcard as one of the last in the book. And he didn't object!)
Sadly, Alex was hospitalized when he received the first proofs but apparently liked what he saw. He offered suggestions that were incorporated into a revised, completed set of proofs which went out a few weeks later. He was on the mend at home when he approved the book for publication but not long after, before we could go to press, Alex passed away.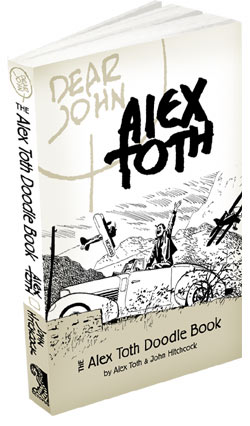 According to his correspondence with John, Alex was excited about this project and very anxious to see it printed and bound. I suspect it gave him something to look forward to at the end of his life. It's his book after all, 95% of it scribbled from his own hand. I merely tried to get out of the way and let his wisdom, his insight, his sometimes crusty personality and friendship he forged with John Hitchcock to shine through.
I was thrilled that James Counts jumped in near the end of the project as a designer and gave everything an extra zing, making sure all the levels and resolutions were right and providing the final documents that went out to the printers. Boy, did we fight about some of the design choices he made! But if it were not for James the book wouldn't look half as good as it does.
Chris Ferguson provided some much needed proofreading, he did a truly amazing job. We avoided some embarrassing gaffes thanks to him.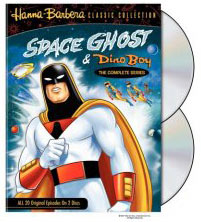 Warner Bros. must have liked it, they sent out a crew to interview John for a tribute to Alex Toth that will be included on the Space Ghost DVD set released for the summer of 2007.
I still have no idea whether we succeeded in making this the book I envisioned when I adopted this orphan. To hear that this labor of love was recognized by a nomination for an Eisner Award makes all that work worthwhile.
The award will be given out at the 2007 Comic Book Convention in San Diego but for some reason Alex Toth, the actual author of the book, doesn't have his name listed on the ballot.
YOU CAN ORDER A COPY
OF DEAR JOHN: THE ALEX
TOTH DOODLE BOOK HERE.