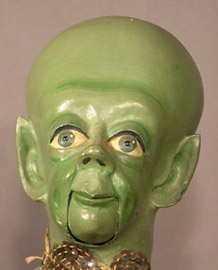 SANDY BECKER'S MAGNIFICENT PUPPETS UP FOR AUCTION!
Geeba Geeba - Norton Nork - Dorshak - Marvin Mouse - Hambone.
If these names ring a bell, you must have grown up in the New York Metropolitan Area during the sixties watching "The Sandy Becker Show" on WNEW-TV, Channel 5.
Sandy Becker hosted his own brand of kid's show every weekday out of New York City. He would showcase those great cartoons we all remember, as well as vintage "Little Rascals" shorts. Sandy was most famous for his live-action characters, Norton Nork and Hambone and his extensive cast of puppet co-stars. Sandy and his puppets debuted in June, 1955 at noon on "Sandy Becker's Funhouse."
He soon moved to the mornings and the puppets came with him. When he added his evening show in 1961, the puppets remained on double duty for many years.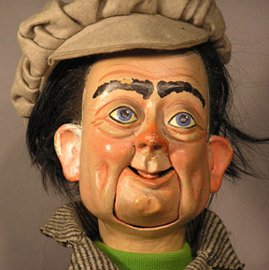 In affiliation with Cherie Becker, Sandy Becker's wife, Just Kids Nostalgia is proud to announce the sale of nine of the original Sandy Becker puppets.
Sandy created and designed each puppet and then gave them their own individual quirky personality. Each one-of-a-kind puppet is an important part of Television History.
The following puppets will be offered for sale on ebay with an estimated value of $3000 to $5000 each.
DORSHAK
STANLEY Q. STINKER
WYDEEN
MOLLY
DANNY MORA
SPUTNIK
MARVIN MOUSE
JOANIE MOUS
GOOGY
---

For further information on this
wonderful collection please contact:
Ken Farrell at:
Just Kids Nostalgia
310 New York Ave.
Huntington, New York 11743
Phone; 631-423-8449
Email:  SandyBecker@justkidsnostalgia.com
Web: www.justkidsnostalgia.com