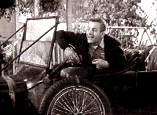 Sept 1965 - Sept 1966
1965 was the year when everyone and everything on TV came back from the dead or from being lost, it seemed. It was inevitable that someone at NBC would take the term reinCARnation too literally.
With the unexpected success of 'Bewitched' and 'The Man From Uncle' in 1964, the networks unleashed an assault of way-out, fanciful shows in 1965. 'I Dream Of Jeannie', 'Lost In Space', 'Get Smart', 'Green Acres',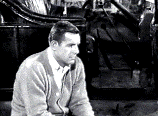 'The Smothers Brothers Show' (the sitcom where Tommy came back as a ghost to haunt his brother), 'F Troop', 'Wild, Wild West' were just some of the weird shows that debuted in 1965.
Outlandish as some of those series were, it was My Mother the Car that will forever be held up in ridicule as the worst television series of all time. NBC was the butt of many jokes for putting the show on the air in the first place - and leaving it there for an entire season. Still, 'My Mother the Car' was probably worth it to the network as fodder for 'Tonight Show' punchlines for the next three decades.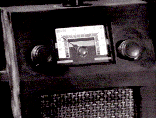 'My Mother The Car' followed the antics of lawyer Dave Crabtree (Jerry Van Dyke), a typically hapless sitcom family man who discovers that his mother has returned from the grave as a 1928 Porter convertible automobile. It just so happens that he was looking around the used car lot for a family station wagon when he made this startling discovery. He (naturally) buys the car against the wishes of his family, who (naturally) think he's gone crazy.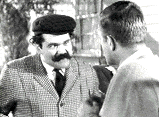 Maggie Pierce was cast as wife wife Barbara, and Cindy Eilbacher and Randy Whipple play the 2.5 kids. Avery Scheiber appeared as the show's villain, Capt. Manzini, a ruthless car collector who felt an unnatural urge to own the Porter himself. Ann Sothern ('Private Secretary') was the voice of Mom, emenating from the car's radio.
Just like another popular sitcom of the day ('Mr. Ed'), the car won't talk to anyone but Dave, so (naturally) hilarity ensues when everyone continually doubts his sanity. Kids tuned in, but the critics were merciless.
"'My Mother The Car' tried combining the U.S. fascination with cars, sex and Mom." a scathing 1965 review in Time magazine went, "But something happened in casting: Mother (who returns to earth from celestial regions, using the car radio as a voice box)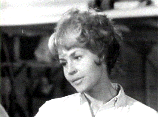 is an invisible Ann Sothern; and as for Hero Jerry Van Dyke, he has finally answered the question, what is it that Jerry hasn't got that Brother Dick has?"
Fact is, 'My Mother The Car' had a terrific cast and stellar writers/creators - no less than Allan Burns and Chris Hayward, the multiple Emmy-award winning creators of 'He and She' and 'The Mary Tyler Moore Show'. Maggie Pierce was particularly good as the wife, and anything with Ann Sothern can't be ALL bad!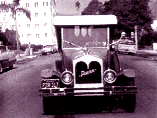 So why wasn't the series cancelled sooner if it was considered such a flop? Probably because it was effective in drawing the young viewers - the competition on the other networks were all adult dramas ('Rawhide' on CBS, 'Combat' on ABC).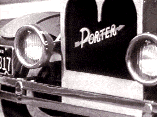 Demographics was a brand new concept in 1965, and the networks were looking for overall large numbers, not audience segments like they do presently - or My Mother The Car might still be on today!
(Video clips in this article are from the unseen pilot episode, provided courtesy of "Kingpin" Harold Balde.)
---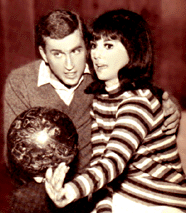 January 1972 - May 1972
This ill-conceived sitcom buried the promising career of one of television's most beloved actors. Ted Bessell had just come off of a five-year run as Donald Hollinger on the hit show 'That Girl', a series that would have still been on the air in 1972 if Marlo Thomas hadn't decided to quit while the show was still hot.
Marlo Thomas didn't want to commit to another series, but Ted Bessell did, so he signed a lucrative deal with CBS to star in a mid-season program six months after 'That Girl' left the air.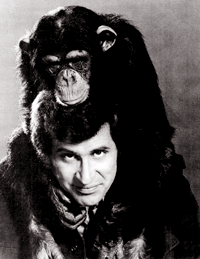 The series that star and network settled on was 'Me and the Chimp', the story of suburban Dentist Mike Reynolds (Bessell) and his wife Liz (Anita Gillette) who live in Southern California with their 2.5 kids (played by Scott Kolder and Kami Colter). The kids somehow find a chimp (they name him Buttons) wandering around the neighborhood.
Like anyone would, the family decides to keep the beast and make it their household pet.This must be kept secret from the neighbors and as a result, Mike spends most of his spare time undoing the messes the chimp and the kids continually get into.
Critics wailed on the show, calling it the dumbest television series since 'My Mother The Car' (still a fresh insult at the time). Ted Bessell took the brunt of the criticism because he should have known better. After all, he had the clout to insist that the series be renamed 'Me and the Chimp' from the original working title 'The Chimp and I' because he didn't want to take second billing to the diapered primate!
After the show's failure, Network execs must have decided they never wanted to see Bessell's face on the small screen again, his TV appearances became practically non-existent. Bessell started a second (successful) career as a director ('The Tracy Ulmann Show' among others). Ted Bessell died several years ago.
'Me and the Chimp' was created by Garry Marshall and Tom Miller - they later went on to create 'Happy Days' and 'LaVern and Shirley', two of the biggest hits of the polyester decade. Anita Gillette (the wife) starred in several short sitcom runs and was a semi-regular on many of the game shows of the day (like 'Match Game' and '10,000 Pyramid'). Kami Colter went on to play Elizabeth on 'The Waltons'.
---



February 1979 - July 1979
Can you say super-disaster?
'The Love Boat' was doing great on ABC, but NBC wasn't having much luck with their original shows in 1978, so NBC network head Fred Silverman had the bright idea of doing 'The Love Boat' on rails (a plane would be too quick for much dramatic action, it was reasoned).

Expansive, lavish sets of impossible dimensions were created for Supertrain - which is supposedly so big it rides on TWO sets of tracks. It has to, with an Olympic-sized swimming pool, gym, discotheque and shopping center on board. And it's fast too, travelling over 200 miles an hour, so don't try to beat this train across the tracks!
Just like the 'Love Boat, the guest-stars are all non-working sitcom stars and semi-famous celebrities falling in love and getting involved in transcontinental intrigue.

Producers and network knew they were in trouble almost from the start. When the budget-busting, million-dollar, large-scale model electric train set with attached cameras was first demonstrated for network execs, it roared off the track and crashed into a wall - destroying it! Another expensive model train had to be built to resume filming.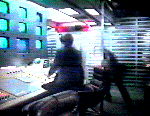 The series was originally produced by Dan Curtis ('Dark Shadows', 'Winds of War'), but the show was yanked and was replaced after the dismal showing of the first four episodes. When Supertrain returned, some members of the cast were dropped to add some bland new characters - a social director and an operations specialist to oversee the many disasters befalling train's infrastructure.
That didn't help any - somebody at the network forgot that it's the story, not the sets that people tune in for. The only truly interesting thing about this series was the shrill, hyper-active theme song written by Bob Cobert (Dark Shadows, $25,000 Pyramid &amp Chain Reaction) and the garish graphics that opened and closed the show.
---
"Please, oh God, please, put up some info on the ghastly Chevy Chase Show! My brother was in Germany when it was on, and words fail when I try to explain to him just how embarrassingly bad it was!
"Remember when it was his daughter's (or son's, I don't remember) birthday? I don't recall much of what he did to "celebrate" (although I think he fell into the birthday cake); I do, however, remember cringing like I've never cringed before in embarrassment over it. And then there was his piano/desk. It gives me the shivers just thinking about it."
- Greg
---
"A factoid that might be interesting. In your one-show flops section, you mention South of Sunset, that steaming pile starring Glenn Frey that was on for about 20 seconds in 1993. I'm pleased to say that my wife and I were part of the test audience in Hollywood that year for the next episode that never got shown. Words cannot convey the mind-numbing mediocrity of that show.
"We had the common test audience equipment, these little meters, blue and red, to press for likes and dislikes during the show. Apparently, most of us just sat on the red meter and left it there. In the show, Frey's character had a pet duck. During the comments after, when asked what anyone liked about the show, my wife piped up and said 'Well, I liked the duck.' And someone else snickered: 'Of course, he was the best actor in the thing.'
If my wife and I helped in any small way to kill South of Sunset, then I feel I've done my service for American culture."
- Cheers,
Tom Nichols


February 5, 1969
'Turn On' had a solid cast, production and concept - but was still a big, huge bomb that lasted only one night. When ABC execs saw what they had allowed on the air, they immediately pulled the plug - the show was cancelled virtually before the first episode finished airing. Many local affiliates were furious that the network had allowed such a barrage of bad taste on the air and most refused to ever air it again. When the sponsor withdrew as well, the coffin was sealed.
Produced by George Schlatter and Ed Friendly ('Laugh-in'), the series was meant to be 'Laugh-in' for a new generation - the "star" was a computer, the music was synthesized, the blackouts were fast and furious and the sexual innuendoes flew by at a rapid pace.
'Regulars' on the show included Chuck McCann, Hamilton Camp ('He and She'), Teresa Graves ('Get Christy Love'), Bonnie Bolland, Ken Greenwald and others. One controversial segment had the word SEX flashing on and off while Tim Conway and Bonnie Bolland's faces switched places. Another skit had a woman putting money into a vending machine to get birth control pills, and when they don't come out, she demolishes the machine. Animated spots by Bill Melendez ('Peanuts' specials) were another highlight.
The host for the first show was Tim Conway, who had a long run with 'McHale's Navy', but his subsequent efforts ('Rango', 'The Tim Conway Show', 'Tim Conway Comedy Hour') were all failures. It wasn't until Conway joined the Carol Burnett show for three years in 1975 that the curse was finally broken (then was revived again in the Eighties with short runs like 'Ace Crawford, Private Eye' and 'Tim Conway's Funny America').
Other one episode wonders: Dot Comedy (ABC, Dec. 15, 2000), South of Sunset (CBS, Oct. 27, 1993), Co-Ed Fever (CBS, Feb. 4, 1979), You're in the Picture (CBS, Jan. 20, 1961 - see below)
---


"Dear Billy;
There's one show that I've checked for in a couple of "lists everything" TV books, and it was not listed, 'The Tammy Grimes Show'. The unique aspect of it was that it only aired for only four episodes in 1966. That doesn't sound so remarkable now, because today networks don't give shows much of a run, but this was one of the few times that practice had ever occurred.
Tammy Grimes had quite a TV career before this series was aired, but the show didn't make it and she was relegated once again to supporting roles. New shows were heavily hyped back then, so it was a shock when it disappeared so quickly."
- John Wilson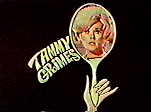 YOU were shocked, John - imagine how Tammy Grimes must have felt. She's barely been heard of since (except as one of the most recognizable voice-over artists of the Seventies and Eighties).
Take the premise of one top-five rated show ('The Lucy Show') and add the executive producer of another top-rated show ('Batman') and what do you get?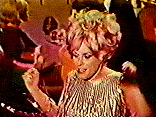 The Tammy Grimes Show (September 8 - September 29, 1966) starred Broadway actress Tammy Grimes as a young, 'Madcap' heiress who loves to spend large amounts of money frivolously. Trouble is, her holdings are closely guarded by banker Uncle Simon (Hiram Sherman), her prissy twin brother Terence (Dick Sargent) who also works at the bank, and the nosy housekeeper.

Ironically, series co-star Dick Sargent took over the role of Darin on the program that followed this one on Thursday nights - 'Bewitched'. (In fact, Tammy Grimes was one of the original choices to play Samatha on the same show!) Tammy Grimes turned up in later years in lots of guest-star roles on shows like 'Love American Style', 'The Snoop Sisters' and a bunch of TV-movies over the next couple of decades but never starred in another series.
Several episodes of 'The Tammy Grimes Show' were filmed but never broadcast when the show was abruptly cancelled.
---
ABC's venerable news magazine 20/20 debuted in 1978 and was a big bomb. But wait, you say - it's still on today and never left the air!
Hard to believe, but the show's first hosts and staff were all fired after the first live broadcast.
---

You're in the Picture
A poorly conceived prime-time game show that stands today as one of the biggest flops in television history. The one and only episode aired on CBS, January 20, 1960.
The premise: celebrity contestants stick their heads into a scene painted on plywood, and they have to guess what the scene is, or what historical figure they represent by asking the emcee questions. Jackie Gleason was the host of the live broadcast, (he even helped develop the show) and the stars on that first and only show included Pat Harrington, Jan Sterling, Arthur Treacher, and Pat Carroll.
After the embarrassingly bad first episode aired, Gleason convinced CBS to let him go on the next week and apologize to the home audience under the title 'The Jackie Gleason Show'. This would give the production a chance to re-tool and get 'You're in the Picture' back on the next week in a slightly revised format.
Gleason went on the air live the next week and apologized all right - "Honesty is the best policy. We had a show last week that laid the biggest bomb! I've seen bombs in my day, but this one made the H-bomb look like a two-inch salute." 'You're in the Picture' never returned.
Please consider a donation
so we can continue this work!

Auto huren makes it possible to compare all car rental companies all over the world!
Compare the top sellers of Instagram followers on Buy instagram followers reviews!
An overwiew of guides and gutscheincode with the best tips and tricks to save money! on Ebookers.
Amazon Prime - unlimited streaming
of your fave TV shows and movies!
Get your FREE 30 Day Trial!
PR4 & PR5 Pages for Advertising