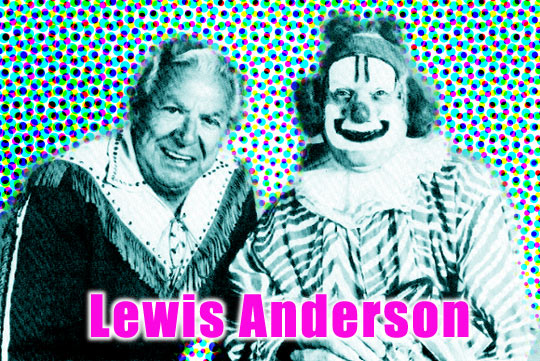 by Kevin S. Butler
Lewis Anderson, singer / musician / bandleader / songwriter and the last performer to play Clarabelle The Clown on Howdy Doody and The New Howdy Doody Show died on Sunday May 14, 2006 at the age of 84.
Mr. Anderson had been suffering from an undisclosed illness for the past few months.
A former member of a jazz singing team The Honeydreamers, Anderson made his first TV appearance on NBC's Howdy Doody program with his musical group in 1954. At that time, Bobby Nicholson was anxious to relinquish the role of Clarabelle (he inherited it from Bob Keeshan) so that he could play a new character, Corny Cobb, the storekeeper. The show's producer, E. Roger Muir, wouldn't allow Nicholson to give up the crucial part of the silent clown until a suitable replacement could be found.
Seeing potential in Anderson as a replacement Muir invited him to audition for the role even though the musician had never seen the Howdy Doody show or had any previous experience as a clown. Lewis Anderson won the audition, accepted the offer and portrayed the character for the remainder of the series' run.
It was Anderson's interpretation of Clarabelle that finally spoke on the very last episode, during the last few minutes of that final Howdy Doody program (which aired on Saturday morning September 24, 1960).
Encouraged to speak, the camera dollyed in on him as he said, "goodbye kids." That was"a very unhappy time," recalled Buffalo Bob during his appearance at NYC's Fillmore East in 1971.
Following the show's cancellation, Lewis Anderson worked on many music projects and was reunited with Buffalo Bob for personal appearances at fairs and shopping malls in the 1970's and 1980's.
They also appeared on a kids TV special Howdy Doody & Friends which aired on NBC in the fall of 1972, a program that was part nostalgia and part preview for the network's new Saturday morning shows.
In it, Smith, Anderson, Howdy and an unknown actress and singer who played a character known as Clever Clara introduced the new Saturday morning shows for NBC's fall 1972/73 season and looked back at Howdy Doody's rich past via songs and comedy skits.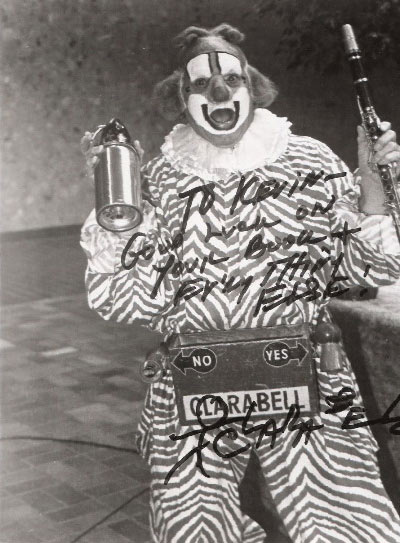 The pair were reunited on TV again four years later for The New Howdy Doody Show which taped before a much larger audience of adults and kids at the Video City TV Studios in Miami, Florida in the late 1970's. The series was distributed nationally in syndication by Jim Victory TV, Inc.
Bill LeCornec and Bobby Nicholson also rejoined Smith and Anderson for the revived series. New regulars were added to the show including Marylin Patch played Happy Harmony, the Singing Schoolteacher, Nicki Varro as Glory Grits, Corny Cobb's Niece, Jackie Davis as the show's singing bandleader and Milt Neil played Fletcher the Sketcher.
The great Paul Ashley briefly served as the show's head puppeteer and created new heads for the puppets and played Nicholson Muir Sr. the show's supposed executive producer. Following Ashley's abrupt dismissal from the program, Paddy Blackwood succeeded him as the show's head puppeteer and puppet maker. Unfortunately, the series aired in most markets in a weekday afternoon timeslot. The syndicators tried to aim the humor at 1970's young viewers but the show failed to catch on with a new generation.
After just a few months, The New Howdy Doody Show was cancelled.
Lewis Anderson went onto create and perform with his own jazz band at many NYC venues, most notably The Red Onion and Birdland while continuing to perform occasionally with Buffalo Bob at fairs and shopping malls.
Anderson and Smith made three final TV appearances together on ABC's Good Morning America with Kathie Lee Johnson (now Kathie Lee Gifford) during a Thanksgiving Day weekend in 1986, on Howdy Doody's 40th Anniversary TV Tribute on the Fox TV network in the winter of 1987 and on Sally Jesse Raphael's talk show in the winter of 1991.
Buffalo Bob Smith passed away in the summer of 1998.
Anderson continued to perform with his jazz band and continued to play Clarabelleat Howdy Doody Collector's Club Conventions and at many functions until just a few months before he died.
He leaves behind his wife, children and grandchildren. I was lucky enough to meet Lewis Anderson, to interview him in the 1980's; he was very sweet and a true gentleman.