Robert Sterling
by Kevin S. Butler

Actor Robert Sterling died on Tuesday, May 30, 2006 at his home in Brentwood, CA at the age of 88 of natural causes. Sterling is best remembered by TV viewers of the 1950's as the dapper ghost George Kerby on TV's Topper.
The son of a baseball player born William Sterling Hart in 1917, he gave up a career as a clothing salesman to take up acting and appeared in some short films before working at MGM as a leading man during the 1930's and 40's. His roles were mainly limited to minor parts in action films; Sterling felt wasted in these roles.
/ / / Classic TV Blog / / / TV Shows on DVD / / / 2012 TV Show Reviews / // / TV on BLU-RAY
Robert Sterling married actress and singer Ann Sothern in 1941. They divorced in 1949 and had one child, a daughter Tish Sterling.
It was not until a decade later that Robert Sterling's life and career changed for the better.
Appearing in a Broadway show, he met actress and singer Anne Jeffreys. Following their stints on Broadway, the pair created their own stage act and performed in many venues. They married and in 1953 found success playing the mischievous ghostly couple George and Marion Kerby in the acclaimed TV version of the popular Thorne Smith book and Hal Roach film comedy series Topper.
Topper was the story of two eccentric newlyweds vacationing in the Swiss Alps where they meet a drunken but kindly St. Bernard dog named Neil. An avalanche buries the trio but they return as spirits back in their old home where they tried to make things easier or difficult (depending on how the viewers saw the situation) for new owner Cosmo Topper (played by Leo G. Carroll), his wife Henrietta (played by Lee Patrick) and their cook Katie (first portrayed by Edna Skinner who went onto play Mrs. Kay Addison on Mr. Ed a decade later. Skinner was replaced on Topper by Kathleen Freeman).
Topper aired on the CBS and NBC networks for a three seasons and remained popular in syndication after cancellation came in 1956. Mr. & Mrs. Sterling tried another sitcom Love That Jill in which they played friendly rival fashion designers. The show was not a success and went off the air after just a few months.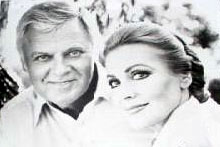 Robert Sterling returned to motion pictures in Return To Peyton Place and Voyage To The Bottom Of The Sea (as Capt. Lee Crane) but was never able to regain the success that both he and his wife enjoyed with Topper. He retired from acting in the 1970's, returning briefly for cameo appearances in the 1980's on Hotel and Murder She Wrote. In fact, Hotel marked the very last TV appearance of Mr. and Mrs. Sterling together.
Since the 1970's, Robert Sterling was the owner of both a golf supply company and a computer programming firm. He maintained both companies until recently when his health began to fail.
He leaves his daughter Tish Sterling and his three sons from his marriage with Anne Jeffreys. Mr. Sterling's first wife, Ann Sothern, died a few years ago following kidney ailments.
Anne Jeffreys made guest appearances on many TV shows in the 1980s & 1990s like Falcon Crest, Fantasy Island, Mr. Merlin and Baywatch where she played lifeguard Mitch's (David Hasselhoff's) mother. She was seen as Amanda Barrington on Port Charles from 1999-2003 and is cast as the Duchess of York in the upcoming motion picture Richard III.