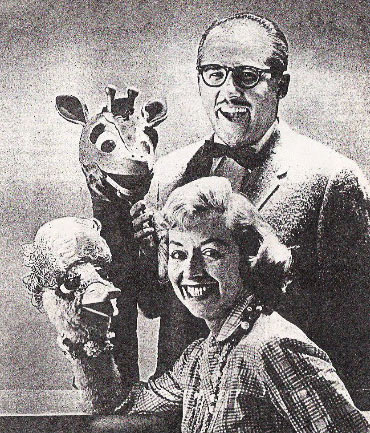 The Ritts Puppets
by Kevin S. Butler
On May 14, 2006, Mary Donnelly Ritts - scriptwriter, singer, puppeteer and puppet maker - passed away at a nursing home in Pasadena, CA; she was 95 years old and a true children's TV pioneer.
Born Mary Donnelly on June 16, 1910, she began her career as a fashion designer for Bonwit Teller before going to work for John Wannamaker, then later for Stetson Hats. Her fashion designs also appeared in such well-known magazines as Vogue and Harper's Bazaar.
Mary Donnelly joined WCAU-TV Channel 10 in Philadelphia in 1950 where she met Paul Ritts who worked at the station as a producer and scriptwriter. He contributed to the development of many programs for WCAU and the new CBS-TV network (at that time, Channel 10 was a CBS affiliate).
In 1950, the station execs at WCAU had an odd idea for a segment wherein a sportscaster would carry on conversations with live animals that lived inside of the drawer of his desk. They reasoned this would be of interest to children; Mr. Ritts liked the idea but it was decided to use animals puppets instead of live creatures for the segment.
"No one was a puppeteer at the station," recalled Mark Ritts, the Ritts son. "But my father, who had had built model airplanes as a kid, said, 'I'll make you a puppet.'"
Paul Ritts built, manipulated and voiced Albert the Boy Chipmunk puppet, over time adding the characters of Sir Geoffrey the Giraffe and Calvin the Crow.
Paul Ritts' animal puppets appeared with Channel 10's resident sportscaster Bill Sears for the very first time in 1950, evolving into a series entitled In The Park which made its debut as a Sunday kiddie series on the CBS-TV network a year later. The premise had Mr. Sears spending time at a local park where he would carry on some lively and witty conversations with Paul's charming animal puppets.
Mary Donelly married Paul Ritts around this time and together they manipulated and built puppets for the show; when a female character was needed for the program, Mary Ritts created Magnolia The Ostrich. In The Park became a popular show in the early days of TV and aired on CBS until 1953.
The Ritts returned to kid's TV in 1960 when they succeeded ventriloquist and cartoon voice-over performer Jimmy Weldon as the fourth and last hosts/performers of WRCA/WNBC Channel 4 in NYC's weekday morning kiddie show Family (a show originally seen on WRCA in 1957 under the title of Hi Mom.)
The Ritts Puppets entertained and educated viewers on Family from 1960 to 1962; following the cancellation of that show the Ritts Puppets returned as the stars of NBC's children's news magazine Exploring, seen Saturday afternoons from 1962 until the mid-1960's.
Exploring was hosted by Dr. Albert Hibbs and received a great deal of praise from parents, critics and educators. Mr. & Mrs. Ritts and their little friends would entertain, inform and educate viewers on a variety of subjects.
The Ritts Puppets also made guest appearances on such variety shows as The Ed Sullivan Show, the Jack Paar version of The Tonight Show, on WNEW Channel 5 NYC's popular kid's series Wonderama with Sonny Fox and Bob McAllister and on The Bob McAllister Show.
The Ritts Puppets also made a memorable appearance in the Jerry Lewis film comedy The Errand Boy where Lewis meets and has a poignant conversation with Magnolia the Ostrich and enjoys a performance by Bobo the Silent Clown.
The Ritts also found the time to create, produce and perform on their own kid's recording "Let's Put On A Puppet Show" for the Columbia/ Harmony Children's label. They not only created and performed their own skits for the album, they also wrote and sang their own original songs.
Mr. Ritts also wrote a book that satirized TV producers called "The Tee Vee Jeebees."
The Ritts Puppets made their final TV appearances in the 1970's. They were prominently featured on a weekday afternoon program for preschoolers, Watch Your Child... the Mee Too Show on WNBC in NYC, utilizing some new puppet animal characters like the Koala Bear Puppets, Mr. Emu and Mr. Machine. The troop performed skits between segments featuring guest performers and educators like Dr. Francis Horwich, formerly "Miss Francis" of NBC's Ding Dong School, who made her last TV appearance on this program.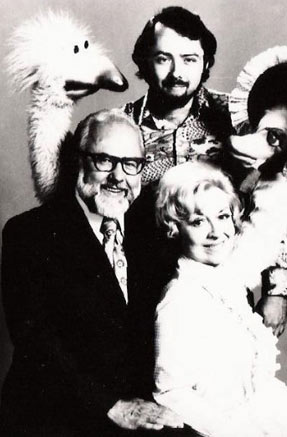 Mr.& Mrs. Paul Ritts' served as the hosts/performers of The Pink Panther Show, Saturday mornings on NBC for the 1972/1973 season. Their son Mark also worked on The Pink Panther Show with his own puppet character, Flame Flamingo. The Ritts' introduced another animal puppet character for the series, The Abominable Snowman (who made his first appearance with "Buffalo Bob" Smith on the NBC special Howdy Doody & Friends).
The Ritts Puppets also appeared in filmed PSAs for The Better Business Bureau teaching kids about junk food and dangerous toys.
In 1973, the Ritts Puppets made their last TV appearance in an installment of The NBC Children's Theater (not to be confused with Children's Theater hosted by Mr. Ray Forrest). The NBC Children's Theater was a mini-series broadcast on a semi-regular basis featuring a myriad of subjects. In the story "For the Love of Fred," Ritts puppets Albert, Geoff and Magnolia helped a Caterpillar named Fred become a butterfly.
The show was a hit with the kids and again earned tremendous praise for the couple but the Ritts Puppets rarely turned up on TV again. Mark Ritts went onto become the head puppeteer for Gene London's last kiddie program, The Gene London Show, for WCAU 10.
Mary Ritts retired from performing in the mid-seventies. Paul Ritts' activities were unknown during this period; he succumbed to a heart attack in 1980.
Mark Ritts went onto play Lester the Rat in the acclaimed comedy/ educational science program Beakman's World in the 1990's.
Mary Ritts made her last TV appearance on Entertainment Tonight in the 1990's. She was reunited with her son on the show when Mark Ritts, Paul Zaloom (Mr. Zaloom played Dr. Beakman) and other cast members of Beakman's World made a personal appearance at FAO Schwartz Children's World (then NYC's most famous toy store).
Mrs. Ritts lived in retirement in Princeton, New Jersey until she moved to Pasadena, CA in the 1990s because of ill health. Aside from her son Mark, she is survived by her grandchildren.