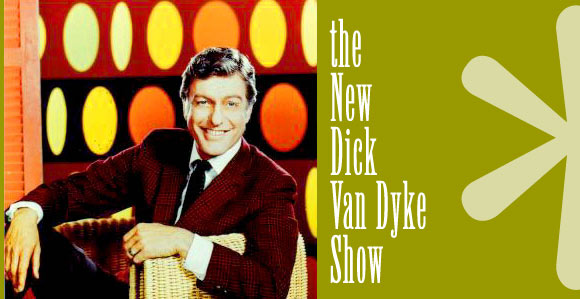 by Billy Ingram ---- ---- PART TWO
Read PART ONE here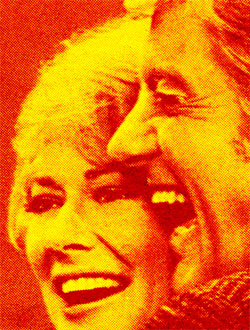 With new producers in place for the third season in 1973, the production and setting of 'The New Dick Van Dyke Show' was moved to Hollywood.
The entire supporting cast was dropped (except for the wife and kid) as Dick became a network soap-opera actor, portraying 'Doctor Fairmont' on a show called 'Those Who Care'. New regulars included: Richard Dawson and Chita Rivera as the neighbors with Barry Gordon, Dick Van Patten, Barbara Rush and Henry Darrow as the folks who worked on the fictional soap-opera.
The new format gave Dick Van Dyke a chance to do broader comedy. The scripts continued to be strong and the supporting players worked well together.
An odd thing occurred during the third season of 'The New Dick Van Dyke Show.' CBS censors rejected a scene in an episode that had Dick and Jenny's daughter walking in on them while they were having sex. All of this happened off camera, of course. The result was an unprecedented, funny and very human scenario; producer Carl Reiner insisted the scene stay as written.
When CBS refused to air the episode as delivered. Reiner quit, promising never to produce another television show again. (A promise he didn't keep - he produced and starred in the failed sitcom 'Good Heavens' in 1976 and 'The Alan Brady Show' in 2003). Reiner returned to making movies - his first projects ('Oh, God' with George Burns and 'The Jerk' starring '70's variety show veteran Steve Martin) were a huge smash hits. More hit movies followed.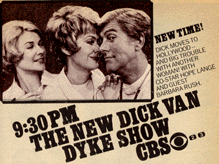 Now seen on Monday nights after 'Gunsmoke' and 'Here's Lucy', the show's ratings were at respectable levels as well. Maybe not great, but CBS was suddenly in a bind.
Lucille Ball announced in 1973 that she was retiring from series television. She had been the network's Monday night comedy anchor for eleven years but the audience for Lucy's aging antics was shrinking fast. Suddenly, CBS saw 'The New Dick Van Dyke Show' as a strong asset - after three years the show was delivering a solid audience as well as prestigious Emmy nominations.
To the network's disappointment, Dick Van Dyke decided the daily grind of a sitcom wasn't worth it without Carl Reiner producing. His contract fulfilled, the comedian announced he was ending the series and leaving again for the desert.
Dick Van Dyke was unexpectedly lured back to television in 1976 when NBC signed the versatile performer to a variety series, hoping to revive the dying format with a star that could attract a wide audience.
"I never had the chance to do a variety series, so I'm going to spread myself out," Dick Van Dyke announced before embarking on his new show, 'Van Dyke and Company.' "I'm not afraid to try anything on this. I'm too old to care about ratings. I say, let's simply please ourselves. If it's to be fifteen shows and out, so be it, and I'll go home and go sailing and the hell with television."
PART ONE OF THE
NEW DICK VAN DYKE SHOW HERE