Westerns were popular as the Sixties began, Gunsmoke was number one in 1960 and Bonanza on NBC dominated the ratings for almost the entire decade. Westerns grew in popularity until the genre started to go bust in the latter part of the decade.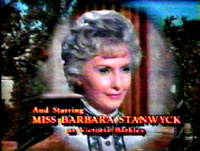 The Big Valley
1965-1969 / ABC
Originally known as 'The Saga of the Big Valley', the title was changed just before the premiere.
The Big Valley starred film legend Barbara Stanwyck as the widowed matriarch of the Barkley clan, living in the Sacramento Valley following the Civil War.
The all-star cast featured Richard Long ('Nanny and the Professor'), Peter Breck ('The Secret Empire'), Lee Majors ('6 Million Dollar Man'), and Linda Evans ('Dynasty').
More talk than action, but one of the best theme songs of all time.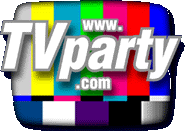 TV on DVD
Hard-to-find classic TV
Shows on DVD!
TV Guide's Big Valley Page,
with TV Listings, Photos, Videos,
Exclusive News and More.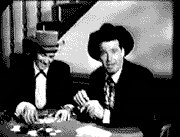 Maverick
1957-1963 / ABC
James Garner started out as the only Maverick on Maverick, but when production fell behind on the popular series, Jack Kelly was introduced as brother Bart and separate production teams went to work to meet demand.
James Garner left the show after season three and Kelly was occasionally joined by brothers Beau (Roger Moore) and Brent (Robert Colbert).