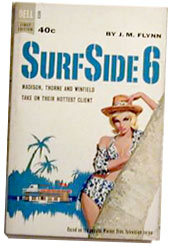 THE WARNER BROS CLONES
There were three fondly remembered clones of 77 Sunset Strip that attracted a good sized following -hour-long shows that had scripts that were almost interchangeable, and the characters - well, they actually were interchangeable.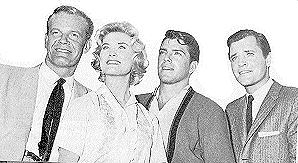 Monday, 8:30 ABC
Bourbon Street Beat
September 1959 - September 1960
Detective series set in New Orleans starring Richard Long (the dad on 'Nanny and the Professor') as Rex Randolf, and Andrew Duggan as Cal Calhoun. Van Williams ('The Green Hornet') was their assistant Kenny Madison and Arlene Howell was featured as lovely Melody Lee Mercer. This show didn't really catch on and was cancelled after only one season. No problem, Rex Randolf just moved to LA and joined the guys at '77 Sunset Strip', and Kenny Madison opened an agency on a Miami Beach houseboat in this same timeslot next season.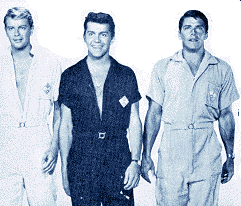 Monday, 8:30 ABC
Surfside 6
October 1960 - September 1962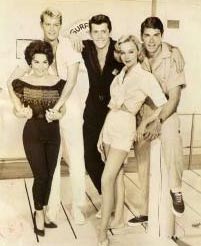 Last year's 'Bourbon Street Beat' bombed, so the young assistant on that show (Van Williams as Ken Madison) moved to Miami Beach and was teamed with Troy Donahue ('Kookie's' short-lived replacement on '77 Sunset Strip') as Sandy Winfield II and Lee Patterson as Dave Thorne. Together they form a detective agency that works out of a docked houseboat, close to the bathing babes that congregate at the nearby resort hotel. Cowabunga, it's 'Charley's Angels' in reverse!
Wednesday, 9:00 ABC -
Hawaiian Eye
October 1959 - September 1963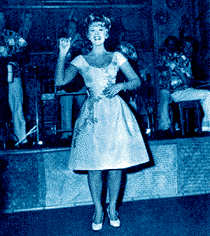 The second most successful Warner Brothers detective series was set in Honolulu and starred Anthony Eisley as Tracy Steele, Robert Conrad as Tom (Thomas Jefferson) Lopaka, and Connie Stevens (right) as Cricket Blake. The boys solve crimes on the island while Cricket sings in the bar at night. Groovy, but it was getting hard to tell these 'detective' shows apart. Troy Donahue joined the cast when 'Surfside 6' ran up on shore in 1962, making this show the third Warner Brothers detective show he co-starred in. In just four years! Who was he sleeping with at Warners?!?