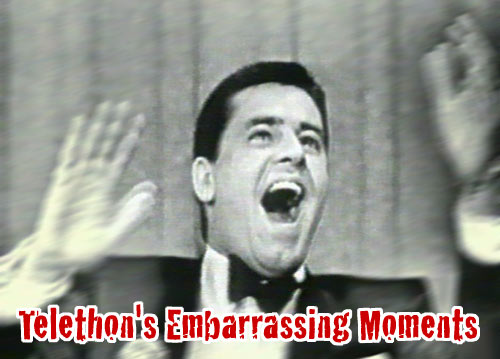 PART TWO - Telethon Bloopers Part One
by Billy Ingram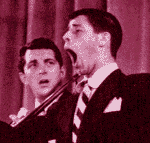 "I remember watching the Jerry Lewis Telethons growing up in the Sixties. One of the most memorable moments for me was when local host Dennis James made a total fool of himself. He brought out a line of kids in wheelchairs and braces, these kids looked like they were on the Bataan death march, and said to the audience, "They want to perform for you."
"Dennis went up to a little boy in a wheelchair and asked him how things were going in speech therapy. The kid didn't know what he was talking about, he had never heard of speech therapy! Instead he said, in a strained voice, "I want to walk for you".
"The boy got up from his chair, took one step, and fell flat on his face and started crying. Dennis James lifted the kid up and said - "Look at these kids. They're not robots! They're not machines! They're real people!" The whole time this kid is bawling his head off!! Then they all attempted a song that had the lyrics, "We can walk, We can talk" - all the while mechanically parading around the stage.
"Was this supposed to be taken seriously?!?"
- John H
---
"Oh, could I identify with John H.! I always considered Dennis James's parading cerebral palsy children to be total exploitation (to Jerry Lewis's credit, he never did so.) If anyone is interested in the dreadful lyrics (John only said "we can walk, we can talk"), which were sung in a voice that held a memory of once having been operatic by Jane Pickens, I regret to say that I remember them vividly.

"Look at us, we're walking,
Look at us, we're talking,
We who never walked or talked before.
Look at us, we're laughing,
We're happy and we're laughing,
Thank you from our hearts forevermore.
But there are so many other children
Who only speak with a silent prayer
For those of us who haven't been so lucky
We hope and pray you will always care.
And someday they'll be walking
Someday they'll be talking.
Imagine walking to the candy store!
But the fight has just begun
Get behind us everyone
The hope will make our dreams come true-
Thanks to you, thanks to you."

- Elizabeth G.
Melillo, PhD
---
"As Dennis James' son, I would like to respond to John and Elizabeth regarding "parading" children on the Telethon' for Cerebral Palsy.

"It was something that began back in the 50's at the producer's suggestion. The concept was not to exploit the children ever. But in these PC days it is so easy to throw stones and throw words like "exploitation" around.

"Before the Cerebral Palsy telethon went national in the early eighties, Dennis James flew all over this country on a monthly basis hosting telethons in Cities large and small to raise money for their specific community. He was the Cerebral Palsy host for 47 years and those telethons raised nearly 1 BILLION dollars for Cerebral Palsy. When I was born in 1963, I had 5 contributing factors to cerebral Palsy and my father was told by the Doctors that ha it not been for all the moneys raised for research from those telethons, I would have had Cerebral Palsy. Try that on for karma!

"I have appeared on the Cerebral Palsy Telethon for nearly 17 years and conducted the on air inter views with the Children and adults with Cerebral Palsy. I can tell you they desperately wanted to be on the Telethon and many many of the families came back year after year.

"The fact is, appearing on the telethon gave many of those children a sense of pride and they came back year after year to show the accomplishments they made had made. Just one example is a boy named Damien who came on the Telethon in the 50's, He wore braces and walked with crutches. He came back a year or two later and had no crutches. He came back a year or two after that, and had no braces, just a cane. He came back once again a year or so later and walked unaided. He ended up a wrestling champion in college and remained friends with my father for life.

"I now Co-Host the telethon with Florence Henderson in NY."

- Brad James / 1999
---
And then there's...


You may know the self-proclaimed "King of the Cranks", he's most famous for his many unscheduled exchanges on The Larry King Show.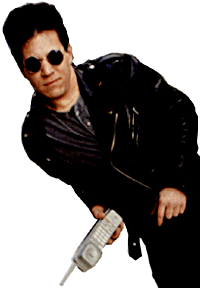 He's the telephone terrorist that somehow gets through the call screeners and mentions Howard Stern's name at inappropriate times. This leads Larry (and others) to turn blue and gives him a chance to display his natural air of superiority over the rest of the world. Jank's pranks provide an amazing (and rare) look at what happens when a modern TV host's veneer crumbles on-camera.
In July, 2003, he made an appearance on Fox's Good Day Live, with Steve Edwards interviewing him about the death of Bob Hope. Janks claimed to be one of Bob's writers of 40 years - then, after a couple of minutes of the ruse, Janks asked if Steve would like Howard's Stern's balls on his chin! Even then the producers didn't cut away and Janks got in a few more invectives.
Janks is carrying on a great tradition of performance art (not unlike the 90's band 'Negativeland'), and has released a CD compilation of his greatest bits. You can get more info on this CD at captainjanks.com.
It's a terrific package with a bunch of hilarious pranks pulled on all sorts of TV personalities. Hey, it's only fair - radio and TV shows have been pulling pranks on their audiences for decades (See also: Candid Camera).
In this audio exchange from The Jerry Lewis Telethon, Janks catches Jerry off-guard.
C.P. Telethon (Hot Monkey Love)
Dennis James and Florence Henderson are the unfortunate victims in this torturous clip. Janks impersonates Kathy Lee Gifford giving a $500,000 pledge, then makes a shocking admission!
(Please don't try this at home,
society has broken down enough!)
---
CLICK HERE AND GIVE TO THE MUSCULAR DYSTROPHY ASSOCIATION!
If you have more than you need it makes sense to share. There but by the grace of God go all of us! If you CAN make a difference, don't you think you SHOULD?
---
Jerry Lewis Telethon Bloopers Part One