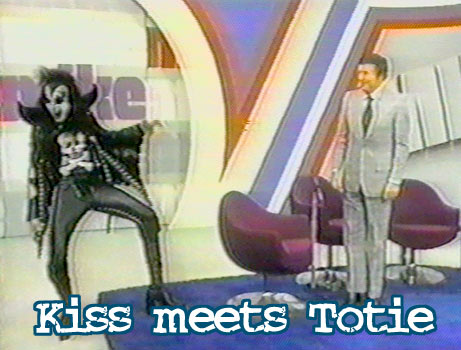 by Billy Ingram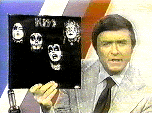 Important events can take place in the most unlikely venues. A little over thirty summers ago, glam-rockers KISS made their very first national appearance on ABC's In Concert on March 29th, 1974; then unexpectedly turned up in the daytime - on the Mike Douglas afternoon musical variety talk show.
Important, because KISS changed the face of music with their outrageous outfits, makeup and frightening stage persona. Initially, the rockers were treated like freaks by the television establishment, that changed - in a big way - when the band became a runaway cash magnet over the next thirty years.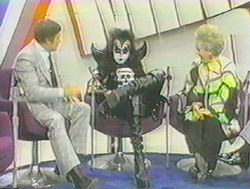 How strange it must have seemed on that Tuesday afternoon, June 11, 1974, when Gene Simmons first came out to talk to Mike Douglas and his guests comedians Totie Fields and Robert Klein.
The guests on that panel treated the lead singer of KISS like a bad joke, but few people today could even identify the other celebrities on the stage that afternoon - what does that tell you?
The segment from You Tube: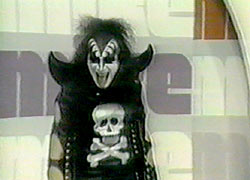 Host Mike Douglas was simply flabbergasted at Gene's statement that he represented "evil incarnate."
Mike's questions were all in the "how-many-in-your-band" vein, but Totie Fields managed to get in a few funny shots: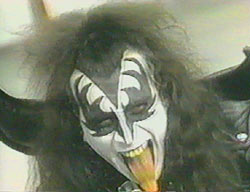 Totie asked, "Wouldn't it be funny if, under this, he's just a nice Jewish boy?"
Gene Simmons replied, "You should only know..."
To which Totie zinged, "I do - you can't hide the hook!"
Ms. Fields was a genuinely sharp, witty, caustic comedian, a popular guest on the talk show curcuit, who discovered she had a massive cancer growing in her left leg a couple of years later.
From You Tube - Totie Fields: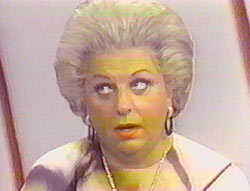 Her leg was amputated in 1976. She returned to performing in Las Vegas and on the Mike Douglas Show in October of 1977 with a prosthetic, incorporating her health problems into her comedy act very effectively.
It was then discovered she had breast cancer; her right breast was removed but still she continued to push on.
Her comeback was a short one; cancer, diabetes and a heart attack won out. Totie Fields died on August 2, 1978.
KISS Rocks Out!
In a taped segment on that 1974 Mike Douglas program, KISS performed a rocking version of 'Firehouse' and teenagers all over the country beat a path to their record stores for KISS vinyl.

Even though the group was young, the familiar KISS pyrotechnics were on display in '74, with flash explosions and smoke & light effects - complete with Gene Simmons spitting fire into the air. The afternoon TV audience had ever seen anything like this before!
Before long, churches were burning KISS albums as fast as parents could snatch them up, a true sign of success in 1970's rock 'n roll.

KISS was considered so outrageous at the time, they made only a few prime-time guest shots on TV in the Seventies. Their first came in 1976, when the band was the main attraction in a bizarre ABC Halloween variety special hosted by comedian Paul Lynde - also featuring Margaret Hamilton reprising her Wicked Witch of the West role.

On the hour-long special, KISS lip-synched three musical numbers and the band's mega-hit 'Beth' was given the full-on variety show treatment. KISS even joked around with Paul Lynde and Margaret Hamilton on the show.
After 'Beth' became a hit, almost every metal band thereafter got their first hit record with a ballad. How many can you name?
"To let you know, I work my way over here on a regular basis to see what you've dug up from the vaults of my youth.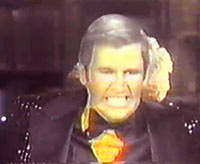 "Imagine my surprise to see your latest. I was a member of the Kiss Army back in 1977 mostly because of what I had seen and heard of the group on such shows as 'The Midnight Special' and the Paul Lynde show.
"The clip from the Paul Lynde Special was the first time I had seen it since the show originally aired. Aside from the appearance by Margaret Hamilton (unless I'm mistaken), there was also a cameo by actress Billie Hayes as Witchiepoo, a character she created from the Sid and Marty Krofft show, 'H. R. Pufnstuf'.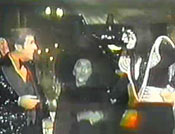 "To unload for a second...the main problem with Kiss on TV was with the exception of the concert-based shows, they readily submitted to just about anything that was put in front of them. Granted, anytime they came on I was front row center.
"On the stage, they truly are something to see. On the screen, however, some of their appearances have been downright painful. Notable instances of course include the abysmal NBC movie, 'Kiss Meets The Phantom Of The Park' (with Anthony Zerbe as the Phantom...yes, I do have a copy) and the ABC 'SNL' ripoff in the 80's, 'Fridays', to the more recent appearance on the Fox 'SNL' ripoff, 'MAD-TV' and 'Millennium' to promote the Reunion Tour and up to the wrestling 'Demon' at World Championship Wrestling (incidentally, I also LOOOVE the classic wrestling page on you site).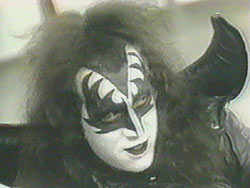 "While 'Millennium' wasn't too bad (Simmons CAN act and the cameos by Stanley, Criss and Frehley were brief), the other appearances, in full makeup with cue cards in their faces, posing, tongue flicking and platform heel-kicking were personally revolting. Don't get me wrong...I still have all the albums, but I am seriously trying to remember any other rock acts of that age who would have done the same thing (I think only Aerosmith has come remotely close)."
- Pat