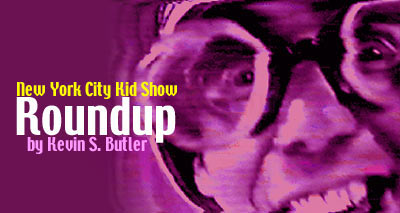 The Patchwork Family /
The Everything Show
The Wonderama Newsmagazine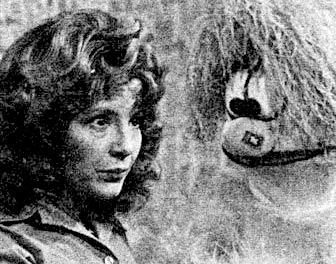 On Saturday morning, September 1, 1972, NYC based kid's TV wraparound host/performer Carol Corbett began hosting what would be her last children's TV show.
"The Patchwork Family" was a kiddie newsmagazine that featured exercises with physical fitness experts Suzy Pruden and Larry Traddup. Mr. Traddup led his exercise classes in song; "Hello Boys & Girls..." - the kids would respond with, "Hello Larry. . So Mi So Mi!.".
There would be craftmaking from Prof. Lebobo ("Uncle Bo"), African told tales told by a storyteller, visits from animal expert D. Ricutti, songs, stories and drawing lessons from cartoonist, singer, storyteller and animation historian John Canemaker (the author of Windsor McKay and Felix The Cat).
Ms. Corbett would also perform songs and comedy skits with her puppet pal "Rags" (who was manipulated by puppeteer/actor/mimic and singer Mordicai 'Carey' Antebi, who is now a rabbi at a NYC Shul).
Ms. Corbett and "Rags" would also engage their viewers in games, puzzles and more often than not visit with Mr. Ricutti's animal friends. The Patchwork Family was seen Saturday and Sunday afternoons on WCBS Channel 2 in NYC from Saturday and Sunday September 1 and 2, 1972 - until the station execs at Channel 2 decided to break up the "Family" on Sunday, September 9, 1973.
The Patchwork Family was also seen in national syndication from 1970- 1989.
With The Patchwork Family successfull with a loyal young audience, the station execs at WNBC Channel 4 in NYC decided to create and produce their own Saturday kid's newsmagazine.
"The Everything Show" debuted on WNBC on Saturday evening, October 14, 1972.
Hosted by Irene Cara (who would later become well know to movie goers as "Coco" in the movie version of Fame) and actor/singer/ dancer Don Potter (who had just finished his stint as "Snoopy" in the off Broadway musical comedy You're A Good Man Charlie Brown) in his role as "A. D. C. T. - A Dream Come True, The TV Elf".
Ms. Cara and Mr. Potter's "ADCT" engaged their viewers in songs, stories, craftmaking, hobbies, interviews with guest performers and pesonalities. There would be science lessons from Channel 4's resident science experts Dr. Frank Field and Harry Wapper and drawing lessons from Bill Kreese, a well-known NYC cartoonist who was then drawing the popular comic strips "Super Duper" and "Scratch The Dog."
The Everything Show remained a popular Saturday evening favorite with NYC kids until WNBC decided to cancel the show on Saturday, December 30, 1972.
On Sunday morning, October 5, 1980, Wonderama returned to the NYC airways, this time as an hour-long newsmagazine and travelogue created and produced by Channel 5's veteran producer and director Ray Crawford.
The revamped show was hosted by a group of kid actors: Laura Condon, Alena Brown, Dwight Williams and Bobby Clark. The series introduced young viewers to events and places of interest to kids. During the show's first season a number of segments were taped on location while the last few segments were taped at the WNEW TV Metromedia Telecenter Studios (on Thursday afternoons).
By the start fourth season (Sunday September 11, 1983) the show's were filmed completely on location and the running time was cut to a half hour. Eventually, the young hosts outgrew their roles and were replaced by Pam Potillo, Claude Brooks, Laura MacDonald and future kid's TV game show host J. D. Roth.
Wonderama remained on WNEW's Sunday morning schedule, then was relegated to Saturday morning reruns beginning Saturday, September 17, 1983. It remained in reruns until new station management at WNYW TV 5 (the Fox TV network) dropped the show on September 5, 1987 - replacing Wonderama with The D. J. Katt Show.