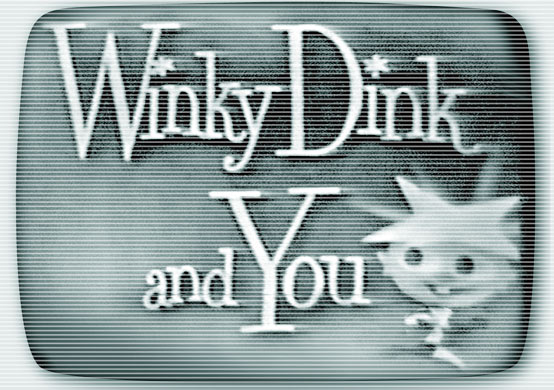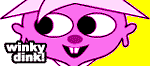 PART FOUR- Winky Dink Part One Here
Comparing the Fifties and Sixties versions:
"I was about 12 when the second Winky Dink series appeared in syndication (in L.A. on KCOP Channel 13). I considered myself too old to really partake of the whole drawing exercise, but I was very into animation and liked the graphics. I was also completely taken in by the novelty of the cartoon's interactive nature (not to mention that catchy theme song).
"Recently, I visited the Museum of TV and Radio Broadcasting and saw the mid '50s version for the very first time. So, let me assure those who are nostalgic: the late '60s show was a definite improvement.
"The earlier Winky Dink series was a live action telecast with Jack Barry as the host who talked to Winky Dink (who appeared on a nearby television screen - sort of like "Fred on Channel 1" on Captain Kangaroo).
"The main focus of the show was two approximately 10 minute episodes using EXTREMELY limited animation and featuring a variety of characters in ongoing storylines (all voiced by Mae Questel, who had voiced for Betty Boop and Olive Oyl and would later gain additional fame as Aunt Bluebell for Scott Towels). Barry would narrate the story and prompt the kids when to draw.
"In-between cartoon segments, the host would also banter with live action actors (one was Dayton Allen - who was cast as the beleaguered director on the "Lucy's Hollywood Movie" segment of 'I Love Lucy').
"In contrast, the late 60's version of Winky-Dink completely eliminated the concept of a live host (so integral to ANY daytime kid show during the 1950s) and instead concentrated on Winky Dink himself, featuring Winky in every cartoon as well as having him prompt the kids to draw. (Standard TV commercials were the only thing that separated the episodes.) Apparently, however, Jack Barry was still connected with this show.
"In this day of interactive computers and videos, it would nice to see some of the old shows recycled to at least give Jack Barry his due."
- Bob Cruz
---
"I was too little to remember Winky Dink, but have an older sister who nicknamed me "Winky" at age 3. At 45 yrs. old now, I still prefer to be called Winky. Everyone always asks "how did you get that nickname - did you wink a lot when you were young?". Then I begin to tell them about the Winky Dink and You show. Not too many people have heard of it.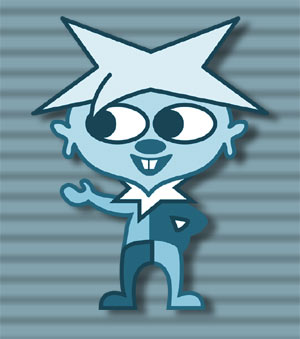 "I started a new job last week and began this story of how I got my nick name... and one of my new work pals pulled up your web site for Winky Dink. I was so shocked! I just wanted to stop work and read it right away... but in a new job... I waited until after hours. He played the theme song for me too (as he proceeded to dance around his office). It sure made a good subject for the water cooler (which by the way is 5 feet from my desk) and it was very exciting for me to finally find out 'up close and personal' about my name sake.
"I have only met 2 other "Winky(s)" in my life, neither one were named that because of the show. I enjoyed the the web page and am considering ordering Winky Dink for my 3 yr. old son, the legend lives on!"
- With much thanks! Winky (Carol) Blanchard