by Ed Golick
www.detroitkidshow.com
Soupy Sales is best known as a children's entertainer, but he was more than capable of hosting an adult comedy program, a fact that he proved in Detroit in 1953 with Soupy's On, his late night variety show. Logging in five hours of live TV every week along with countless personal appearances, Sales was the King of Detroit TV. But by 1960 he was eager to find greater fame and a national audience, so Sales left the Motor City and made Los Angeles his home base.
ABC aired a weekly national version of Lunch With Soupy Sales on Saturday afternoons, but Sales had his eyes and pies set on prime time.
It was announced in 1961 that former Tonight Show host Steve Allen would be leaving his variety show by the end of the year, so ABC's programming head Tom Moore planned to fill the hour with a prime time version of Soupy's kids show, coupled with reruns of a Winston Churchill documentary. Soupy never won that time slot, but he was on the air a few months later with an evening version of The Soupy Sales Show.
When Jack Paar decided to leave The Tonight Show in March of 1962, he scheduled Sales as his final guest. In a 1962 Detroit News interview Sales stated, "Jack Paar called me and said, 'They're going to expect me to cry on that final night. You come and hit me with a pie instead.' I was delighted. What a break! I worked hard doing my Los Angeles daytime show ahead on tape so I could go to New York. Then Paar decided it wouldn't be dignified or something and I was cancelled. Was I burned. He called me; I didn't call him. I spent a lot of time getting ready."
With Paar exiting Tonight, Johnny Carson was chosen as his successor. Carson was still under contract to ABC thru September, so it was decided that a series of guest hosts would be brought in until Carson's contract expired. Sales was quickly signed to host Tonight during the first week of June. He saw the opportunity as his biggest break yet, and a chance for the public to see that he could do more than kiddie TV. Sales said, "If anything, I'd like to get away from the dogs and puppets." Sales planned to perform physical comedy during the week, and maybe toss a shaving cream pie or two.
With Sales ready for his big opportunity, NBC forbid him to do any of his famous shtick. A network spokesperson was quoted as saying, "It would not be in keeping with network policy to have him pulling his slapstick." Makes you wonder why he was asked to host in the first place.
Throughout the 1960s, '70s and '80s Sales made guest appearances on nearly every TV talk and variety show, performed on Broadway and in nightclubs, but the public never allowed him to totally break free from his kid's show persona. In 1979 Sales starred in The New Soupy Sales Show, another version of his kids show. It was a noble experiment, but the magic just wasn't there anymore. The show was cancelled after 13 weeks.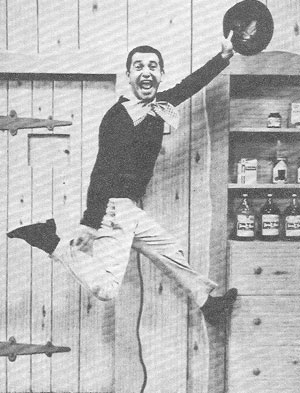 A leg injury in 1995 coupled with vocal chord surgery in 2000 has slowed the veteran funnyman down considerably. Sales' last appearances in comedy clubs consisted of him narrating video clips of his old TV kids show.
Soupy Sales never attained the star status of Sid Caesar, Milton Berle, Jackie Gleason and other early TV pioneers, but he will certainly be remembered as one of television's most innovative comedians of the baby boomer era.