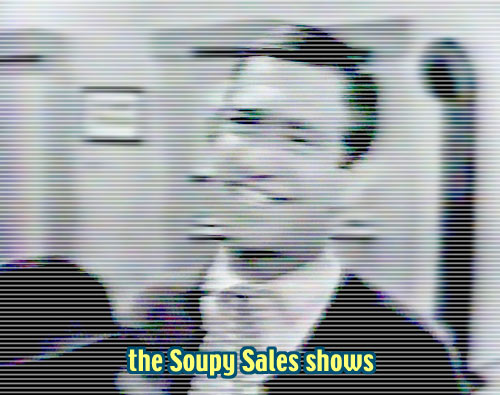 PART TWO / / Part One Here
by
Billy Ingram
,
Kevin S. Butler
and the TVparty super-friends
"I act like a king-sized kid myself, and talk right to them just like I
would a bank president." - Soupy Sales on dealing with kids
Classic TV Blog / / / TV Shows on DVD / / / TV Show Reviews / // / TV on BLU-RAY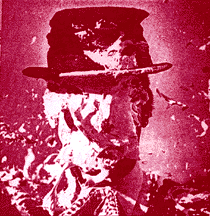 After ABC cancelled the primetime Soupy Sales Show in 1962, Soupy headed east to New York City to host a syndicated weekday morning show for kids beginning September 7, 1964. Frank Nastasi replaced Clyde Adler as Soupy's puppeteer and comedy raconteur, with the show's puppets newly redesigned by Dom Facci.
A new comedy feature, the 'Adventures of Philo Kvetch' debuted, a detective spoof with a lineup of characters that included Onions Oregano and Bruno the Killer Ape (played by Frank Nastasi), henchmen for the evil crime boss, the Mask (Philo and the Mask were both played by Soupy). On one episode, former Bowery Boy Huntz Hall appeared as the Mask's dumbell son.
Soupy Sales once remarked, "a pie in the eye was worth two in the sky" - there were a few jokesters on the show's staff as well.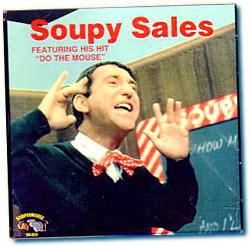 A widely distributed clip of a backstage prank from the 1960's showed Soupy answering a knock at the door when he spied a naked woman behind the 'mystery guest' door! That practical joke almost backfired. Soupy stated afterward that he was sure the TV audience of this live broadcast could see the nude gal dancing in front of him (they couldn't) and that he would be run out of town after he got off the air!
The show spawned a couple of hit records, including the novelty dance tune, "Do The Mouse." Here he is doing The Mouse on Hullabaloo:
And it was on this series that Soupy made TV history with one of the most infamous pranks of all time.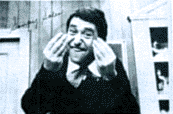 On New Year's Day, 1965, Soupy asked his young audience to go to Daddy's wallet and get those, "little green pieces of paper with pictures of George Washington, Benjamin Franklin, Lincoln, and Jefferson on them, send them to me, and I'll send you a postcard from Puerto Rico."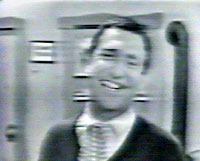 The outcry from parents led to a suspension (most people believe he was fired outright). Soupy jokes that he inspired televangelists that now use the same basic technique.
The publicity helped tremendously, it gave Soupy's image a slightly dangerous edge - for a '60's kid show host anyway. The Soupy Sales Show quickly became the program of choice for the cool kids.
STORY CONTINUES - AFTER THIS AD FOR VIDEO DOWNLOADS:
---
---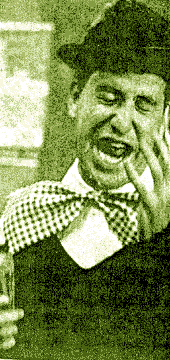 "Soupy was in a class by himself," writer William R. Forstchen tells us. "My Catholic school in downtown Newark had a gym teacher with a sense of humor, who would play Soupy's 'Do the Mouse' while we did our warm up exercises.
"I actually saw the infamous, 'get your parent's wallet' episode, but I wonder how many remember the even better 'comeback' episode when Soupy, after being suspended for a couple of weeks, was finally allowed back on the air.
"The show opened with an absolutely riotous rendition of Happy Days are Here Again with stock footage of dancing girls high-kicking and mob scenes of thousands of people cheering. It was obvious to all of us that our beloved Soupy was unrepentant and repressed youths everywhere were solidly behind him. I must dispute the thesis, read on your site, that Froggy from 'Andy's Gang' was the cause of 60s rebelliousness. It was Soupy who inspired my generation to anarchy."

TVpartier Josh Silverstein writes, "I remember when Soupy was returning from his suspension after the 'little pieces of green paper' remark. For several days the station played a promo showing taped wild celebrations with the song 'Happy Days Are Here Again' blaring, and then they faded to Soupy as he walked in the front door of the set, walked up to the camera, shouted 'Hi!' and ducked, avoiding the pie. He stood up, laughed triumphantly, and Bang! got a pie in the face anyway - afterwards saying, 'Ya sure know how to hurt a guy...'"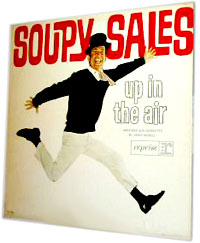 Soupy watcher Gene Sorkin tells TVparty, "Soupy produced two Reprise albums, The Soupy Sales Show released November, 1961 and Up In The Air, released in August of 1962.
"He would lip-synch songs from the albums on his show and it was wonderful. His pie fights with Pookie were the funniest things I can recall - Pookie would have his face scrunched up, full of pie, and would stare at the camera while slowly unfolding his face. It was absolutely hilarious.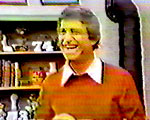 "There were also those 'knocks at the door,' where Soupy would open it, and see (always) one of three or four things: a little boy walking with an elephant on some railroad tracks, a little boy running toward him, who slips and falls - or- the eyes of Dracula, or something like that.
"If it was Dracula, Soupy'd say, 'Say Count' and the voice at the door would immediately go, 'One, two, three...'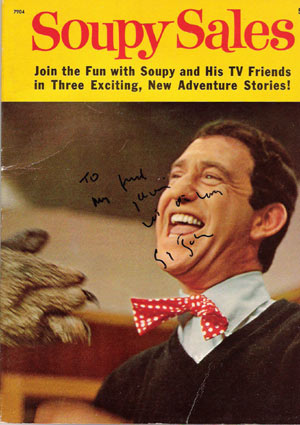 "Pookie's fairy tales would be preceded by Pookie singing the Sinatra version of 'Young At Heart,' and invariably White Fang would get mad with Soupy and smack him in the face - next thing you saw was Soupy spitting out about a dozen teeth!
"And in every show, near the end, he would read the 'Words of Wisdom,' and ask 'Now, what do we mean by that?' and give some ridiculous explanation that had a real heartfelt meaning behind it. Then he would say, 'You do dat, I love you and give you a big kiss.' Our whole family loved his shows."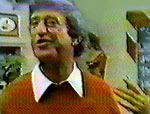 Shirl Kenedy writes, "I've always wondered if this story about Soupy Sales was truth or urban legend.
"Soupy was showing flash cards with letters of the alphabet on them to White Fang, who was naming the letters.
Soupy shows the letter O.
White Fang: O
Soupy shows the letter B.
White Fang: B
Soupy shows the letter F.
White Fang: K
Soupy wrinkles brow, turns card around and takes a second look at the letter F, then shows card to White Fang again.
White Fang: K
Soupy starts waving the card at White Fang and says, 'What's going on here? I show you F. You see K.'"
Sorry, Shirl - according to Soupy, that gag never happened. "I got so annoyed at these stories," he wrote in his autobiography, "that I used to have a standing offer of ten thousand dollars cash to anyone who could prove that I said any of the things that people claim I've said."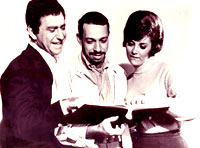 The syndicated Soupy Sales Show was so hot it inspired a 1966 motion picture - Birds Do It, starring Soupy, Tab Hunter, Arthur O'Connell, Edward Andrews, Beverly Adams, Louis Quinn, Frank Nastasi and others.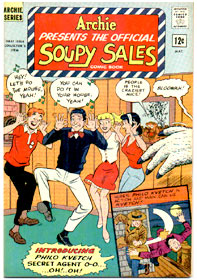 There were Soupy Sales comic books, activity books, Wonder Books, trading cards, coloring books, games and other assorted merchandise. There was even a Soupy Sales magazine published in the fall of 1965.

READ PART THREE:
Soupy in the
seventies and beyond...
And some crazy outtakes!
---
Soupy Sales - The Early Years

Soupy Sales Show - Part Two
Soupy Sales on TV - The Later Years
Soupy Sales & The Tonight Show