1980's Los Angeles Punk / New Wave

"I don't want to live
in history books.
We're trying to write
the next chapter."
- John Lydon, P.I.L.
NOTE: When Billy Eye refers to "the biggest news of the year just happened as far as I'm concerned," he is referencing the near simultaneous deaths of John Lennon and Darby Crash.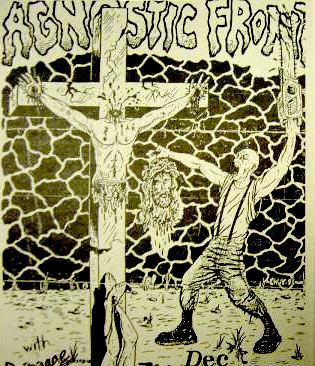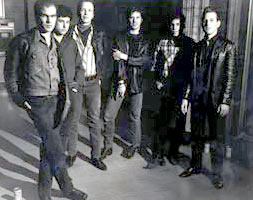 The Flesheaters 1981

The Germs last show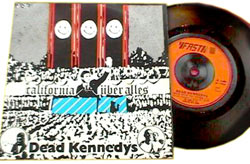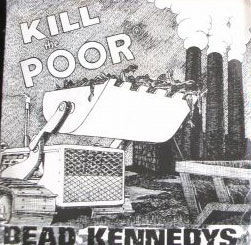 These original Data-Boy Music columns have been collected in a book with LOTS of new material and photos - it's the story of Data-Boy magazine and the LA Punk / Post-Punk scene. The story presented is a lot more complete!
Everything you're looking for is here:
Shop Amazon's New Kindle Fire
Las Vegas Legends

Obscure 70s music & more!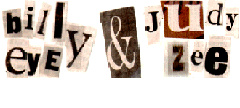 **1980 - End of the year review**
December 27, 1980 // - by billy eye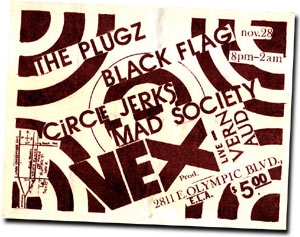 It's time to review the last year, and I'm not sure I feel up to it. How can you summarize this tumultuous last year in just a few paragraphs? I mean, shit, the biggest news of the year just happened as far as I'm concerned. So let's just look back since last summer.
Casablanca club riot
Punk skin heads and Heavy Metal burnouts continue to clash at gigs, especially down in Orange County, although it happens in the Valley and even in Hollywood as well.
Small riots break out when a group of kids (usually heavy metal longhairs that punks call hippies) gang up on a single punker on his way to a gig or something. When other punkers see this, they join the battle. These heavy metal morons just can't stand the thought of short (or no) hair I guess, and go crazy when they see the face of new music. When a fight like this broke out at the Casablanca Club this August in Anaheim, you're looking at the end result.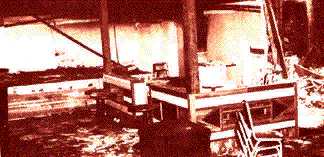 The Casablanca club was having new wave dancing that night with KROQ's Rodney Bingenheimer. Some nearby Led Zep rednecks who don't want this punk thing spreading and spoiling their Orange County paradise, started (and lost) a fight with the bouncers at the club.
They came back in the middle of the night and torched the place. The owner also has had problems with his other club, The Cuckoo's Nest in Costa Mesa. The Cuckoo's Nest is the premiere place in Orange County to see live hardcore but it happens to be right next door to a redneck bar where they hate punkers 'to the max.' To the concrete.
The Cuckoo's Nest has had numerous arson attempts that failed, in large part, thanks to the corrugated metal exterior of the club. That's practical architectural design that they don't teach you in those fancy colleges.
1980 L.A. TV interview w/ Black Flag's Chuck Dukowski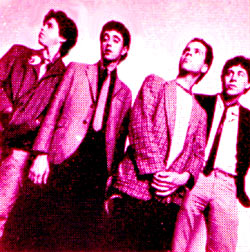 The Toasters have to be my favorite local band this year. They have a satirical, whimsical edge that I like a lot, and they are all really fine musicians. It's just pure, positive pop music, and they played some great sets at Blackie's in late August. Find out for yourself why BAM gave them such an incredible write-up recently by seeing them for yourself.
HEAR THE (original LA) TOASTERS - their single "Teenage Tease", an LA New Wave cult classic. In Real Audio.
The Naughtie Sweeties seemed destined for stardom last year. Hot on the heels of their very popular (local) single 'Alice' (with the immortal lyric, "Pink panties on the rear view mirror..."), the Sweeties released their second album, heralded to be the one to push the group to mass popularity. You know, like Devo. But it didn't happen. One reason may be the fact that not too many guys growing up in Kansas are likely to buy an album by a group called The Naughtie Sweeties. Sorry Sweeties.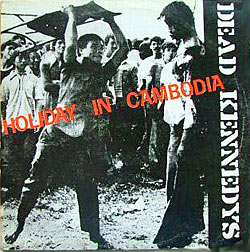 A name can make a difference-ask the Dead Kennedys- a true super group with definite mass punk appeal, but little chance of much airplay solely because of their name. They are to be congratulated for not selling out and changing their name, despite major offers to do so. Now what about Salvation Army?
X were incredible at The Whisky for two sold out nights in September. This is the kind of event that brings out the faithful from all over LA. I saw a lot of the same faces at this gig as the Go-Gos gig in September. Is the scene starting to come together?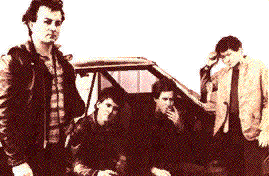 Fear is Here!
Fear really rocked the Starwood this year. A lot of people got their asses kicked inside the club at that show - anyone with long hair.
It was a mob scene outside on the sidewalk and in the Starwood's large circular parking lot, with dozens of kids without the money to attend just hanging out.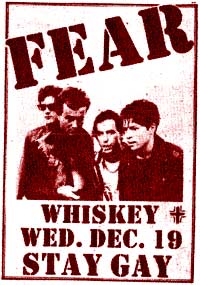 A lot of O.C. and Val guys were there. I ran into an old friend from the Valley who used to be supernormal - and now has his head shaved, wearing biker boots and ripped jeans. He was broke, so I gave him one of my comps.
The Starwood is probably the best laid-out club in town, it's got corners to hang out in and an upstairs, with room around to move and change your view of things.
Being in the heart of Hollywood (on Santa Monica Boulevard, no less) assures one of a wholesome evening of fun. The Germs played their last show with Darby Crash at The Starwood just a few weeks ago (on December 3).
The Minutemen at The Starwood in 1980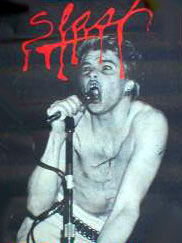 I could go on and on, there is so much that seemed to happen this year, but how much of it really happened? The unexpected deaths of Darby Crash and John Lennon last week are a tragic and senseless cap to the year that almost was... a year, perhaps, meant only to whet our appetites for the daunting decade to come. It can't be any worse than the seventies.
Can it?

And now, Judy Zee will offer her thoughts on recent events in her life.