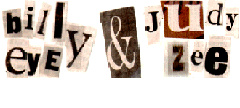 Downtown: The Brat, Paraplegic Infant
Judy Zee with U2 in Santa Monica
PLEASE NOTE SOME OF THESE ARTICLES WERE HEAVILY RE-WRITTEN FROM MY ORIGINAL NOTES IN 1994 & 2002.
June 11, 1981 - -
Around the town in an eleven pica width.
by Billy Eye
"America has known many rebellions- but never before one like this. Millions of teenage rebels heading for nowhere, some in 'hot-rod' cars, others on the blare of rock and roll music, some with guns in their hands."
Picture Post Magazine
on rock music, Oct. 8, 1956
I'm finding it harder and harder to do this. To write this column, because, who cares, you know? But in many cases some of these bands don't have space to be written up anywhere else. So to that end, I've been your eyes and ears these last two weeks, here's some of what I saw.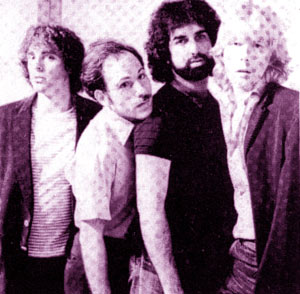 Burgers, anyone?
At first glance, the LA Burgers may look like another 'new wave' band, but there is so much talent here, so much depth to their performance, even despite their awful name, that I felt one viewing was hardly sufficient.
Lead singer and guitarist Dave Nielsen has a strong, sensitive, sardonic voice that can lead you through hard rocking tunes with clever arrangements and sly delivery.
They did a great cover of 'I Think We're Alone Now' with 'Crimson and Clover' thrown in at the end and the audience loved it. Their original material is great as well, I like the bouncy 'Negative Man' a lot, it's a great bar song if nothing else.
I saw them last week at the Troubadour in West Hollywood, you might catch them there again, or on a compilation album of local groups called 'No One with a Bullet'.
The Brat and Paraplegic Infants
Saturday night at the Brave Dog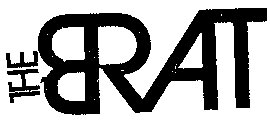 Comparing these two groups in such a short space is absurd, so why would I do it? Just to annoy you of course.
The Brat is one of the most popular (and pop) groups to come out of the evolving East LA scene. They now regularly open for The Suburban Lawns, they have an EP out, and they look like they are being groomed for success by some smart promotion company. I can tell, because they all have new haircuts! And did I tell you they're great?
Paraplegic Infants is a new quasi-art rock band, just starting to play the clubs. They converged on the same bill at the Brave Dog, playing to a packed house of punkers and downtown scenesters.
The Brat can learn a lot from The Paraplegic Infants and vice versa. The main thing the Infants can get from The Brat is a professional polish. The lead singer of the Infants made nice sounds, but she read her lyrics from a sheet of paper. Alienates your audience. Still it was an interesting, if sloppy, presentation with an impromptu feeling that started to work by the end, so it was all a top time.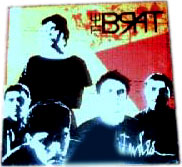 The Brat, on the other hand, was too polished and too slick. There was very little feeling left, and no urgency to their songs - those were qualities that The Brat had in abundance in the beginning, but now those qualities are muted. The Brat may be on their way to success with their newly homogenized material, but they could retain a little more integrity.
For instance, some band members looked and acted like robots, oblivious to the audience, a curse of being over-rehearsed. Don't get me wrong . . . The Brat is a great band, they still put on a forceful show and deserve success because of their unique persona and strong songwriting.
The Paraplegic Infants need to play more dates to refine and define their material - the surprise of their set was A.J., hastily recruited from the audience to fill in for the band's missing bass player. A.J. played songs he didn't know with amazing proficiency, and watching him maneuver was the highlight of the night. I'll be interested to see where A.J. and the Paraplegic Infants end up, and where The Brat will be going from here.
No Mag, a punk paper gone semi-slick came out last month and it includes a flexi-disc single that Eye ripped out and listened to again and again. The single is a rare example of interpretive rock, what some call 'art-rock', by an excellent local band Wild Kingdom who play a polished, poetic techno rock. This disc captures their superlative primal sound perfectly. Get it, listen to it!
- - - And now some variegated viewpoints from the venerable Judy Zee, who's article was bumped from last issue. She covers the incredible U2 show at the Santa Monica Civic a few weeks ago. Eye also attended and enjoyed the show, it was incredible to see a band with so much power and presence.
Judy writes here with her partner Punkasso who, you may remember, made clear his dislike of U2 in a previous column.
U2's got lust for life!
by - PZ Connection

U2's music is so vibrant and real, they send rushes out into the audience, they are alive and perform with gusto. They give fully of themselves. They have a lot to offer. Too bad they couldn't be seen by half the people here.
The ticketholders at the back of the Santa Monica Civic were moving and dancing despite the fact that they couldn't see the band. Bono boyishly and gallantly bounded up the amplifier stack to the top, carrying with him a big ol' American flag.
The spotlights followed this charade, for all to see a distinct drop of the flag into an abrupt darkness as he was helped off by his stage manager (who nearly dropped him, cute buns and all!).
The Zee found this adorable Irish boy's action a rather funny stunt. 'America' it symbolized, but Amerika what?!? This country right now is in such an awful state, the gesture appeared quite laughably pathetic.
Punkasso looked at this action from an interestingly different angle, perhaps he was simulating the outcry of U2's home land for a strong, authoritative leader, such as our president who can survive three bullet holes in the chest and not worry about starving because he eats on a government pension plan, rather than the weak rationality of the recent loss of England's starving fanatical prisoner of war, Bobby Sands, who justified the irregularity of a small disorganized country in turmoil, grasping at straws.

Musically U2 was quite impressive, or was it the lights blending so with the sound? Anyway, Punkasso fell asleep during the show, must have been a form of psychic toxic shock, while Zee stared right into the overpowering strong white lights emitted from the stage.
This joyful boy leading the band, Captain of the sub, was clad in Irish plaid pants, contorting with Jagger-esue movements while the jiving exploring guitarist, The Edge, played melodic P.I.L. simulated riffs. The lights changed over the audience heads in strong sweeps of color. That light show was fabulous, the lights were all bouncing to an audience of mostly juvenile suburbanite non-punks, outcasts of their mother's wombs...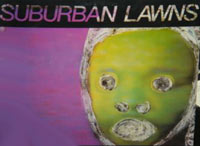 Take a deep breath for The Suburban Lawns who attempted to warm the audience up before U2 came on. Every time I see them, I realize they need a good fertilizer and a good cutting up (to shreds).
I mean, a song about lust over a janitor's genitals? Come on now!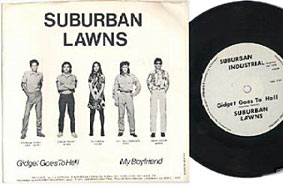 They spent too much time in Cambodia if you ask me... on holiday with the TV news every night on their mama's suburbanite living room TV set. Cool bop and schitzo sixteenth notes, as always.
Besides, lead singer Sue Tissue looks like a giant cockroach and sings like a Raid commercial reject.