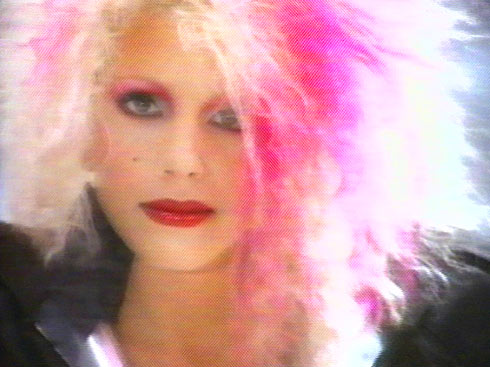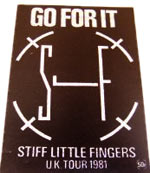 Billy Eye backstage with
Stiff Little Fingers and
Missing Persons,
Judy Zee with The
Grandmothers at the Roxy
July 23, 1981 ///// by Billy Eye


PLEASE NOTE THESE ARTICLES WERE HEAVILY RE-WRITTEN FROM MY ORIGINAL NOTES IN 1994 & 2011.
"Of course modern Architecture looks the way it does . . . it's naturally going to look extremely regular and inorganic, because you can't specify an organic thing in advance. You couldn't specify a mud hut with an architect's drawing. It's too complex."
- Brian Eno


The Brave Dog is having an 'Art Band Marathon' this weekend to raise money for completing the club and passing inspection. Friday night bands include Fat and Fucked Up, Afrika Corps, Steak Sinatra, and Strong Silent Types, and on Saturday night watch for the excellent goth band Kommunity FK, The Romantidelics and Red Wedding.

John Hiatt has signed with Geffen records, thanks in part to the showcase he played with The Toasters at the Starwood, a show sort of reviewed here a few issues back. I guess Geffen liked John Hiatt better than I did, The Toasters however, remain unsigned.
Personal note
"The next motherfucker that gives me a bad review, I'm going to hunt him down and blow his fucking head off."
- Jerry Lee Lewis

Aw, Craig Lee, have people been bad mouthing your column? Jerry Lee has the right attitude. I think you write the best rock column in LA and the LA Weekly is the best entertainment magazine in the city. That's just my opinion, but I'm used to a few denunciatory diatribes myself. Thanks for asking me to join you guys there, but my work is here among the heathens. I am writing some articles for upcoming issues of 'Music Connection' however.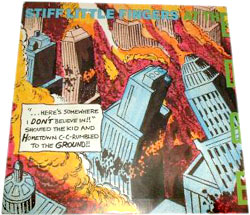 Stiff Little Fingers
Monday night, July 6
at the New Florentine Gardens
Dialogue overheard backstage:
"Where are the beers?"
"Two stage right, two stage left."
"What about mine?"
"Are you Ken Scott?"
"Are you Ken Scott?"
"I have a pass to make backstage photos."
"You can wait five minutes."
"O.K., the band will decide who gets pushed offstage and when."
"But no one is allowed onstage!"
"Look, we'll take care of it. And when you push, push forward. Send them straight back into the audience."
"Are you Ken Scott?"
"Where are the beers again?"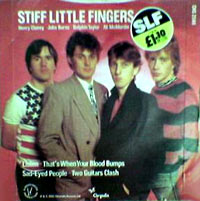 Stiff Little Fingers onstage:
These are some of the most energetic, combustible boys ever to appear onstage, Jake Burns, lead guitarist and vocalist never stands still and he plays amazingly well, fast and wild.
The audience was in a fevered pitch, but to me the music is the same stale passe punk-redux shit, toned down and mellowed just a bit for 1981.
Burns even told the crowd "We don't want to be Black Flag" - this comment was meant to try to calm the violent, gyrating crowd twisting down in front. He stopped the show twice, once because a few punks from the pit were trying to muscle their way onstage. When drummer Jim Reilly got angry and dove into the crowd after them, Burns reaction to the ensuing melee was "May we have our drummer back?"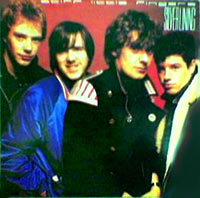 This was mostly an audience of textbook punks; Laguna Beach boys in punk drag with fresh crew cuts, turning out to see one of the original sound-and-fury bands and join in on Hollywood's biggest slam pit.
The music (a pure Irish lad punk sound) was inconsequential to some of the crowd, apparently - it was noise and gnash they were after.
I suppose it's a credit to Stiff Little Fingers that they stayed true to their sound after all of this time, and now want to try new things. . . this band came up about the same time as The Boomtown Rats, but the Rats cashed out long ago.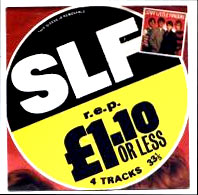 Stiff Little Fingers is more melodic than before, that's true, and a bit more sophisticated, but do they offer anything fresh or innovative for the new music age?
Opening for the Fingers was LA's own Missing Persons, although I'm sure they would rather forget all about it. This up and coming band, fast becoming my favorite, should never have been booked to open for a hardcore punk band.

Missing Person's lead singer Dale Bozzio was very upset after the performance, the rowdy crowd had thrown pennies at her, spit on her. Applause was sporadic, but the fact that they were able to sustain this thrashed audience at all said quite a bit. I think Missing Persons even picked up a few new fans here.
Backstage, Dale and I talked about the crowd she wasn't prepared for - seeming strangely innocent as she wished Stiff Little Fingers, "Good luck, it's your audience."

Warren Cuccurullo
and Terri Bozzio
The two bands, despite having distinctly different audiences, got along great backstage between shows. Terry Bozzio is a highly-regarded musician's musician, and producer Ken Scott is one of the most respected creators in the business; naturally the Fingers were anxious to meet them.
Besides producing their EP, Ken Scott can frequently be seen handling the live mixing board for Missing Persons and he also acts as the band's manager.
Ken told me that they will pay more attention to who the band opens for from now on. Not a bad idea. I visited Missing Persons backstage at the Country Club not long ago, they were opening for the Suburban Lawns and the pot smoke pouring from the Lawn's dressing room was so heavy that Terry was paranoid it would throw off his performance. He was too much of a gentleman to say anything about it, tho. I think pot makes a house smell like a home.

Now that the single "Mental Hopscotch" is starting to get airplay over KROQ, I doubt if Missing Persons will be opening for too many more bands anyway. No longer does their crowd consist of a handful of Valley dudes, there solely to see Terry Bozzio and Warren Cucurrullo because of their work with Zappa.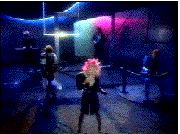 I noticed after those early gigs that Terri and Warren were both really giving of their time, and spoke at length to those loyal fans who turned out for their shows. Missing Persons has their own identity now and the audience for their music is growing. They should be headlining soon.
From the sublime to the ridiculous, KROQ's Dusty Street was seen getting a bit too crazy at the new gay - or not gay? - bar 'One' on Melrose Avenue last weekend. You asked for this kind of stuff, right?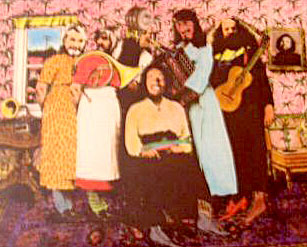 And now,
here's Judy Zee...
Grandmothers
by PZ Connection
Excited at the thought, we were chock full of anticipation to see the Grandmothers at the Roxy, the mere suggestion filled one's head with images; bizarre lyrics and peppy, expressively shaped rock and mod jazz sounds.
The Grandmothers are a re-grouping of still 'live and well' musicians who worked with Frank Zappa in that notorious age... the influence Frank Zappa and The Mothers of Invention have had on those who were the young, growing impressionables in the 60s is profound.
The Mother's music attracted non-conformists, crazies, acidheads, and even pulled a few jazz enthusiasts to their side. The superb arrangements, versatile stylings and endless capacity of scales and runs mastered by the band could not be ignored. The quality of the music seemed to warrant Zappa's absurd lyrics, which actually made a lot of sense in closer listenings.
At the Roxy, the Grandmothers warmed up, and it seemed as if we were wrong about this band, the timing was shoddy, and the playing too sloppy for our expectations. Sometimes LA audiences will clap at anything, and they reacted here with roaring enthusiasm to this barely passable start.
Soon the band perked up, and by 'King Kong', the third piece, they were up on their toes, playing full and strong jazz-rock music. During 'King Kong'- a fast, melodic challenging piece, they rose to the ooccasion.
Although they centered on long jams, Don Preston shone brightly, floating on a baby Prophet changing vocal and tonal levels simultaneously, the fucker's changing voices! He's also playing fast scales with definite rhythmic feeling centered on the astral realm of touch (indulging for a moment) - and all with one hand?!?
The open spaces the churning band leaves give prime room for soloist invention. A delicious addition to this, some tasty sax licks by Buck Gardner. The total sound is an orchestral one and it's nice to see a music stand onstage again. So pro! Many beautiful textural exchanges are softly displayed, as if an imaginative video, despite the Roxy's stagnate lighting. So refreshing! It brings my mind to places it hasn't visited in years.
The size of the Roxy is excellent for such a performance. The walls of the place treat the sound well, there are not too many, nor too few people. Those who came here seem to know and appreciate good music when they hear it, and the Roxy audience on this night appeared enthralled, even mesmerized.
Once merely Mothers, these mo-fos have evolved a stage beyond that. What a time for re-emergence, with the world so humorless and bleak. Now this: the true-to-heart Grandmothers arise from the dust of the conservative era.
The Grandmothers are no closet case. For to play with Zappa you must be first rate, but then again, Zappa goes through musicians like most folk go through shoes...
Master keyboardist Don Preston shifts into a thousand gears, he takes off, trips around, and lands as a peaceful space shuttle would. Even as Preston's keyboard sound crouches low, it is audible and comfortably Eno-esque. (Though factually pre-Eno.)
Wall Flower's cool jazz trumpet keeps the jams from being too excruciatingly loooong and drawn out; his solo, a be bop smooth relief from so much busy-ness, from so many cooks on the soup.
Punkasso found the bassist to be phenomenal. Zee found both bassist and guitarist completely unthrilling. Who knows what Motorhead was doing here, 'cept maybe for crowd draw. He seemed to hide in each crevice or niche.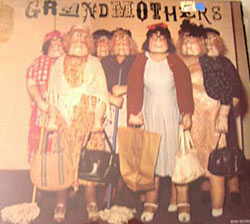 "Can't Breathe the Air No More" is an art form of esoteric leanings, a creative manifestation in a collage format, all neatly packaged. "This is a song I wrote about Los Angeles" Jimmy Carl Black says, "and how I feel about it." "I Can't Breathe the air no more...!" he sings, Grandmotheresquely. Then Don Preston makes insane synth sounds, twirls, and honks that, abstractly, typify Los Angeles. Lights are changing colors on the 16th notes. Vocally, JC Black chokes to death, finishing it off.
The band received more than a few standing ovations. More power to the Grandmothers, may we all age so gracefully.
Rock on!
---
UPDATE: The Grandmothers:
Zappa alumni Jimmy Carl Black, Andy Cahan, Tjay Contrelli, Bunk Gardner, Tom Leavey, and Denny Walley were known as Geronimo Black in the early-seventies - with the addition of Don Preston they became The Grandmothers. They released an EP and 2 LPs ('Grandmothers' and 'Looking Up Granny's Dress ') in 1980 and 1981.
"Hi -- in the punk section, there's a review of the Grandmothers which mentions Don Preston, who was the keyboardist. Very sweet, ingenious musician, still lives in LA with his wife Tina Preston, an actress.
"Last I heard they lived in Chinatown, and he still plays jazz. Won Billboard Keyboard Artist of the Year for several years, tried to sue Frank Zappa for royalties several times (according to Tina, their lawyers were bought off by Zappa). He's such a nice guy -- vegetarian, plays tennis, keeps healthy -- i'm sure he'd be happy to tell you himself. Probably in the phone book. I love your site -- surprised by the punk stuff, great!"
- Connie M.