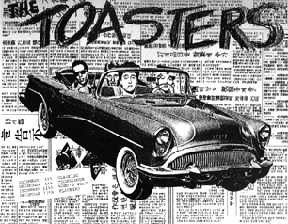 John Hiatt and the Toasters
January 19, 1981 by billy eye
"Only the great masters of style
ever succeed in being obscure." - Oscar Wilde

I only have time for a short article this time, and only space to tell you that rock and roll history was made Jan. 14 at the Starwood. John Hiatt and the Toasters played two sets each to appreciative audiences.
What a galaxy of stars that assembled the other evening at the Starwood! I saw Safeway of the Nobodys and, oh yes, the drummer for the Pretenders, what's his name, and a whole glut of record company promotional personnel and producers. That's what they travel in, a glut.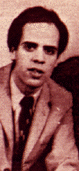 Joe College, the Bobby Sherman of the Eighties?
Bruce Kaplan and The Toasters played a rousing set to a receptive crowd. Actually, the group is still called The Toasters, but every time Eye have seen a Toaster's gig, members of the audience will call out for bassist Bruce Kaplan, who goes by the name 'Joe College'.
I'm willing to go on record and say that Bruce may end up the Bobby Sherman of the Eighties!
The Toasters have a single that they released last year, and although they've since added a new kick-ass bass player, it is still quite good and it includes my pick to click - "Baby's on the Rag."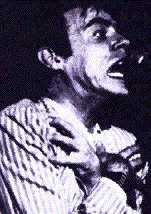 John Hiatt
Headlining the Show was John Hiatt. I don't really know what to say about the set, I'm not familiar with John Hiatt's work. He is a skilled performer who really does create some exciting moments onstage but there is nothing particularly ground-breaking here.
The audience was geared up for him, but he received little more than a warm response during most of the show, which was a record company showcase. Not that I would look for John Hiatt to be playing the Holiday Inn lounge anytime soon, he really is a seasoned performer with a tight band that creates well crafted music. He just isn't seasoned to my taste, I guess.
Just remember, the government teaches us that a stupid opinion is just as valuable as an informed one.
---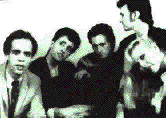 UPDATE:
The Toasters spent months in 1982 recording a demo for RCA with Ron Fair producing. When RCA big-cheese Paul Atkinson didn't pick up the band, they slugged it out for another few years on the LA club scene and disbanded.
Kaplan spent several years on musical hiatus as one of LA's first computer nerds, before returning to music to play guitar in the Tearjerkers. TJ shows at the Central were always an event. Featuring the triple threat vocals and songwriting of Dannette Christine, Anny Celsi and Allison MacLeod, the Tearjerkers continued the brand of Garage Pop that the Toasters pioneered.
In fact, Toaster front-man Mark Lee produced many of the band's hard to find recordings (with the exception of "Shovel Full of Dirt," produced by Marvin Etzioni, an LA phenomena in his own right.)
Lee then appeared briefly around 1989-1990 in the BMG recording group Maggie's Farm with MacLeod and Kaplan's wife, vocalist Claudia Russell. The band featured back to roots writing and vocals of MacLeod with amazing harmonies by Lee and Russell. This band suffered from Spinal-tap type mismanagement by veteran record guy Artie Mogul.
Kaplan still plays guitar and mandolin in bands with Celsi and MacLeod.
The whereabouts of Toaster's bassist Robyn Harris is unknown. The Toasters had three drummers, but probably Danny O'Brien was with the band the longest. He was last seen playing with Jamie James and the Kingbees in the late Eighties.
- Bruce Kaplan