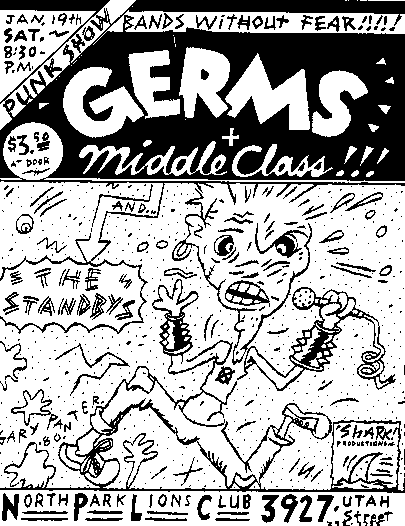 Darby Crash
Judy Zee with Phil Seymour
and The Textones
February 17, 1981/ / / / / by Billy Eye

"I'll be remembered by some for my songs,
by others because I make a good cup of tea."
Pete Shelley from The Buzzcocks

PLEASE NOTE THESE ARTICLES WERE HEAVILY RE-WRITTEN FROM MY ORIGINAL NOTES IN 1994 & 2011.
by billy eye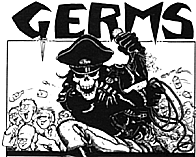 I started thinking about the legacy Darby Crash left behind. When news got around that Darby had intentionally overdosed on heroin in December, it left everyone Eye know with a tremendous hangover.

Oddly enough, his suicide has been a catalyst for bringing people who are serious about the new music scene together. People seem to have mellowed out a little. Crowds are more interested in music than mayhem right now. Darby seemed to be important to so many people on so many different levels, at least that's the way it seems now that he's gone.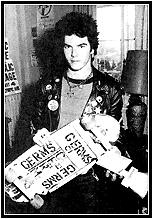 I'm sure a lot of club owners and managers are smirking now. After all, Darby and his fans trashed a lot of their clubs in his time, he was banned from almost every club from Orange County to Hollywood. Only The Starwood would book the band consistently at the end. But that club can take a beating and look the same as it did the night before, they just hose it down at night anyway. That's what those drains on the floor next to your face are for.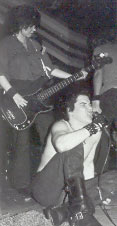 Darby Crash set the mark for balls out performance, almost singularly defining LA punk, and his suicide was the last encore. No matter what is said about Darby Crash, and the mainstream LA press vilified him, you have to give the guy credit for having one of the first successful self-released punk rock records (1979's 'G.I.') which has since sold out it's entire 5,000 print run. Any copies left in stores (like Tower on Sunset or Moby Disc in Sherman Oaks) were snatched up immediately on the news of his death.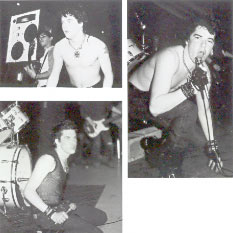 Now the rock press is properly crediting him for setting the stage for all american punk bands to follow. It has been said by one of his friends that Darby was convinced that the kind of fame he wanted could only come through his death, and that's what he wanted more than anything, fame.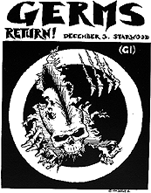 Shawn Kerri's Flyer for
the last Germ's live show.
Darby's solo billed gig August 27 at the Starwood (with the superb Alleycats opening) was a contained simmering melee, but the Germs' reunion/farewell gig at the same club last December 3rd was a success on several levels. First, it was apparent that Darby was evolving as a performer, he really seemed to be giving it his all. And the gig proved that he could perform without a full scale riot erupting. A few days after his greatest show, Darby was dead.
Just a few short months ago, Darby Crash had a great shot at a wider audience, better than any of the other punk bands currently playing around town. Why would he chose to play just this one stark note? Show's over.
The Veil
Monday and Friday nights are Veil nights at Cathay De Grande (on Selma one block east of Vine) and it's drawing a large, prepossessing crowd. Dress as wild as you want, any period, any style, you will feel right at home. The music is esoterically avante, the downstairs barroom is dark, intimate and loud.
Occasionally a live band will play and you can always expect the unexpected due in no small part to the diverse and adventurous group of people that congregate there. The word is already spreading about this club, and you'll find people there from all over the area, from the Valley to East LA. And the guys are wearing more makeup than the girls.
Wall of Voodoo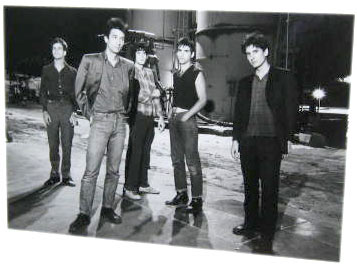 The cover of the record is stark, dark and simplistic, the words Wall of Voodoo suprinted on the photographs of a menacing dog of worship. Of course I'm talking about a new EP release by the locals Wall of Voodoo. Where did these guys come from?

The downtown scene of course. This is one wild release, I even like the cut called 'Grandma's House' which interweaves a pointed series of tones with the sound of a telephone ringing and ringing and ringing in the distance.
Play it at a party sometime, and watch the guests run for the door. My favorite tune would have to be "Can't Make Love" in which lead singer Stanard Ridgeway complains that he can't make love to the girls or boys in this city... poor guy, that doesn't leave much left.
And now, it's Judy Zee...
Phil Seymour's Song
This January of '81, I both rejected and later accepted the talents of the Phil Seymour Band. Upon first sight I was skeptical- they just came off as any other dozen young groups sprouting around town. Beatles and Cars influences were pitifully obvious. There was nothing daring about the music at all, in fact it was the same old shit. Pop music has it's limits, and Phil Seymour is a subset of that said genre; with sing-song harmonies, and being so very melodically accessible.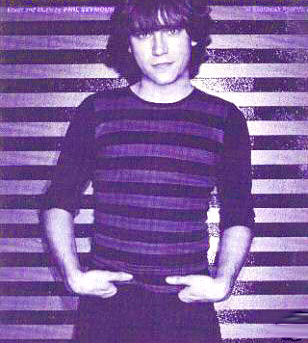 Phil Seymour
Well, on Friday night (Jan 30 at the Blue Lagoon Saloon) they proved themselves to be a competent, if an unripe and rather adolescent band. Phil Seymour is the boy playing guitar, moving center stage- with doe-eyes and fine voice. The dark woody atmosphere of the Lagoon on this night gleans with good spirits.
Amidst the comfortable noisy drone/hum of voices in this cramped yet casual atmosphere, filing past each other along the edge of the bar (to get back towards the stage, or back with the pinball games and pool tables) is no easy feat on this night.

Most of the swarm is seated in handful groupings by little round tables, laughing, eating popcorn, drinking, talking. And loving the music and motion of the room. The floor directly beneath the stage vibrates and bounces with the music, is pummeled into life by all the shoes rising and falling to the beat, colored lights changing upon it. "I love you so much, I love you so much". . . The band is playing together as one, merging with the audience, mesmerizing them 'til the whole area is encompassed by the heartbeat cadence.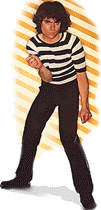 Phil Seymour in the classic new wave pose.
Their songs are vivid and they know their material impeccably. My reference points are often musically obscure, though I try for them not to be, and I strain as a writer to appeal to an increasingly larger audience. Phil Seymour's goodness is exciting to me, for not only do I commend it, I like it. It is accessible music.
I haven't yet heard their recorded material, but their first single on Boardwalk records is called "Precious to Me' which sounds really good live and is an example of their particularly vibrant style. There is a long road ahead for these guys towards transcending their strong Beatle's influence (right now their sort of the Monkees) and further developing their own uniqueness, where they will hopefully sound less like their mentors and more like themselves. Phil Seymour and group are taking flight.
HEAR PHIL SEYMOUR
the single in Real Audio
"Talk To Me"
Texture of the Textones.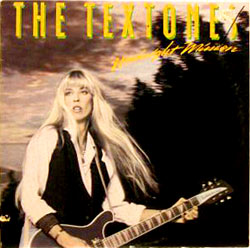 The Textones first single comes out this month - "Reason to Live". As I watch them play this, they are making terrible goofs, yet the audience is held captive, lightly bouncing their heads in unison to the beat. The band is less one member, having donated a leather-jacketed short-haired female member to the GoGo's. Her absence has caused a pivotal move in the band's nature. There are no longer any traces or hints of punk in their music.
The Textones may be as basic as ever, but now they've realized their own distinctive style regardless of fad.
They are much better than I have ever seen them (a dozen times to date)-this time when they played "It's Just a Matter of Time" they sounded irresistible, and I could see their drawing power. Their design absorbed me. It turns out they're really a rocking bar band. The Textones are verifiably holding their own now. There stands a chance for The Textones' capabilities; they may make headway in their drive for significance.
---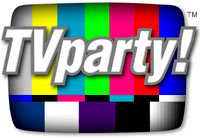 1980's Los Angeles Punk / New Wave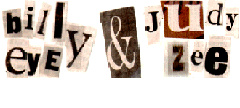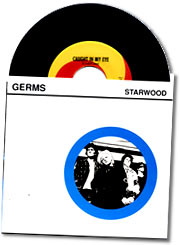 Darby Crash was born Jan Paul Beahm on September 26, 1958. He died December 7, 1980.
Los Angeles punks, Darby Crash, Pat Smear and The Germs can be seen in the 1981 documentary Decline of the Western Civilization.
---
Another article on Darby Crash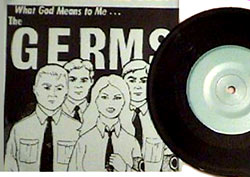 10-7-80:
The first article, Darby Crash
& The Germs, The Garage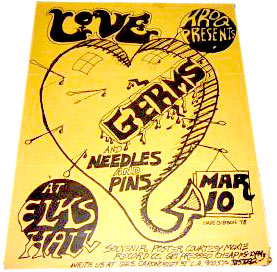 FROM THE L.A. TIMES in 2000:
A quote from Brendan Mullen who owned The Masque, an early Hollywood punk club:
"I didn't want to book the Germs at first.They can't play
their instruments; they just throw food all over. They would
do an excruciating version of "Sugar Sugar" by the Archies and pour sugar all over the audience. Darby cut himself
sometimes, so there was blood, but you couldn't tell, it was
such a mess. And Darby had his cult. To be in the cult, you had a Germs Burn administered, which was a cigarette put out on the inside of your wrist."
These original Data-Boy Music columns have been collected in a book with LOTS of new material and photos - it's the story of Data-Boy magazine and the LA Punk / Post-Punk scene. The story presented is a lot more complete!
Everything you're looking for is here:
Shop Amazon's New Kindle Fire